In September, my oldest, Maddie, started 8th grade, and we began a few whirlwind weeks of figuring out where she would go to high school. There were open houses, campus tours, entrance exams, and all the prep that accompanies it.
She had her heart set on one school in particular for years, and here we were, actually committing to it. I had that moment all moms know well, where your heart simultaneously soars and aches as you watch your baby leave behind one chapter and enter another.
Maybe I'm in the in the minority here, but I think teenage girls are the best. My daughter and her friends are lovely, smart, confident young women. They are eons more emotionally mature than I was at that age, don't take themselves so seriously, and have great senses of humor.
Here we are on New Years Eve:
View this post on Instagram
Watching her come into her own, especially in such a challenging year, has been pure joy. But I realized that the next few years are about to fly by even more, so I suggested we find something to do together, every week, like a standing date.
Since we both love true crime and murder mysteries, we decided to watch something in that genre every Monday night, and because her sense of humor is as dark as mine, she started to call it "Murder Monday."
Over the last several months, we watched everything Netflix and On-Demand had to offer. But by the time the holidays came around, we weren't, as Maddie says, "feeling very murder-y."
So now, we're watching The Crown. lol.
We look forward to our time together all week. One morning, she was heading out to school, lamenting about how boring it was going to be and how Mondays "are the worst," but then turned, did a little dance and said, "Oh! Murder Monday!!"
Keep Them Talking
One of the best pieces of advice I ever received for raising teenage girls, was, "Just keep them talking."
And that's what we do on our Monday nights. She'll talk for hours about anything and everything. I get all the "tea," and I soak up every minute of it.
Like clockwork, at 8pm last Monday, I changed into my pajamas and headed to her bedroom. When she saw me, she said, "Um, I LOVE your pajamas! Can you get me a pair?"
— Record screeches. —
"You want a pair of MY pajamas?" I asked, flattered and stunned.
It's important to understand that we are style opposites. She is painfully cooler than me.
She wears Doc Martins and band tee shirts, and I'm in … J.Crew and LOFT. She thinks I have great style "for a mom."
So, of course, I immediately pulled out my phone and ordered her a few pairs because, THESE ARE THE GREATEST PAJAMAS EVER! And, I can't remember the last time she actually liked something I was wearing for herself.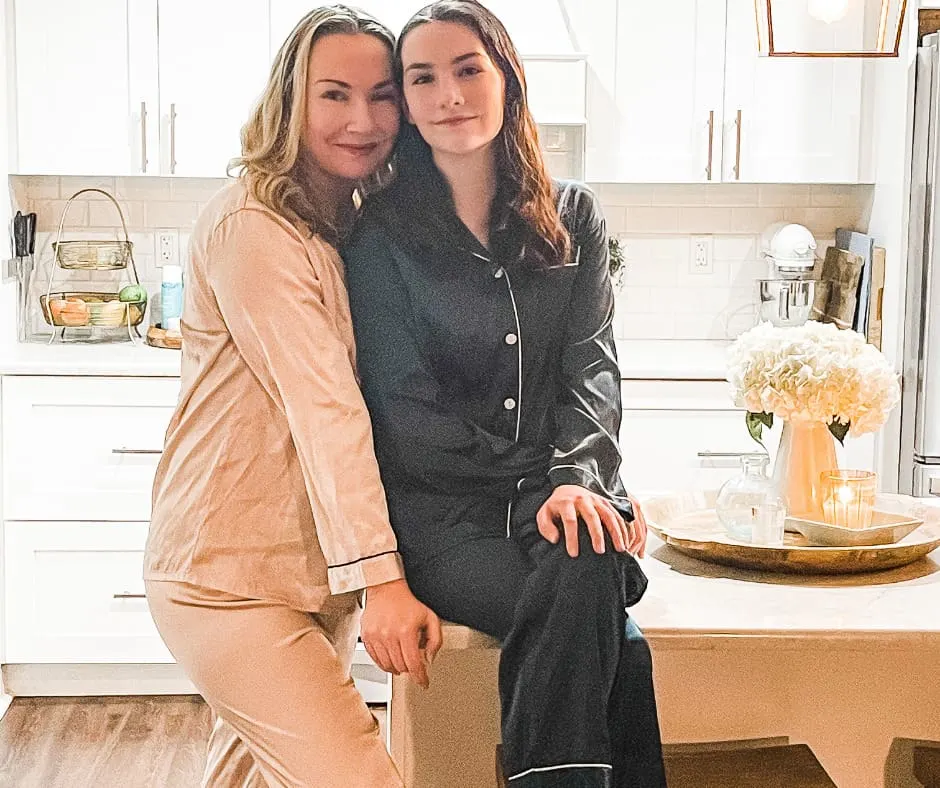 Silk Satin Pajamas: Under $30 XS – XXL
They feel indulgent but are under $30. I'm super impressed with how they wear and wash. Their quality for the price is incredible. And I'm not alone in my love for them, they have thousands of 5 Star Reviews on Amazon.
When I like something, I tend to go all in, so I ordered multiples.
I have pink (above), white and navy. Maddie is wearing the teal (you can't tell in the picture, but it's a gorgeous color) and has a black pair.
I'm wearing a large, and Maddie is a small. We are both about 5'10.
Amazon's Top Rated Satin Pajamas are a Dream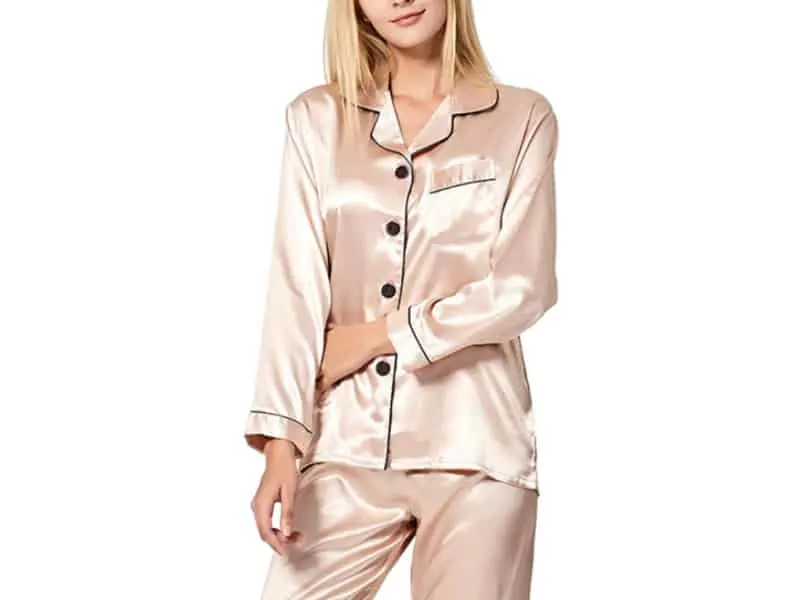 Pajamas, $20 – $26
Available in XS – XXL in dozens of pretty colors. Order these for yourself to up your pajama game in the New Year!
---
Our Style Content is Inspired by Our Readers
Our readership inspires all of our posts and is not sponsored or paid for by brands or retailers.
Recommendations are based on my experience as a personal stylist and wardrobe consultant for over a decade. I worked with busy, down-to-earth women who wanted to look chic and feel confident but were often confused by so much of retail.
Some links are affiliate links, which means if you purchase via our site, we receive a small commission.

If you enjoy our content and would like to help us grow, please follow on Instagram and join our Private Facebook Group to access more advice and exclusive in-depth conversations with other like-minded women.