Just last week, I ran out of my full-coverage foundation and Suntegrity's Moisturizing Face Sunscreen on the same day. I knew I wanted to reorder the sunscreen, but I wasn't thrilled about the foundation I was using, so I was open to new ideas.
(You can read my full, gushing review on the Moisturizing Sunscreen here.)
During my last pregnancy, I experienced some hyperpigmentation, so I clung to that full-coverage makeup. Pregnancy hormones are cruel! I've worn full-coverage foundation for as long as I can remember; I started in my teens, when my gorgeous youthful skin definitely did not need to be covered up.
But I've been working hard on evening out my skin tone, with help from SkinCeuticals Phloretin CF, and have seen a big improvement in the last couple of months. So when I saw that Suntegrity has a tinted version of my Sunscreen I thought I would give it a shot. This felt super risky for me and I was skeptical that my mid-30s skin would look better with less makeup.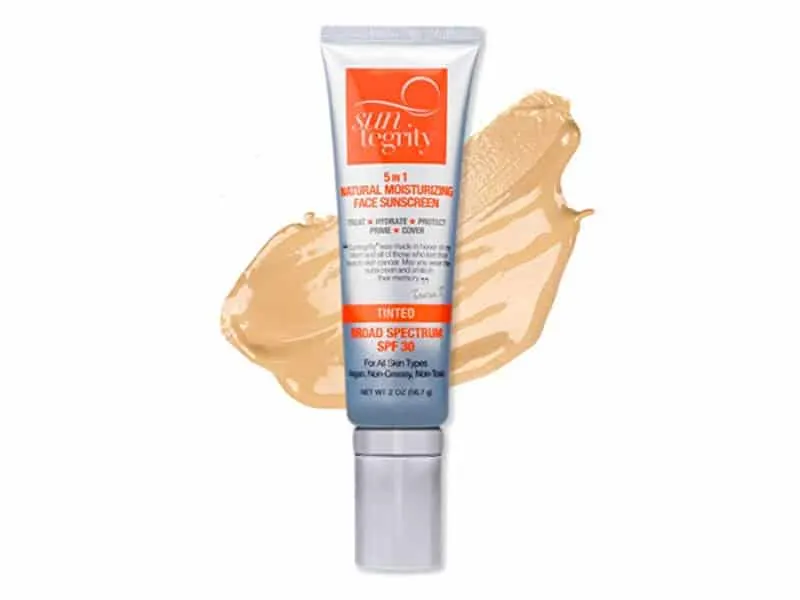 But wow, what a difference it made! My skin looks so much better with less makeup, which is absolutely not what I expected. The tint is generous, so combined with my concealer, my skin has a nice, even tone.
However, it's sheer enough that my skin looks real. It doesn't have that cakey or airbrushed look and some of my freckles peek out. I chose the "light" tint, which they said is for "skin tones similar to Angelina Jolie, Meg Ryan, Julia Roberts, Katie Holmes, and Carrie Underwood." Twinsies!
Also, don't forget the broad-spectrum mineral filters that protect you from harmful UVA and UVB rays with SPF 30.
It does look quite dewy, which is not my preferred look, especially in the office. I add a few light swipes of Laura Geller's Balance-N-Brighten on top. You could use any finishing powder of your choice, like the magnificent Laura Mercier Translucent Powder.
I suppose I'm cheating a bit because the Balance-N-Brighten also has some color to it, but I use a very light hand with it.
What's so great is that with Suntegrity's 5 in 1 tinted Moisturizing Sunscreen, I am eliminating several steps in my makeup routine. The tinted 5-in-1 renews, hydrates, protects, primes, and covers the skin all in one product. Also, it has an excellent rating in Skin Deep's Cosmetic Safety Database, which is something to be celebrated.
I have not yet found natural or organic replacements for all of my beauty products, but I am happy to shout from the rooftops when I do.
Our readers loved Suntegrity's non-tinted sunscreen option that I shared last summer. So much so that it was one of the Readers' Favorites for that month. I have a hunch that you will all love this tinted version just as much – if not more!