Jim Gaffigan is an American comedian and an Irish-Catholic father of five, whose humor is based on the nuances of family life.
He has a famous joke from a few years ago, about what it's like to have a lot of kids, "You know what it's like having a fourth kid? Imagine you're drowning, then someone hands you a baby."
For my family, our current situation feels a lot like that joke, we were treading water before this started, and then they threw the kids in the ocean with us.
Anyone else feel like that?
I find comfort in knowing I'm not alone, especially right now, when we feel disconnected from our friends and family, and our normal lives feel so far away.
So today, in the spirit of keeping things "real," I thought I would share a glimpse into how we are currently managing all the balls in the air (hint: we're not), some lessons learned, and opening the comments up for you to share your experience navigating this truly unbelievable time in our history.

2008
First, a little background.
As a family, we've navigated some tough times. I quit my job in 2007 to start a business while I was pregnant with Maddie. We had zero money but we were young and felt rather risk adverse.
Then the 2008 financial crisis happened, and our bottom fell out. I remember the stress, strain, anger, guilt and disappointment we felt. We were in bad shape. Without going into detail, we went through a couple terrible years before coming out the other side.
I know the nausea you feel when you have no idea where the money is coming from.
Economic insecurity is real, and it's terrifying.
That experience gave us buckets of empathy and made us stronger.
Looking back over that time, Bri and I now know if we don't operate as a team, we lose.
Thankfully, a decade later, we're in a much better situation.
Today, we have three daughters, in 7th and 4th grade, and a 15-month-old busy-body baby.
Our life was patch-worked together (at best) before they made school virtual and issued our stay at home order. Now, like so many American families, we are working double time to keep our heads above water.
Days fly by in a blink and are never ending all at once.
So here's how we're trying to keep it together, be sure to add your tips in the comments below so we can share with our community.
Set Priorities
The first thing we did was set a list of priorities. When everything is important it's easy to get overwhelmed. We knew we had to articulate our own priorities so we can stay on track.
Our list is simple:
(1) the mental and physical health of our family
(2) our careers and finances
(3) community and connection
(4) school work and other learnings.
Anything outside of that is on pause.
Our family guidepost is to assume the best of each other, and that looks different for all of us, including the kids, each day.
Family Health
Have a Check In
Every morning, Bri and I check in with each other over our first cup of coffee before the kids get up. How did you sleep, how are you feeling, what does your day look like?
But the most important question, the one that helps us the most, is "what do you need from me today?"
Our answers vary. Sometimes it's logistics like, "I have a 2 pm call, can you manage the kids?" Other times it's , "My heads in a bad place, I just need you to know that."
If you share your life with another adult, start to ask this of one another. You'll start the day feeling well taken care of, heard, and on the same page.
Bookend Your Days with Wins
I recently read somewhere to bookend your day with wins and I think it's the best advice ever.
Start strong, finish strong, do your best in the middle.
Right now, as much as I love routine, we're focusing on rhythm instead. Our mornings and evening are structured, in the middle we know what we need to get done but we have to be flexible.
Don't Be So Strict
We're letting the kids indulge in things more than usual.
Screen time? I don't care, talk to your friends all day, once your school work is done.
You want purple nails? Sure.
You stayed up all night watching a movie? Good for you.
We're picking our battles. You can't be disrespectful or unkind, other than that, I'm not getting involved.
The other day the girls were bickering and I said, "either stop or fight someplace else" and they got up, as if in agreement, and finish arguing in another room.
Get Outside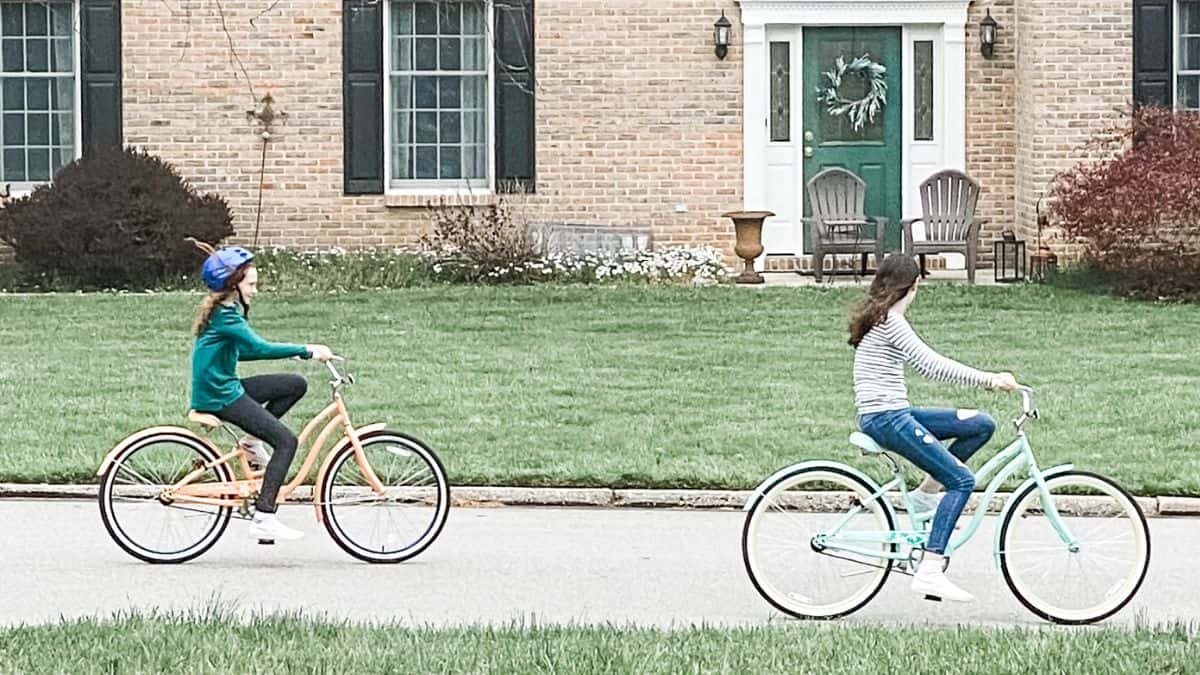 Bike rides and family walks in the sunshine are mandatory. The fresh air keeps us sane. We try to take them before dinner as another way to the transition to the evening.
Careers and Finances
Create a Space to Work
Even when restrictions begin to lift, many people will continue to work from home, so it's important to have what you need, when you need it and not reinvent the wheel every time you start your work day.
I'm fortunate to have an actual office, but that wasn't always the case. Even if it's a simple box filled with essentials that you can pack and unpack on your dinning table to mark the start and finish of the day will help keep you focused and productive.
Work Unconventional Hours
While we mark the start and end of the work day with little rituals as a family, in full transparency, Bri and I work all the time. The idea is to take a few structured breaks so the kids have a sense of normalcy.
The truth is I've been working in random pockets of time for the entirety of my career. My husband hasn't, until now. He's at his computer by 5:30 every morning to get a jump on the day, and we both often work well into the night.
I also work several hours on Saturday and Sunday night.
We trade time back and forth so someone is always working based on their deadlines and someone is with the kids.
Right now we're doing the best we can and it's exhausting and overwhelming.
If you find yourself in a similar situation, you're not alone and you're not crazy for thinking it's impossible because it is. I just keep telling myself this is temporary.
Set Goals
Even though times right now are uncertain, when life gets back up and running, I'd like to be ahead of the game in some areas. I came up with several goals for work (including hitting 10,000 followers on Instagram) that will set me up for success as life returns to normal.
Not that there is any extra time, but think about what you can focus on. Is there a longterm project you can accelerate? A learning you can take care of now instead of later? Something you've been putting off?
Don't make the goals unrealistic, just focus on one or two things that can move your needle forward.
Community and Connection
Have Something to Look Forward To
As events and big plans started to get canceled all around us, we knew we had to do something to keep our spirits up.
Bri started a "cocktail of the week" which has been so fun. He either makes something new or resurrects and oldie-but-goodie, like a cosmo, and we have one (or two) outside while the kids play.
We also came up with a list of movies to watch with the big girls and did a Star Wars marathon a few weekends back.
We try to come up with something fun to look forward to help separate the weekdays from weekends. It makes a big difference.
Stay Connected
One happy way we've created structure in the kid's daily lives is maintaining their extracurricular lessons. Ava takes pitching lessons a few times a week via FaceTime, and Maddie has Saturday morning voice lessons on Zoom.
At first, we thought we would pause everything until we knew what was going on, but I'm so happy we prioritized it because it makes life feel normal for all of us.
Of course, we're hoping on virtual happy hours too.
School Work and Other Learnings
Virtual Learning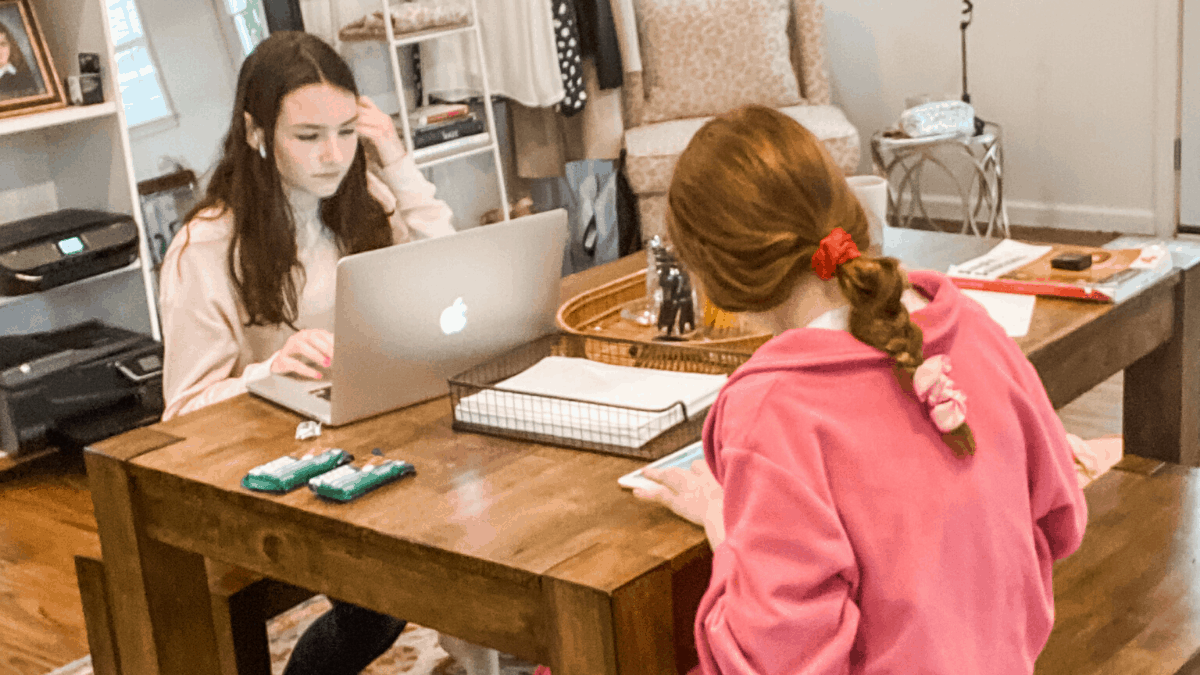 By far, virtual learning is the hardest piece of this puzzle. My kids are coming at it from a point of leverage, given that they are part of an incredible school community and have access to resources. Even still, this is an impossible time for working parents trying to "teach" kids.
My big girls are older and fairly independent so we're not sitting next to them while they work. They are working in the office with us so we can quickly answer questions, and make sure they don't get distracted.
Our rule, again, is simple. Do your best and hand your work in on time out of respect for your teachers.
And a note, if your school is organizing any kind of virtual or socially distanced event, take part in it! One of our teachers hosts a recess Zoom call which is hilarious to listen in on. We've also done a drive-by parade for our most favorite teacher, and we all cried and cheered together.
These little moments are important for everyone involved.
Real Life Lessons
Watching my middle attempt to load the dishwasher a few weeks ago made my brain hurt. How does she know know how to do this?
If they get anything out of this, we hope they become a bit more independent. They have to make their beds and put away their laundry correctly. (Correctly being the keyword here.)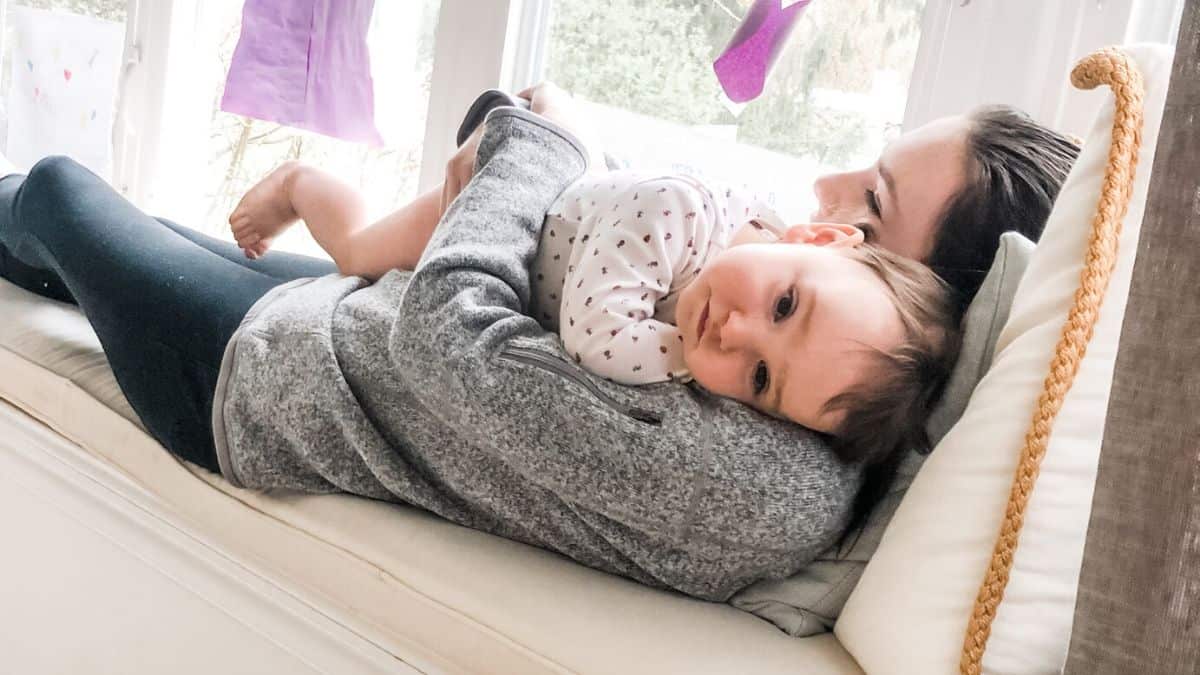 There is a huge age difference between our big girls and the baby. They both help so much with her, we couldn't pull this off without them.
When I start to feel guilty about how much we depend on them, I see moments like this and realize it's a gift and an incredible lesson for them.
And, remarkably, it's the one thing they never complain about. By the time this is over they'll both be skilled babysitters.
Lots and Lots of Grace
Perhaps the biggest realization we've had, as individuals and as a family is that there are going to be good days, and there will be bad days, and that's okay.
We're just handing out grace left and right, assuming that we are all doing the best we can, even when (and especially when) it doesn't look like our best.
So whatever your situation is right now, hang in there. It's simply impossible to do everything that has been asked of us, and yet we're all doing it as best as we can.
Tell us below, how are you managing and what are you learning about yourself or the people you spend your life with?