This content has been archived. It may no longer be relevant
On the East Coast, you can feel fall on our doorsteps. The kids are minutes from going back to school, so for many of us, this marks a fresh start similar to the New Year. With a new routine comes a new commitment to doing all the things. If getting back on track with your fitness is part of your goals for fall, today's post is for you.
I workout three to four days a week and I don't say that to brag. I don't like a minute of it. Even now, as I write this, I'm sitting in my gym sneakers, staring at the clock, knowing my class starts in a few hours, and thinking of all the reasons not to go.
Because …
I'm tired.
I have a million other things that need my attention.
I'm not in the mood.
At some point on my fitness journey, I thought I would turn into one of those fit women, happily waking up early, pushing hard through class, and running around in my athleisure.
On the surface, I might look like them. I wake up early, push hard in class and certainly run around in athleisure.
What I lack, is the enthusiasm and passion for it.
If you love working out – awesome! But I use to think that in order to do it the right way, I had to also love it, lucky that's not the case.
Know Your Why
I workout because I know it's good for me, I want to stay as healthy and youthful for my kids as long as possible and I don't want to look back on my life in my later years, and wish I took better care of myself when I had a chance.
Trust me when I say I'm not doing this to get my six pack back from my twenties – those days are long gone. But sleeping well, lowering stress, keeping my emotions in check, and general better health are all good reasons to get out of bed when you don't want to.
And most days I don't want to.
For the last few years, I've kept to a regular fitness schedule. Three, usually four days, during the work week I go to a group class. On "off" days and weekends I try to fit in a walk, or use our Peloton bike, and do a few, very quick strength exercises.
Frankly, I'm impressed with myself. When I was pregnant last year, my first trimester was a nightmare, and I still made it to class and worked through the non-stop nausea.
What made this time different, what made my commitment stronger than any other time before is that I focused on changing my mindset around exercise, gave myself a lot of grace, and tried to stay patient.
How to Workout When You Don't Want To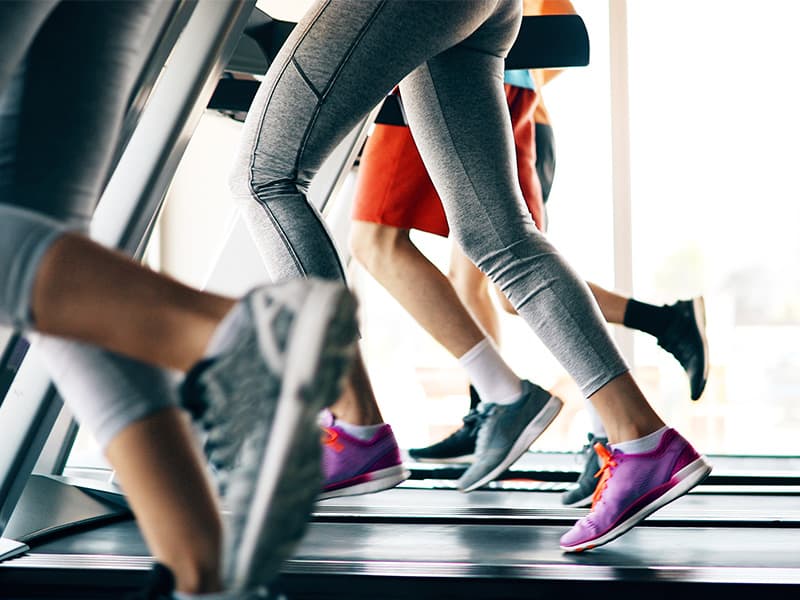 For most of us, committing to our health and fitness feels daunting. We often go into a new routine with lofty goals that take a great deal of time and effort. So it can feel overwhelming.
You don't see a physical difference right away, and in the beginning, you're in a lot of pain as your body gets used to moving in a new way and, on top of it all, you're exhausted. It's so easy to give up in those first few weeks. If you keep going and get through it, you'll get into a rhythm, and the game changes.
Take it One Workout at Time
Instead of looking at the big picture, think of the workout in front of you and making it to the end of the class. Then reset the next day. I'm eight months postpartum, so those first few months were incredibly frustrating as I battled to gain my strength back. It's still far from easy, but I'm getting there.
Some workouts you'll leave feeling strong and confident. Other days you'll struggle and feel totally out of your element. Ignore those workouts. We all have days we just don't have it, even the fittest person in the class has days they don't want to be there.
Celebrate the fact that you finished and be kind to yourself.
Follow the 5 Second Rule
Inspired by Mel Robbins popular, self-help rule to help push past procrastination, I practice "The 5 Second Rule." The basic idea is that if you have a goal you want to achieve, you have five seconds to act on it, or your brain will talk you out of it. So if you have an early morning workout and your bed feels like such a better idea, count backwards, 5-4-3-2-1 and launch out of bed.
I do this with everything from sending an email I've been putting off, to hitting the gym. It sounds crazy, but I credit it with the last 12 months being some of my most productive.
Her book is a quick and motivating read.
Track and Reward
I love a good tracking app. I use my Fitbit to track my steps, water intake, heart rate and calories burned. When the fireworks go off and my wrist buzzes when I hit my goals, I get such a sense of accomplishment. Even on the crummiest, most unproductive day, I have something to be proud of.

Set "Attainable Goals With Effort"
If you've never worked out regularly, setting a goal to exercise five days a week is a straight line to failure. Instead, focus on accomplishing attainable goals with effort. That looks different for everyone. Sometimes I focus on incrementally increasing my daily steps, or lowering my resting heart rate.
In September my goal is to go to only early morning or evening classes, leaving me my whole day to work. That's a challenge for me because when I wake up at 5:30 am for a class I can easily talk myself into skipping it and taking the same one at 10 am.
Keep it Simple and Do What You Like
Don't overcomplicate your workouts. Keep it simple and close to, if not in your home. No one is going to be able to sustain a commute for any length of time. Try different classes and instructors until you find a place you are comfortable. And don't let the process frustrate you. It took me years to develop a schedule I like enough to stick to it.
For a while I did Barre. I loved the instructor and the method, but the women in the class were too intimidating. They were so shiny and beautiful. I swear a few blew their hair out before class, and I just sat there looking like a swamp person.
What I love is cycling, but so many instructors scream at you through the class that I would leave more stressed than I started. Finally, I found a few cycle and strength training classes with fun and attentive instructors, with great playlists and lots of positive motivation.
Find Accountability
Once you find your happy place, your instructor can help hold you accountable and keep you motivated. My cycle instructor leaves a towel on my favorite bike when I register for his class. It's a simple gesture, but so thoughtful I rarely miss a class because I know he knows I should be there.
Social media is another option. Many communities and neighborhoods have Facebook groups for women looking for support and motivation from others. Search around and ask friends, you'll be surprised how many resources are at your fingertips.
Focus on the Real Benefits for You
Yes, working out will help your body look its best. But there are so many other ways regular fitness will change your daily life for the better. I've long talked about my battle with general anxiety. It affects my mood, sleep and ability to stay calm and make decisions. There is no doubt that when I workout, I handle life infinitely better than when I don't.
For me, the motivation kicked in when it was undeniable that when I get my heart rate up and move my body during the day, I slept at night, and when I don't I'm up in a panic at 3 am.
As women, we carry so many responsibilities. Carving out the time to workout for even a few minutes a day often feels impossible. But if you can find a window so many areas of your life will improve. Don't get discouraged if it's hard (it will be) and don't think it's not for you if you don't love it. You can love the results without loving the process
Share in the comments below … Where are you on your fitness journey? How do you stay motivated?