A western ankle boot is probably not the first style you would think makes our Top 6 Boots for Fall, but something about them is sweet and super wearable.
And if you are like me and lean toward classic style with a twist, this is a great twist for the season.
Certainly, you can wear these boots like any other ankle boot. They sit under a pair of straight or bootcut jeans perfectly. Then, throw on a sweater, and you're dressed.
But you know I like to make pieces purposeful, so let's create two very different looks using this that you can wear yourself or use as inspiration.
How to Wear Western Ankle Boots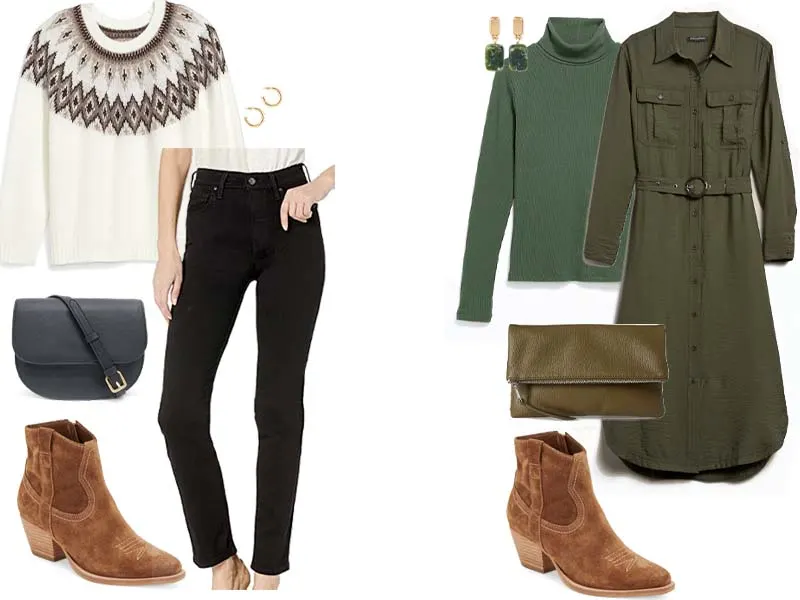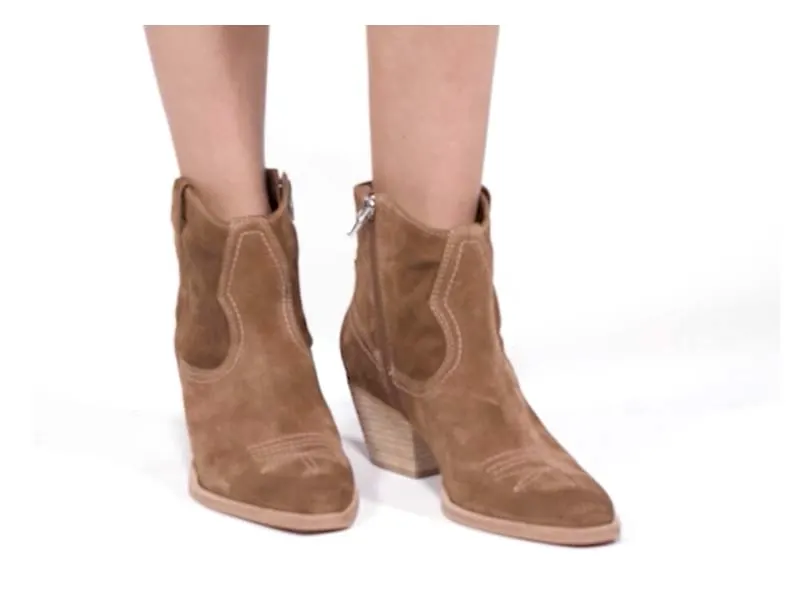 Western Booties, $130
Our featured boots are from Dolce Vita. They are the nicest version of the style I have found, made well and in available in a range of neutral colors, but I would go with dark brown or "truffle" suede.
Either will work with a a variety of looks.
Half sizes are available in starting at a 5 – 13.
With Jeans and a Sweater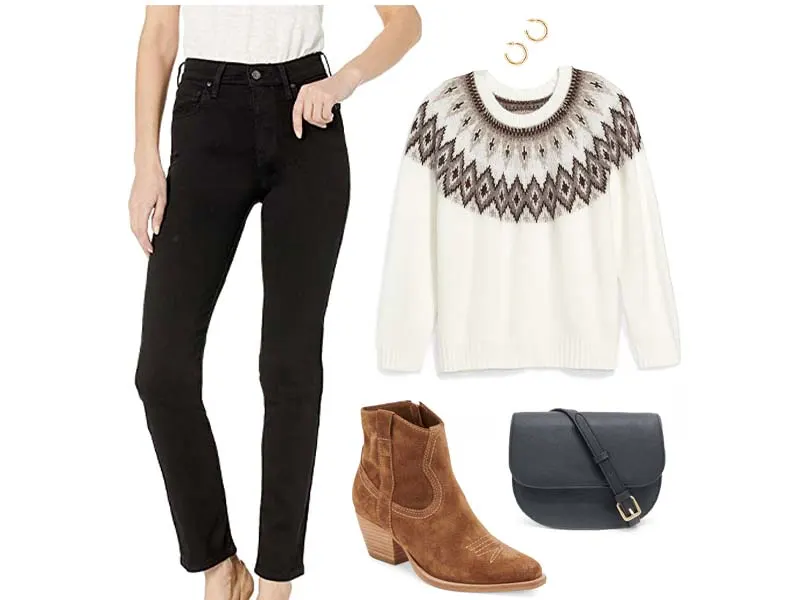 Straight Jeans, $60 | Fair Isle Sweater, $25 | Vegan Saddle Bag, $40 | Hoop Earrings, $14
A western boot and a fair isle print work so well together.
The sweater above is from Old Navy, and it's only $25.
We're showing it in their neutral combo, but the JUST added a warm option and it's so pretty. Either would be a lovely Thanksgiving week sweater.
Available in regular, tall and petite, in XXS – 4X.
For jeans, everyone on TiKTok (I watch so you don't have to) is raving about the Levi's 724 Hight Rise Straight Jeans. So I ordered them, and like them very much. I did have to go up a size.
I'm showing them in black but there are lots of washes to choose from and a range of lengths and sizes, including plus.
And you can't beat $60 for a pair of jeans.
Depending on what kind of jean you wear, you can do a few things with the boots. Skinny jeans will sit in the boot or just skim the top, a straight or bootcut will sit over them.
For a casual bag, I'm reusing the Quince Vegan Leather Crossbody, at only $40, lots of positive reviews are coming in on this. And because I can't help myself, our favorite hoops from Amazon. There are a few sizes to choose from, I wear the smallest size, 20mm almost every day.
With a Dress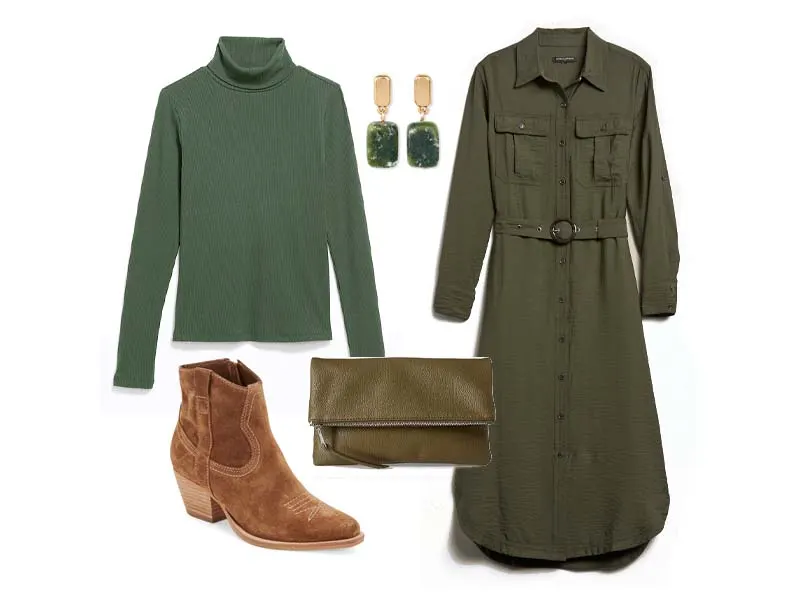 Utility Shirt Dress, $72 | Turtleneck Top, $23 Earrings, $8 | Clutch Purse, $30
Next, consider a dress.
It could be a loose-fitting sweater dress – another fantastic option for Thanksgiving, or pair it with a flowy, floral high/low hem maxi dress.
This shirt dress from Banana Republic Factory is a fresh, cool look.
It's available in a few colors, including a beautiful navy and brown, in regular, tall and petite in XXS -XXL.
Side note: this dress would also look gorgeous with knee high boots. The dress will cover a part of the boot and you get a very chic, Ralph Lauren inspired outfit.
You can wear it as is, or, if you'd like, add a turtleneck underneath. You'll want something fitted in a thin knit, like this inexpensive option from Old Navy. The color doesn't have to be a perfect match, just in the same family.
I added a fold over clutch, this one from Amazon is an awesome find. And then, this funky, $8 pair of earrings rounds out the outfit.
And I know you're going to ask about your legs. So, let's talk about it.
I would go bare legged and wear no-show socks in my boots.
I wear these no-show socks I found on Amazon.
You could wear tights, but that gets complicated and messy with the color. The only way I think that would work well is if you wore a black dress, black tights, black boots.
So if you're concerned about being too cold, stick with pants and don't try to make this outfit work.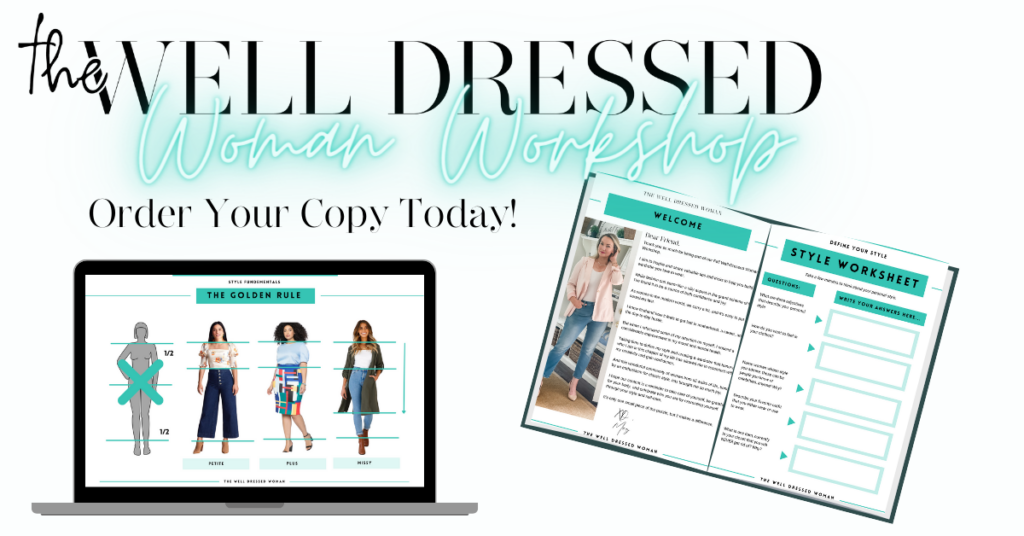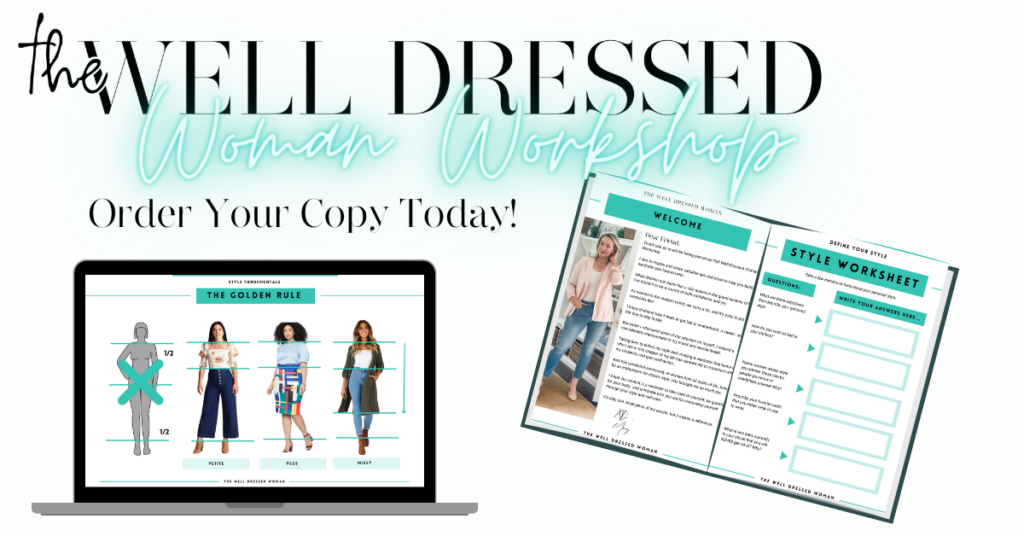 52 Outfits in 2022!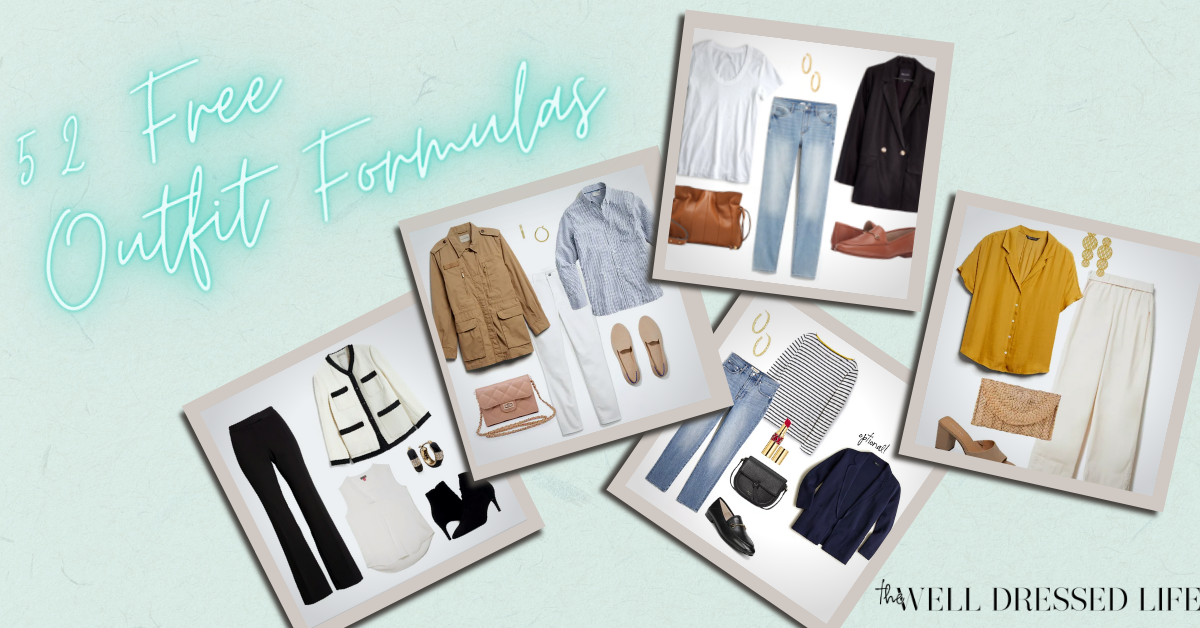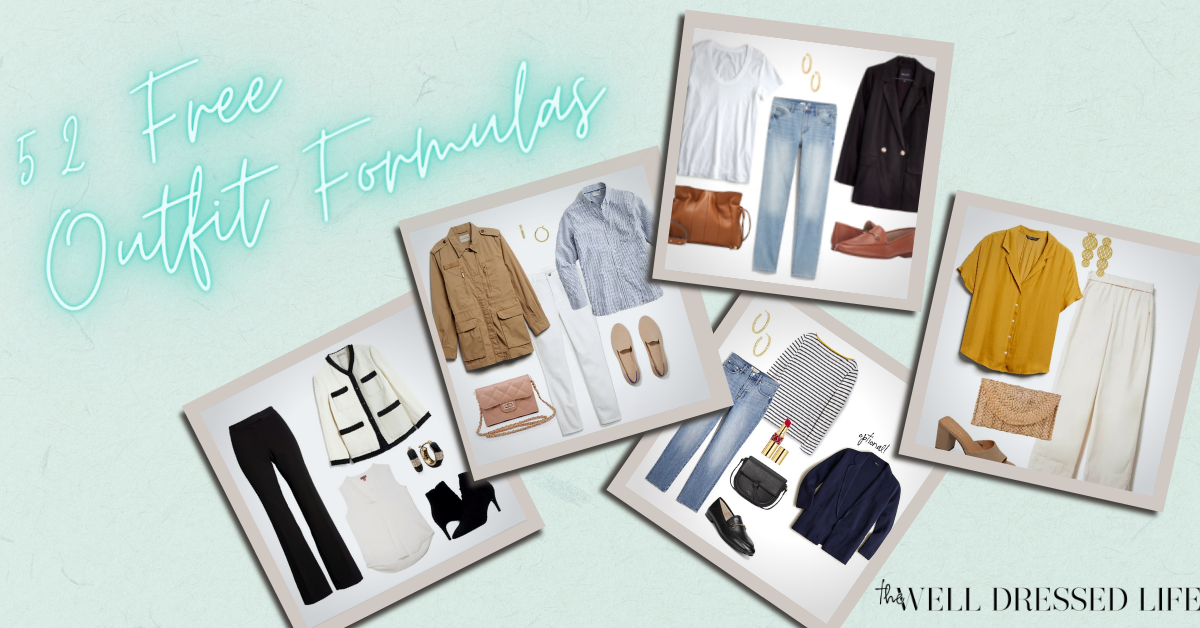 Follow Us on Instagram!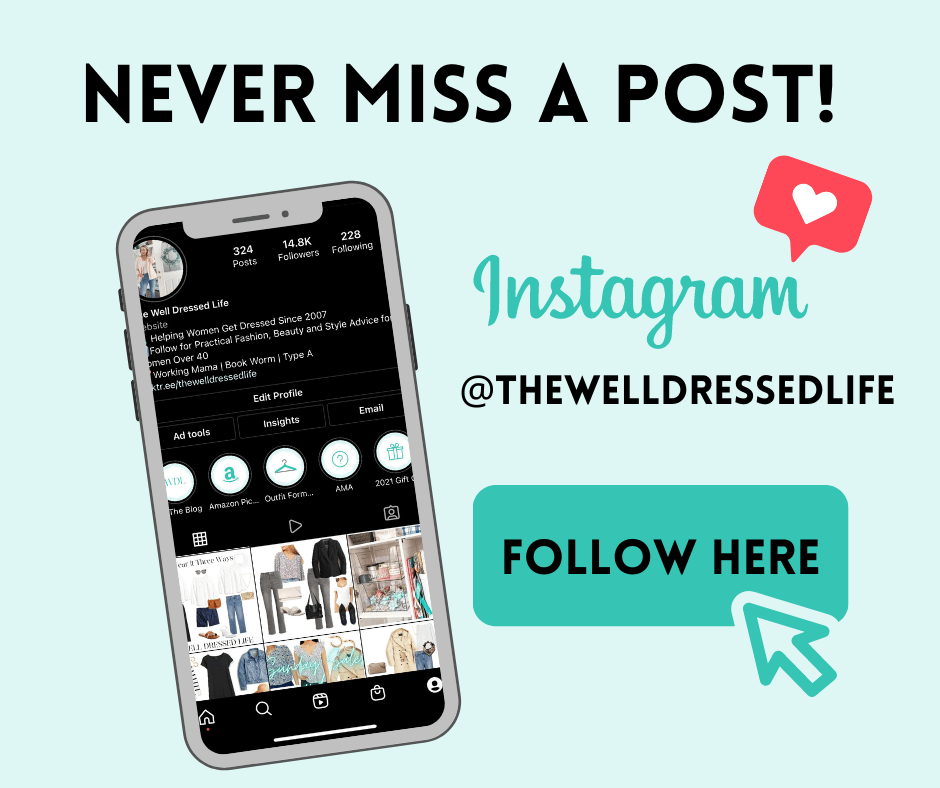 Our Style Content is Inspired by Our Readers
Our readership inspires all of our posts and is not sponsored or paid for by brands or retailers.
Recommendations are based on my experience as a personal stylist and wardrobe consultant for over a decade. I worked with busy, down-to-earth women who wanted to look chic and feel confident but were often confused by so much of retail.
Some links are affiliate links, which means if you purchase via our site, we receive a small commission.

If you enjoy our content and would like to help us grow, please follow on Instagram and join our Private Facebook Group to access more advice and exclusive in-depth conversations with other like-minded women.
Learn about our mission to help women look and feel their very best, every day, here.
Sign Up for Daily Content and Receive Our Free Classic Wardrobe Checklist