When I worked with private style clients, after we shopped for new clothes to pair with what they had in their closet, we would create "look books."
They kept this simple guide on their phone (early in the business, we used polaroids) of all the ways to wear their clothes. So they could see their outfit combinations hanging in their closet at their fingertips.
When I left styling 1:1 clients to focus full time on The Well Dressed Life, I knew I wanted to replicate that experience, so How to Wear it Wednesday was born.
This weekly series takes a recent reader favorite piece and shows three different ways to wear it with other popular featured finds.
Because having a plan for the clothing you buy will help you build a valuable, waste-free wardrobe you love.
So let's get into this weeks featured item, the Old Navy Tapered Workwear Pant.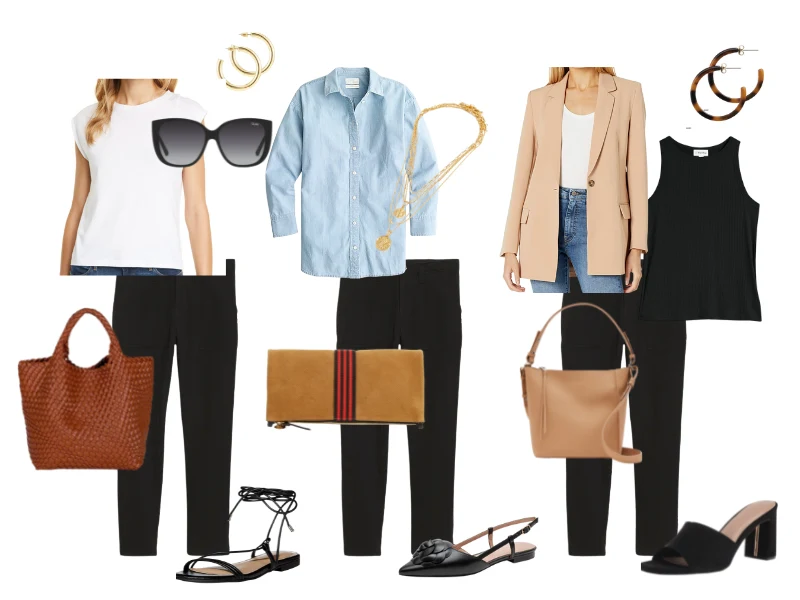 Today's key piece, the Old Navy Tapered Workwear Pant, is an ideal buy to wear now and later.
We featured it last week in green (you can see some inspiration for outfit building in the post), but the black looks like a different pair of pants that you can wear on the weekends in August and to the office in September.
Available in sizes 0 – 30, regular, tall, and petite, for $35 with an extra 20% off a checkout.
These are 100% cotton, with a straight tapered leg, elastic at the back of the waist, and a clean, flat front.
They call these "workwear" pants, which is a bit misleading as they are casual but can be dressed up a bit.
For today, I'm showing a wear now look, and a couple wear laters, depending on where you live.
With a White Tee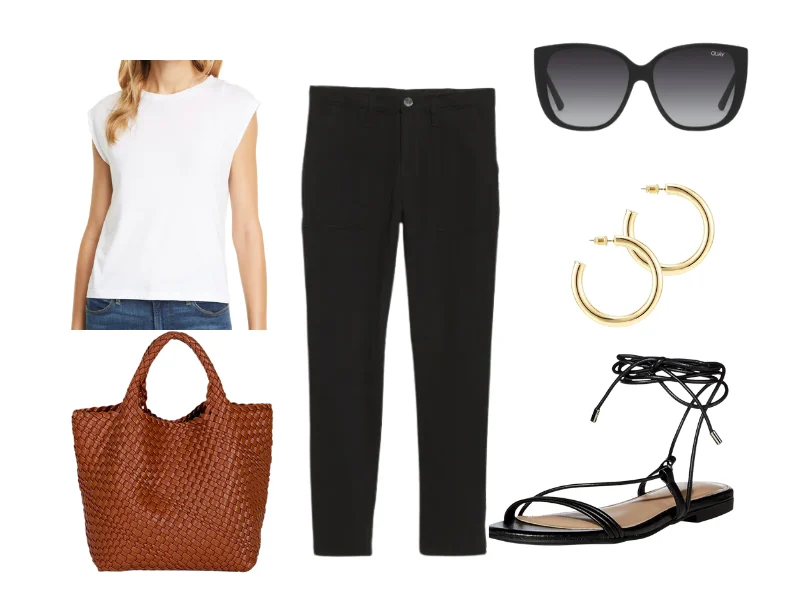 Yes, a white tee seem obvious, but it's the shape of the tee that brings the interest.
"Muscle" tees for women are a thing.
Defined by their straight across neckline, almost like a boatneck, and extended shoulder, they add structure that a white tee lacks. These look best on someone with narrow shoulders and a smaller bust or a rectangle shape looking to create the illusion of a smaller waist.
Here, I'm using the Le High Rise Muscle Tee from Frame. It's more than I usually spend on a top, but I like the cut and quality.
If you have broad shoulders and/or a full bust, look for a v-neckline to help draw the eye in, like this on from LOFT.
Then we're keeping the rest of the look minimal with a few simple pieces.
For shoes, I went with these flat lace up sandals in black, from Amazon's The Drop. They get rave reviews for comfort and quality and are under $40.
Lace them around your ankle and then play with the hem of your pants, you can leave them down or cuff them, depending on what feels right.
I lost my mind over this woven faux leather bag, another Amazon find. It looks rich and feels fantastic. And I love the combination of black and tan, it's a nice option if you don't want to wear all black.
Round out the accessories with oversized sunglasses, like this pair from Quay available at Nordstrom for $60 and then our go-to hoops available in four sizes, I wear the smallest size almost every day.
With a Button Down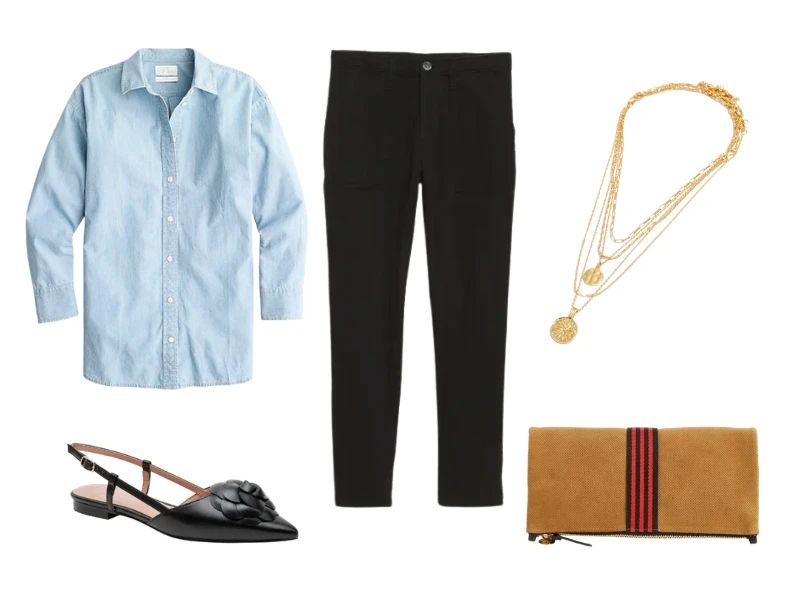 This look is an easy option for a casual day in the office.
We're starting with the relaxed fit Chambray Shirt from J.Crew because we sold so many versions of this over the summer and I want you see how versatile it is.
This one in particular is fantastic because it comes is sizes 00 – 24 in regular, petite and tall, and is on sale for 30% off.
I would cuff the sleeves, front tuck and open up the collar.
In the collar I would layer some delicate gold necklaces, like this Madewell option available at Nordstrom.
For shoes, we're doing a slingback flat.
This style is going to be a welcomed trend for fall. They are a fantastic way to elongate your leg without having to wear heels. And shoes by Linea Paolo never disappoint, they are always comfortable and high quality.
The subtle flower detail on the top adds some visual interest and texture without being too sweet.
And for a bag, so many of you picked up the Clare V Foldover clutch during the Nordstrom Anniversary Sale, I want to make sure you see different way to use it.
Don't be afraid to grab it to add a pop of color in a basic look like this one.
With a Blazer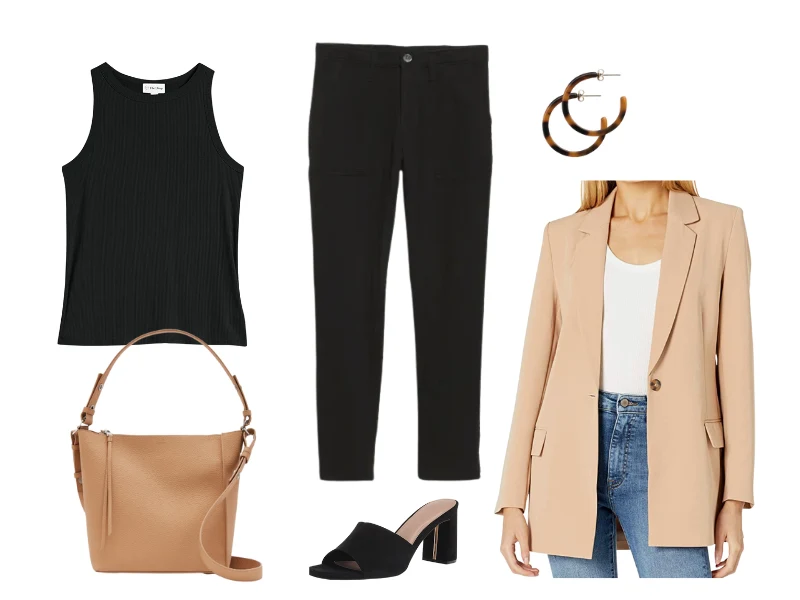 Last but not least, a polished, tailored look. Most of the pieces in this look come from yesterday's What to Buy at featuring The Drop from Amazons.
I am starting with this blazer. I have it in two colors, pink and tan (above). I've very impressed with the fit and quality.
Layer it over this popular racerback tank, that looks awesome on, and you don't have to wear a racerback bra, so BONUS!
For shoes, we're using these block-heeled mules in black suede.
Then, I found these tortoiseshell hoops for only $23. I like that they bring the tan and black together and complement the button on the blazer.
Finally, another practical and chic fall trend is the return of the Hobo bag. I adore this clean-lined, roomy option for $300 from AllSaints.
52 Outfits in 2022!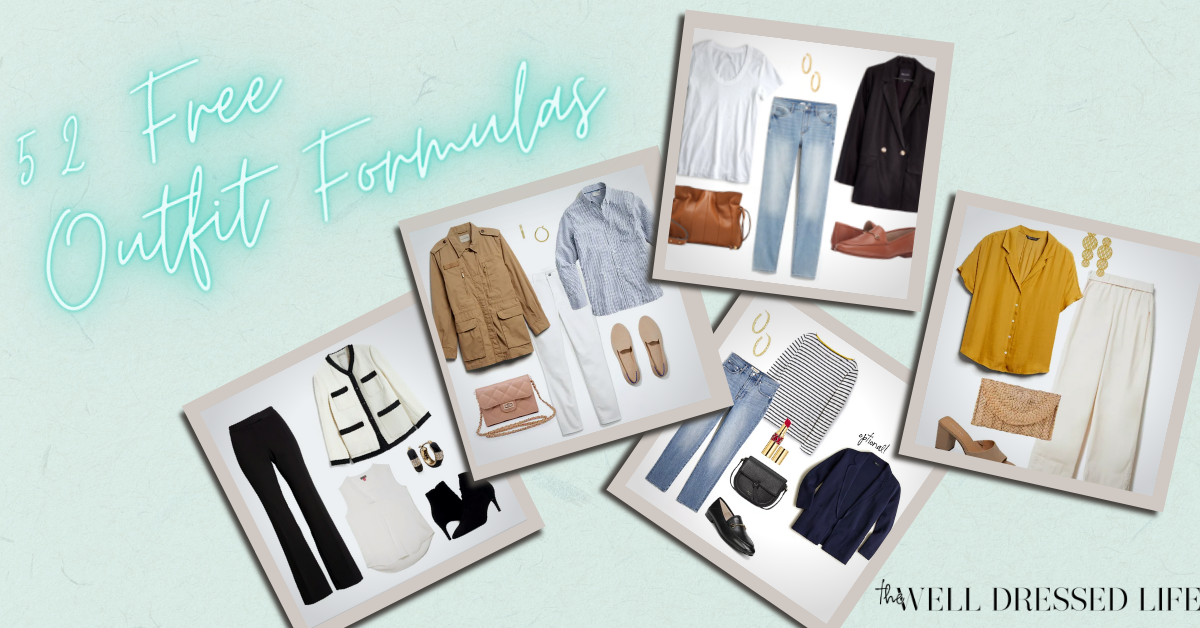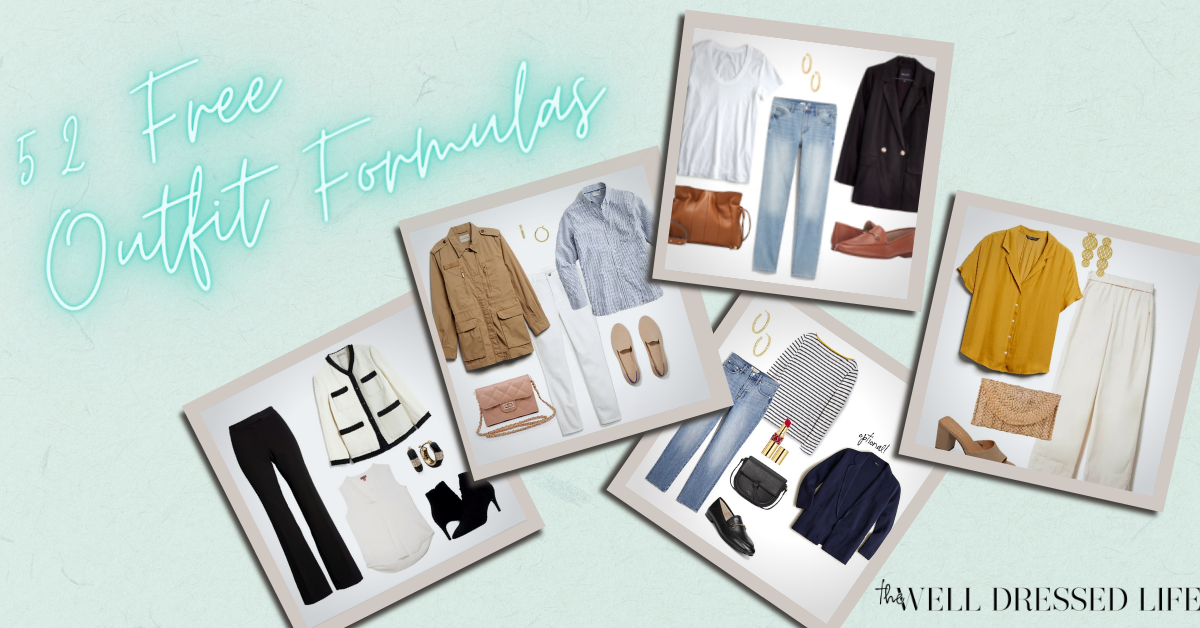 Follow Us on Instagram!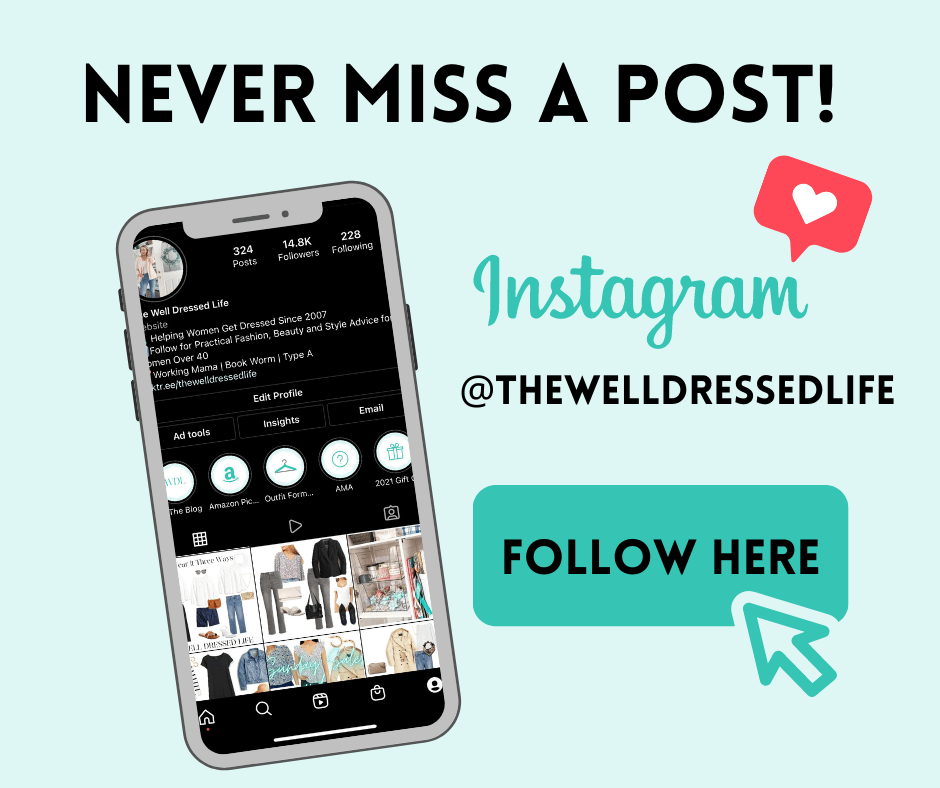 Our Style Content is Inspired by Our Readers
Our readership inspires all of our posts and is not sponsored or paid for by brands or retailers.
Recommendations are based on my experience as a personal stylist and wardrobe consultant for over a decade. I worked with busy, down-to-earth women who wanted to look chic and feel confident but were often confused by so much of retail.
Some links are affiliate links, which means if you purchase via our site, we receive a small commission.

If you enjoy our content and would like to help us grow, please follow on Instagram and join our Private Facebook Group to access more advice and exclusive in-depth conversations with other like-minded women.
Learn about our mission to help women look and feel their very best, every day, here.
Sign Up for Daily Content and Receive Our Free Classic Wardrobe Checklist