On Monday we featured Old Navy in What to Buy at, and the best seller by a mile was their long sleeved Shirred Blouse.
At regular price it's only $35, but take 30% off at checkout, and it's a steal.
I'm highlighting it today because it's was wildly popular and it's a FABULOUS example of what to replace a white tee shirt with in an outfit to keep it casual but dress it up a bit.
How to Wear the Old Navy Shirred Long Sleeve Blouse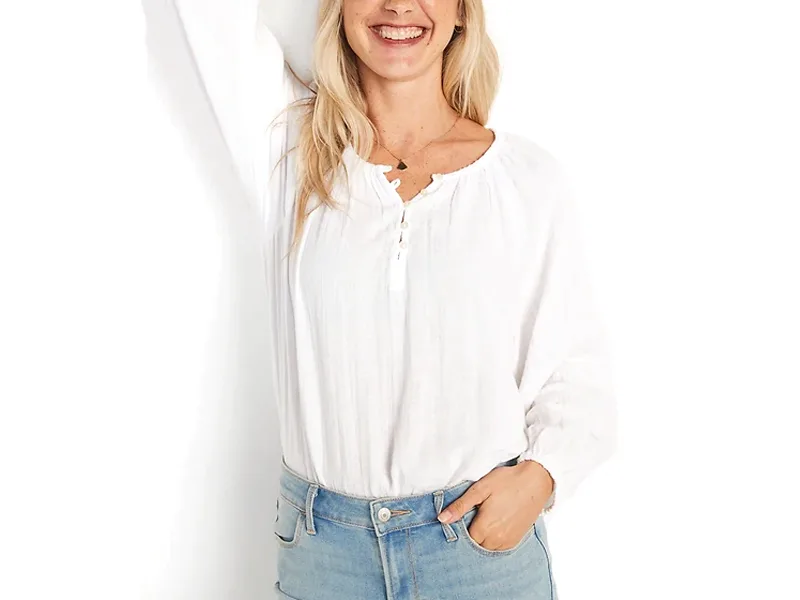 Shirred Blouse, $35
Available in regular, petite and tall in XS – 4X.
I'm specifically using the white option, but it's also available in blue and black.
Please keep in mind I often work with neutrals because (1) they are the foundation of classic style and (2) it's easier for you to use the looks as inspiration and plug in your different personality pieces.
One Blouse Three Ways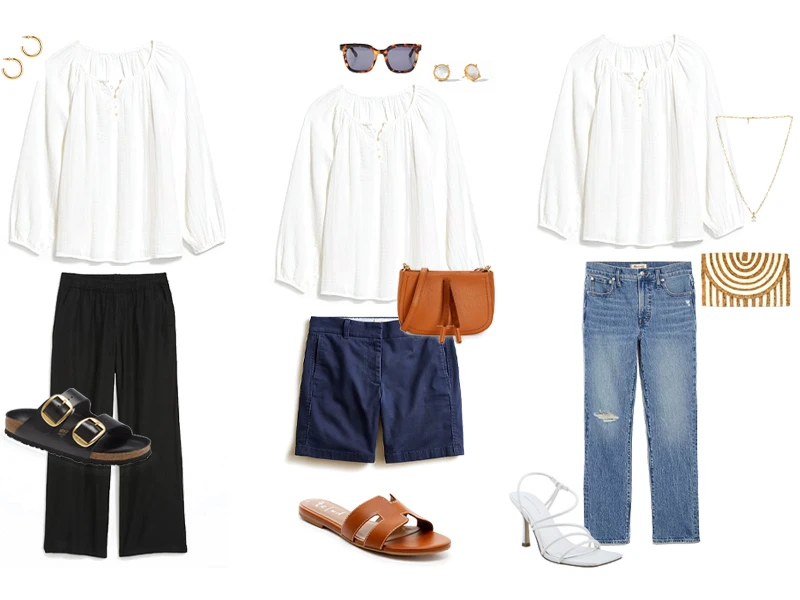 I am often asked this time of year, how can I make spring or summer outfits feel put together?
So let's talk about it.
Often we're pairing basics on top of basics, and our outfit falls flat.
Because we wear fewer garments in warm weather, it's a challenge to play with layers, which helps us create visual interest.
So we have to make up for that by playing with shapes, balance, and texture.
I have a little something for everyone in the outfits below, so scroll down for more tips and recommendations.
With Wide Leg Linen Pants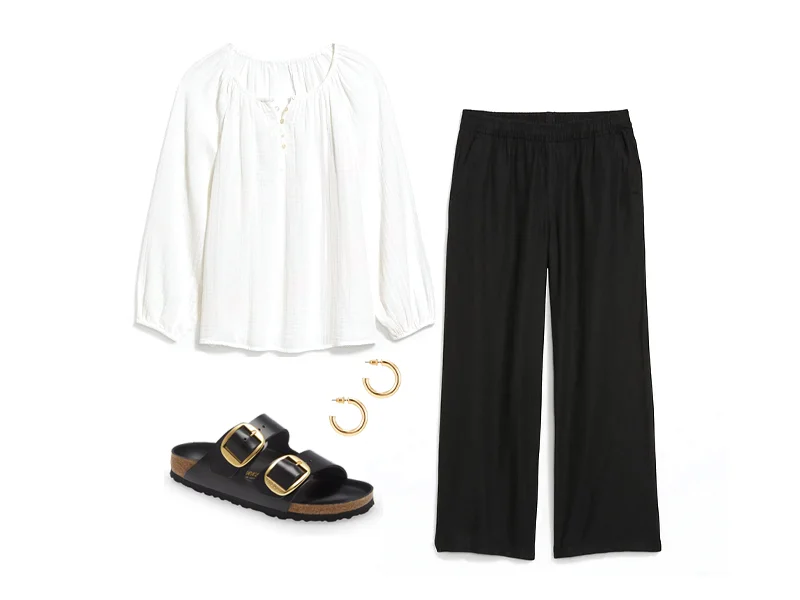 Linen-Blend Wide-Leg Pants, $40 | Black Birkenstocks, $169 | Gold Hoops, $14
Let's start with a simple pair of black wide-leg linen pants.
You can find these everywhere at a range of prices. The featured pair above is also from Old Navy because many of you picked it up on Monday.
They are available in regular, tall, and petite sizes XS – 4X.
To make this work, you are going to half tuck the top into the pants, so you can create a waistline and elongate your leg.
If you don't it will look too boxy.
I'm pairing them with these updated Black Birkenstocks.
Listen, if you had told 29 year old me that I'd one day be recommending Birkenstocks, to wear, in an outfit, I'd have laughed.
But here we are.
Why do these work?
Because, the volume of the pant balance out the weight of the shoe. And they share a similar feel, both being relaxed and casual.
The sandal has an oversized gold-tone buckle, which acts as an accessory.
So to keep the look cohesive, I'm using our favorite under $20 gold-tone, everyday hoop.
With Shorts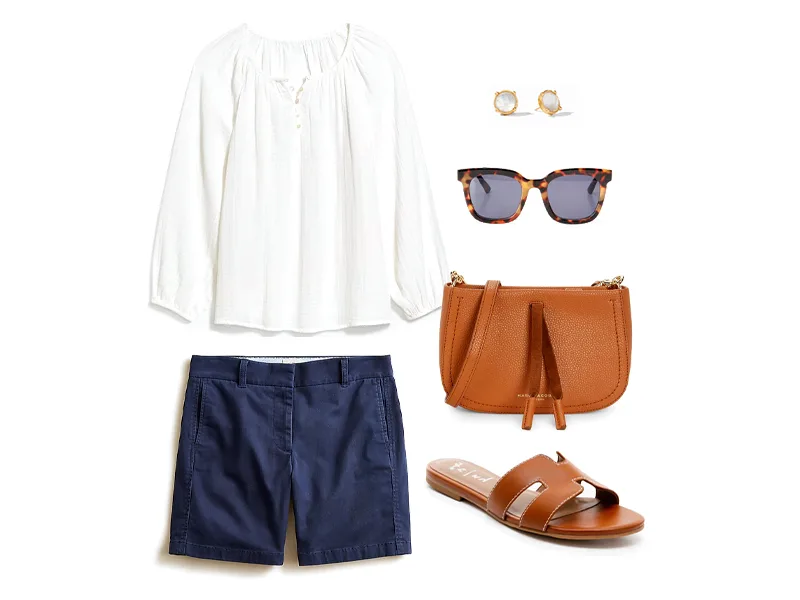 Chino Shorts | Leather Sandals, $155 | Crossbody Bag, $199 | Stud Earrings, $135 | Sunglasses, $28
For my ladies who happily wear shorts, I know you wonder how to make them feel like an outfit.
Most of us grab a basic tee shirt to pair with our basic shorts. Which creates a basic look.
But, if you swap the tee for something like this blouse, you'll easily elevate the look.
First, it creates balance. The long sleeves of the blouse balance the length of the shorts.
Second, the blouse has some texture which adds the visual interest that a basic tee lacks.
In this look, I'm using J.Crew's 7″ chino shorts, available in many colors. They are regularly priced at $60, and today they are 30% off with the code SPRING.
STYLE NOTE: You can use this like a "formula" and plug in the pieces you already have in your closet. For example: if you have a pair of olive green chino shorts pair them with a long sleeve printed blouse that has flecks of green.
Next, you need better accessories. Here I'm using a higher quality, wear-with-everything shoes and bag.
These gorgeous tan slides are from Tuckernuck majorly inspired by the Hermes Oran Sandal, but about $500 less.
You can also wear one of the Tory Burch Slides we featured early last month that sold out.
For a bag, I'm reusing this Marc Jacobs crossbody, on sale at Off Fifth for $100 off, first featured here.
Then, inexpensive but sophisticated sunglass under $40 and one of my favorite earrings from Julie Vos.
By pairing the casual short with an elegant shoe and earring, you're composing an actual outfit rather than just throwing on clothes.
With Jeans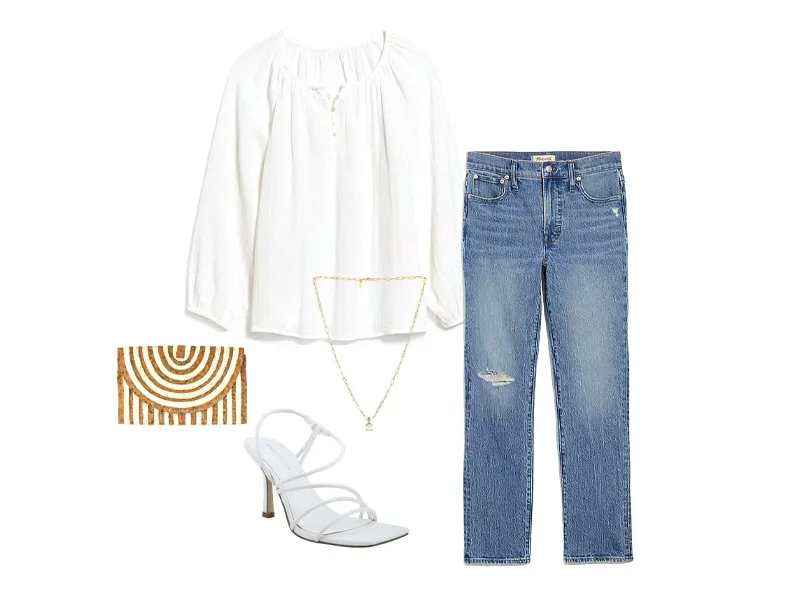 Vintage Jean, $138 | Strappy High Heel Sandals, $79 | Necklace, $88 | Straw Clutch, $48
Finally, let's work with jeans, a go-to for many of us.
I encourage you to wear whatever jeans make you feel most comfortable. You don't have to comment, "you lost me when you showed ripped jeans."
Don't wear them if you don't like them. A 5-pocket, medium wash, straight jean will work well here, so would a dark wash skinny jean or one with a slim bootcut.
I happen to like a bit of distressing because it adds texture and interest. Plus, they are everywhere this season.
This pair by Madewell has the most subtle touch of distressing. Available in regular, petite, plus, and tall sizes. Also 20% off with code YESPLS.
And a quick note about Madewell jeans, they have a large inventory, in a ton of sizes, and there is something for everyone. So please spend some time looking for what you like; their guides help you understand each pair's fit and amount of stretch.
Then shoes. This spring, the strappy, square toe high heel sandals are a huge trend. I'll feature these and versions of them over the next few weeks. They look great with jeans or flowy dresses.
We're using these Marc Fisher's from Macy's. Currently, there is a promotion, take 30% off one pair or 40% off two.
I ordered this version with a block heel in the white and latte, and my total came to $100.
For accessories, I keep them light.
This necklace is an under $100 option that you can wear alone or in a layer.
And I love a straw clutch, so I was happy to find this one with white stripe detail for under $50.
Remember, look to what you have first; I bet you have options you don't even realize!
Our Style Content is Inspired by Our Readers
Our readership inspires all of our posts and is not sponsored or paid for by brands or retailers.
Recommendations are based on my experience as a personal stylist and wardrobe consultant for over a decade. I worked with busy, down-to-earth women who wanted to look chic and feel confident but were often confused by so much of retail.
Some links are affiliate links, which means if you purchase via our site, we receive a small commission.

If you enjoy our content and would like to help us grow, please follow on Instagram and join our Private Facebook Group to access more advice and exclusive in-depth conversations with other like-minded women.
Learn about our mission to help women look and feel their very best, every day, here.
Sign Up for Daily Content and Receive Our Free Classic Wardrobe Checklist