Good news, if you picked up this polka dot pull-on skirt from our J.Crew Factory round-up yesterday, today, we're styling it three ways.
As always, our Wednesday post features outfit ideas using the seasonal pieces we recommend from our favorite retailers.
To create each look, I go through the best-selling items from the past few weeks and use what I know you have to help you build a stylish and functional wardrobe, where everything gets used and goes together.
Buy This …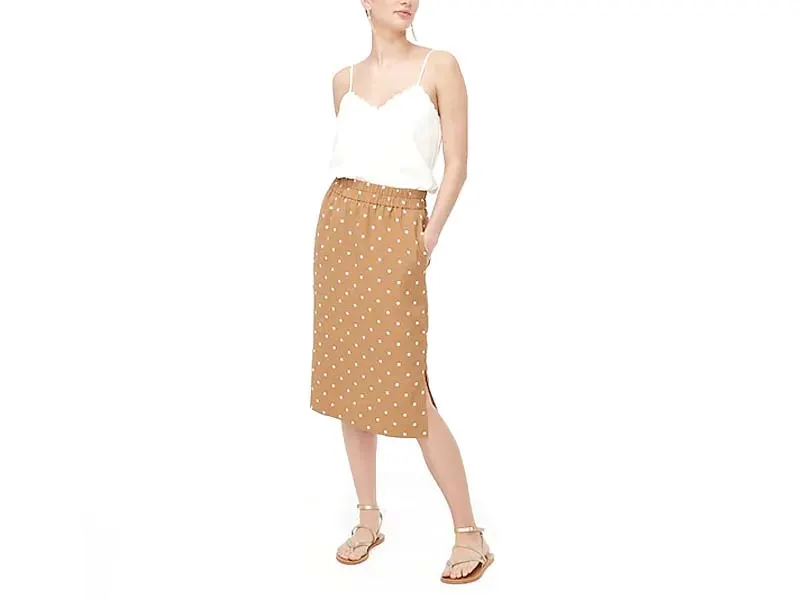 Pull on Skirt, $44.50
The J.Crew Factory Pull On Skirt is available in several patterns, including camel (above) and black polka dot. In classic and petite, in sizes XXS – 3X.
And it has pockets.
So let's style it.
Wear it Like This …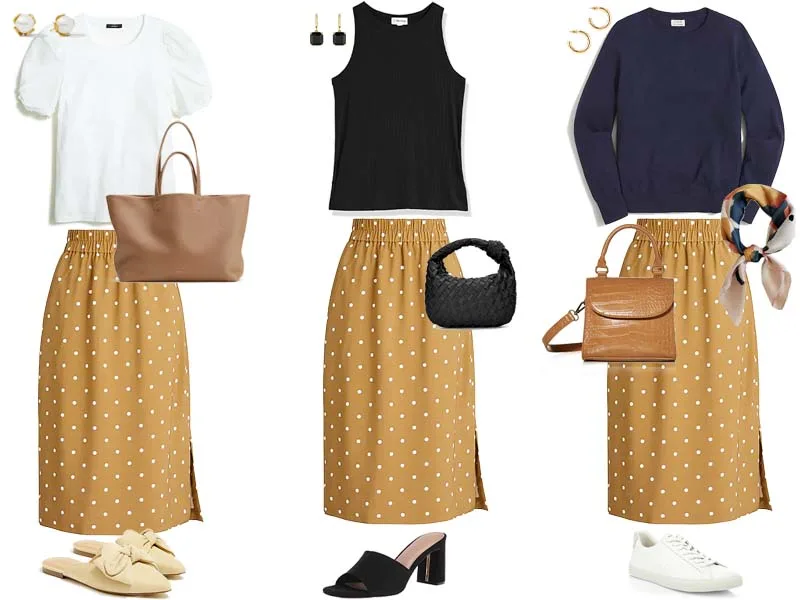 With an Updated White Tee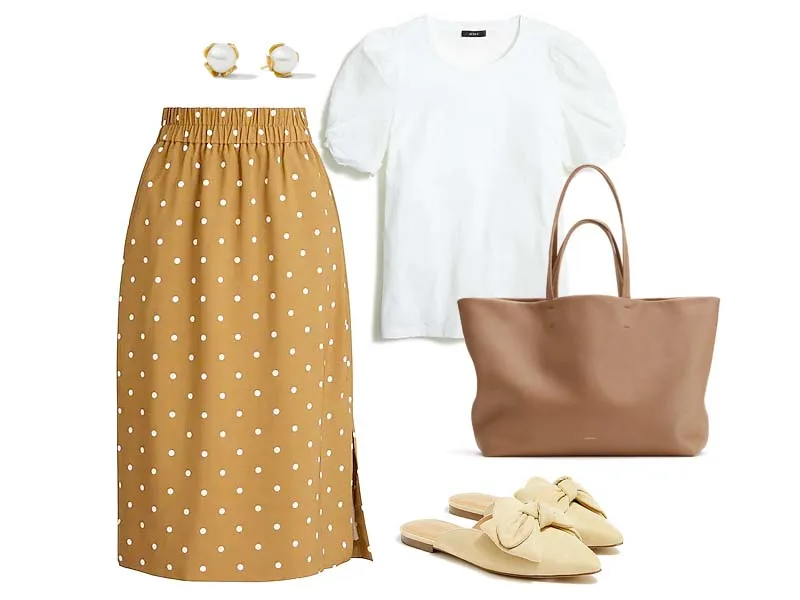 Clip-Dot Tie-Sleeve Top, $45 | Faux-Suede Bow Mules, $69.50 | Pearl Studs, $75 | Classic Easy Tote, $248
A simple white tee shirt is probably the first thing you think to grab, so let's take that idea and finish it.
I like this Clip-Dot Tie-Sleeve Top also from the J.Crew factory. It's basically a white tee with a clear sleeve that elevates the outfit a little bit.
These kinds of details make a difference when you're trying to create an outfit. And the sleeve helps build a strong shoulder if yours are narrow or if you are a rectangle shape and trying to pull in your waist.
I'm also using the faux-suede bow mules from yesterday's round-up, also available in black. You'll see versions of these flats throughout the early fall.
Then, I'm reusing the Julie Vos Pearl Studs that many readers ordered for themselves for Mothers Day ;). You can choose between large and small, so please check the measurements if you order. I have the large ones, which are significant, but I have big ears, so the work. 😉
Finally, a clean-lined tote bag if you are headed to work. This one is from Cuyana, and it's just lovely. Available in a range of colors, we're featuring the caramel above.
With a Black Tank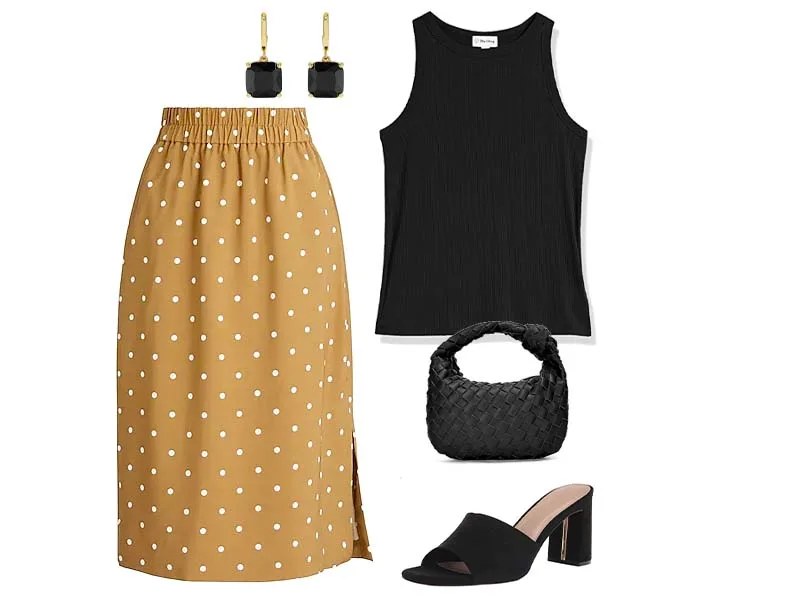 Racerback Tank | Mule Sandal, $50 | Woven Bag, $45 | Square Huggies, $38
Next, let's play with the classic combination of camel and black.
First, grab this popular racerback tank from The Drop on Amazon. I was just at the beach for a week, and I pretty much only wore this in black and white.
I'm using these suede block heel sandals from The Drop to dress this up. If you would rather wear a flat, that works too. Something like these flat lace-up sandals or these under $40 H Band Sandals.
For a bag, I like this woven one, also from Amazon. Every time I carry it, I get a ton of compliments. And for an earring, these square huggie earrings from Kate Spade.
With a Navy Sweater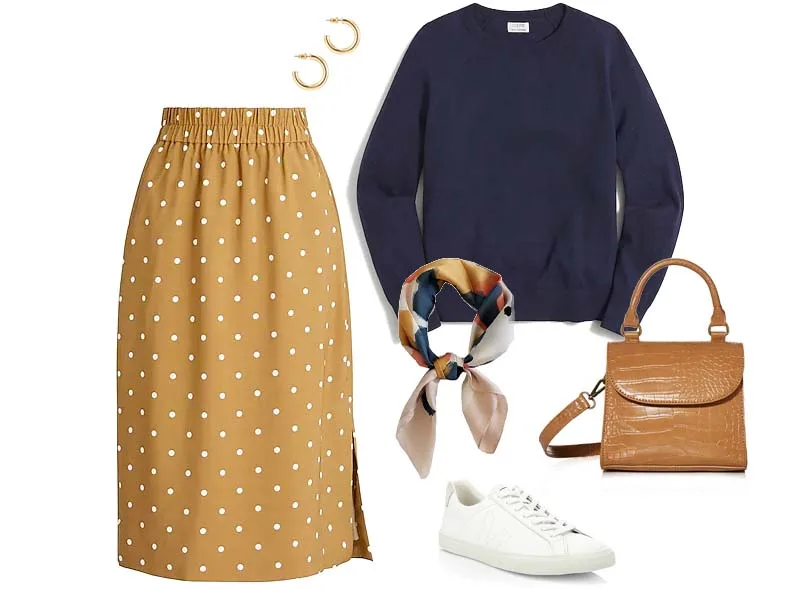 Cotton Cashmere Sweater, $58.50 | White Sneakers, $140 | Crossbody Bag, $40 | Scarf, $11 Gold Hoops, $14
Finally, a sporty look for a crisp fall day. I LOVE how this came out.
Here, I'm using the J.Crew Factory Cotton-Cashmere Sweater, an under $60 knit that looks and feels wonderful. I size up in this to a large for a looser fit.
Push up your sleeves and do a casual half tuck.
Next, white sneakers. Any pair you like. Above are the Veja low top sneakers, a reader favorite this summer.
Then, accessories are important here to create a cohesive, thoughtful look.
I found a scarf that combines the navy, white and camel for under $20. You can tie this in your hair, wear it around your neck or knot it on the handle of your bag.
And speaking of bags, how cute is this little crossbody?
Not going to lie, this is small, but you can fit essentials in it.
Finally, can't do an outfit post with recommending these Amazon hoops for under $20 which might be my favorite find of the summer.
52 Outfits in 2022!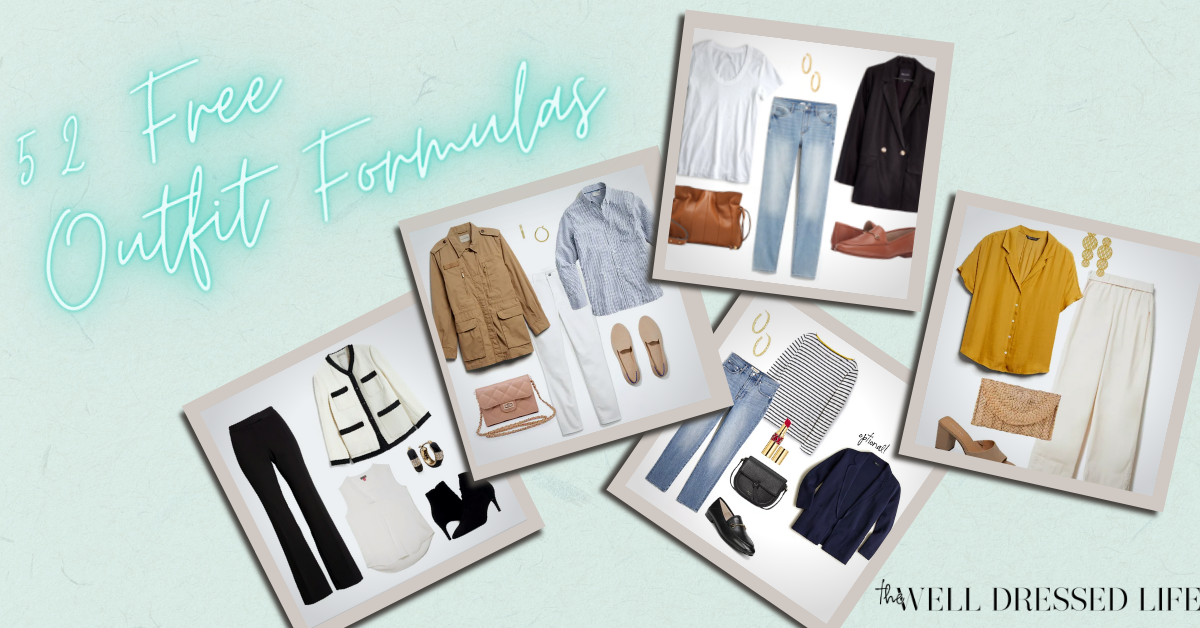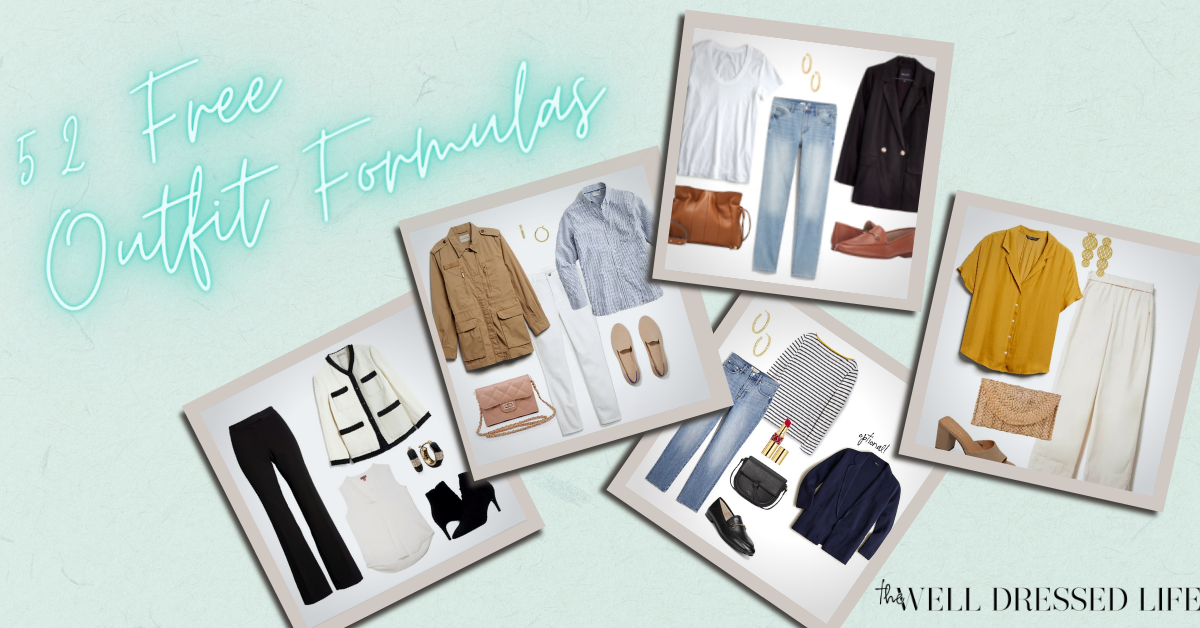 Follow Us on Instagram!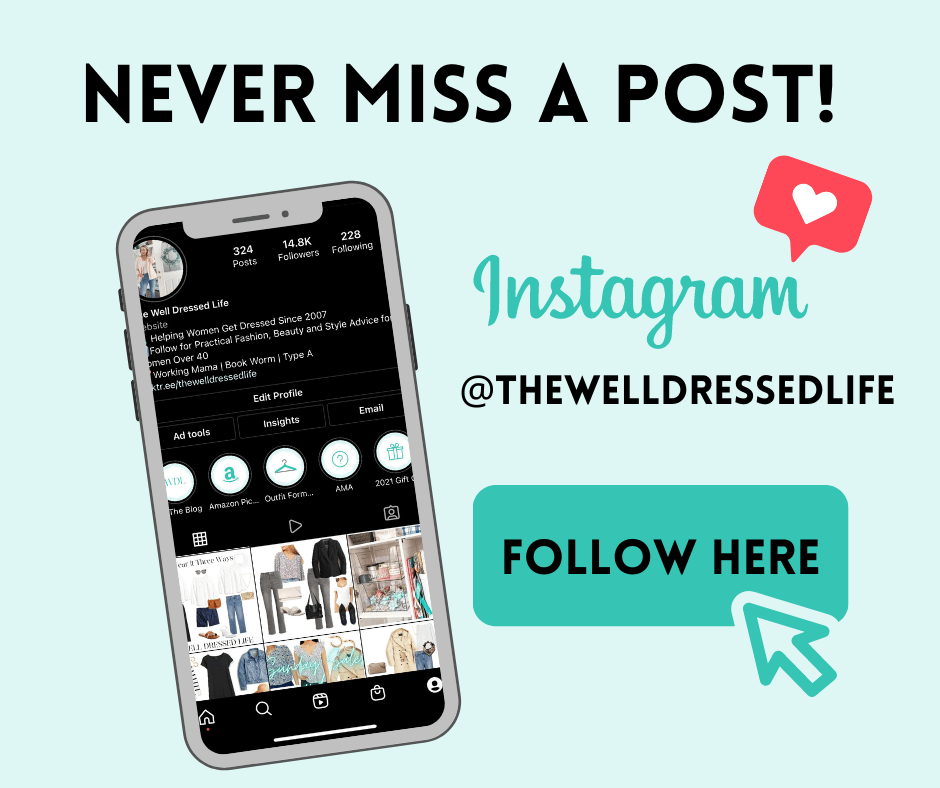 Our Style Content is Inspired by Our Readers
Our readership inspires all of our posts and is not sponsored or paid for by brands or retailers.
Recommendations are based on my experience as a personal stylist and wardrobe consultant for over a decade. I worked with busy, down-to-earth women who wanted to look chic and feel confident but were often confused by so much of retail.
Some links are affiliate links, which means if you purchase via our site, we receive a small commission.

If you enjoy our content and would like to help us grow, please follow on Instagram and join our Private Facebook Group to access more advice and exclusive in-depth conversations with other like-minded women.
Learn about our mission to help women look and feel their very best, every day, here.
Sign Up for Daily Content and Receive Our Free Classic Wardrobe Checklist