How to Wear the Birdies Starling Loafers
I don't often say you "need" to buy something because you don't ever need to buy anything.
But if you host during the holidays or plan on attending parties in your friends' and neighbors' homes, you want these shoes.
If you haven't already, meet The Starling Loafer from Birdies.
These shoes are chefs kiss!
The Starling by Birdies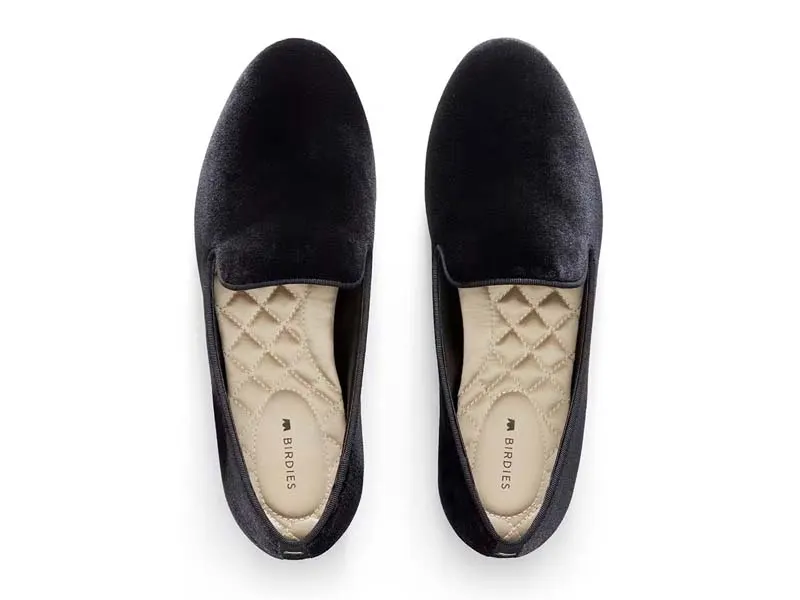 The Starling Flats, $98
Founded by two moms who shared a passion for bringing family and friends together at home but were frustrated with hosting barefoot or in frumpy slippers, they created Birdies.
They were initially designed as comfortable and stylish slippers for home entertaining.
Since then, the company has become much more, but its best-selling assortment of slippers-turned-lux-loafer is at its core.
Because I host Christmas Eve and Christmas Day and a few smaller kitchen-island gatherings this time of year, I scooped these up to replace ratty-looking Uggs I ended up wearing.
And they have been one of my best purchases.
They are not the kind of shoes you wear every day. I reserve these for parties at home or if I'm walking over to my neighbor's house for drinks this time of year.
You could also pack them if you are traveling and being hosted over the holidays.
I think of them like a pair of rain boots; you don't need them all the time, but you're so happy when you do.
How to Wear the Birdies Starling Loafer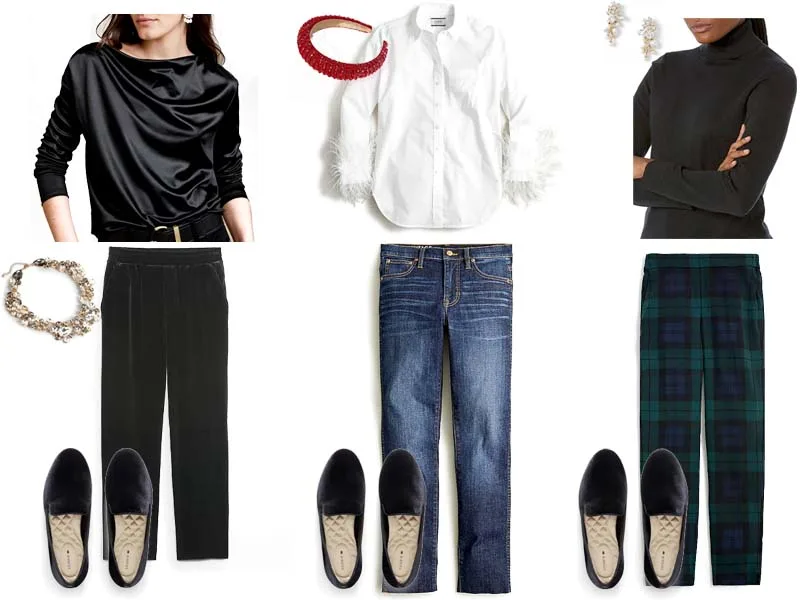 Within Birdies' inventory are some stunning options.
I have the original Starling Loafer in black velvet. They are $98 and are never put on sale or promotion.
Sizing runs true, ranging from 5 – 13 in medium and wide widths.
Yes, they are incredibly comfortable.
And now you can have them monogrammed, so I ordered the Latte Suede, color with my initials, as house shoes for the season. That sounds more pretentious than it is, I promise.
So let's create a few holiday-ready looks, with some pieces you already have and a few new festive finds.
With Velvet Pants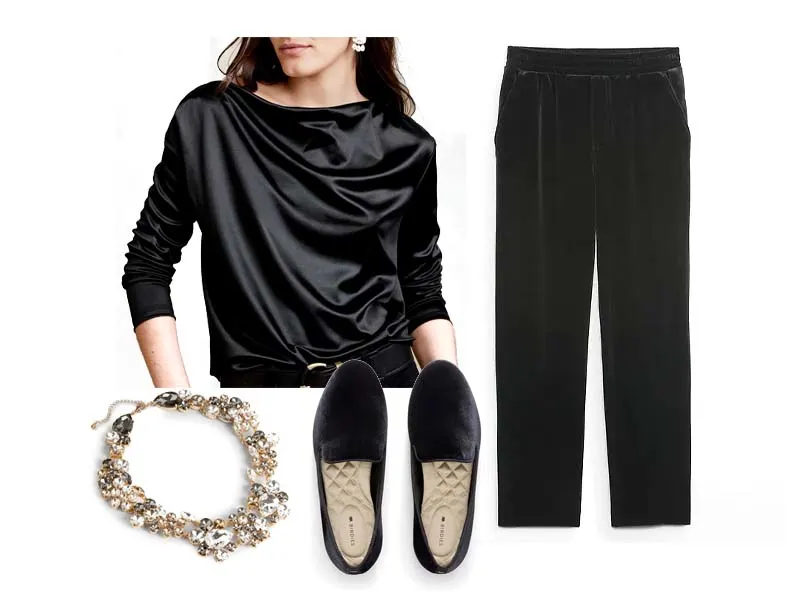 Velvet Easy Pants, $42 | Satin Off-the-Shoulder Top, $27.50 | Jeweled Cluster Necklace, $63
I might wear this outfit on Christmas Eve because it feels like pajamas but looks like a million bucks.
The pants are from Gap, available in regular, petite, and tall, in XS -XXL.
They have an elastic waistband and will hit above the ankle. On sale right now for about $40.
Next, I was thrilled to find this satin top from Banana Republic Factory for under $30. They say it's off the shoulder, and you can fuss with it, so it falls off one side, but it does sit on your shoulders properly, like in the product image.
It has excellent stretch so that you can move all night comfortably.
Available in black or white in XXS – XXL.
For some holiday shimmer, I added the Boden Jeweled Cluster Necklace many of you picked up last month.
With Jeans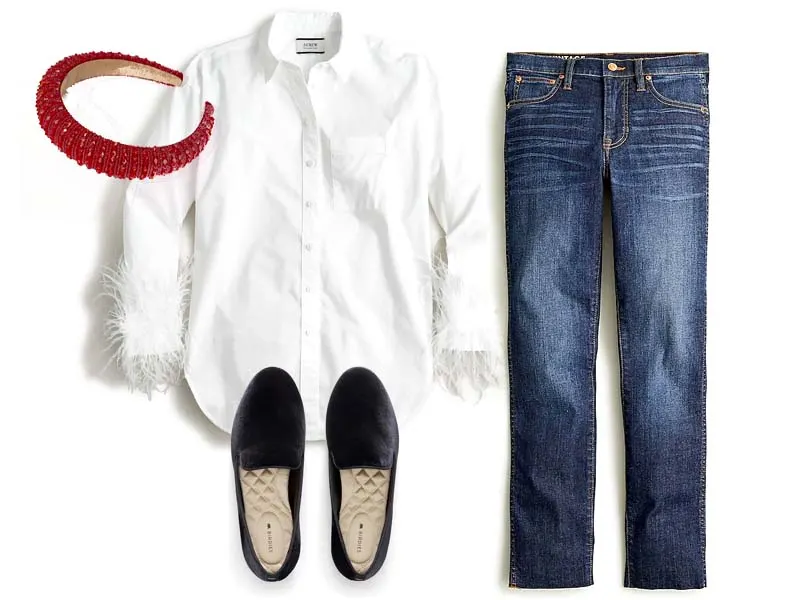 Feather Trim Collared Shirt, $198 Don't Freak Out! Keep Reading for an Affordable Hack | Slim Straight Jeans, $128 | Padded Headband, $12
Mainstream fashion has been boring for the last few years, so seeing feather trim on basics makes me happy.
It's wonderfully impractical and a reminder that fashion is supposed to be fun.
I wouldn't host in this since I would set myself on fire, but I would sip some bubbly in someone else's house.
The featured top is from J.Crew, and is overpriced, for sure. However, I'm clocking them for sale any day now, so when it's marked down, I'll likely feature it in one of our Sunday Sale emails.
But I LOVE the look and wanted to figure out a way to recreate it for less.
So, you can pick up a pair of feather cuffs, there are a ton of options on Etsy, and add them to your favorite white button-down or sweater. Easy-peasy.
Then, grab your favorite jeans, preferably with a little stretch.
I like these slim-straight jeans from J.Crew. They are on sale for $110 plus an extra 15% off with code FESTIVE.
The wash is between dressy and casual, and the hem is unfinished, creating a contrast between the over-the-top feather details on your shirt.
The size includes regular, petite, and tall in 23 – 32.
For extra bling, I added this red "bedazzled" headband.
With Plaid Ankle Pants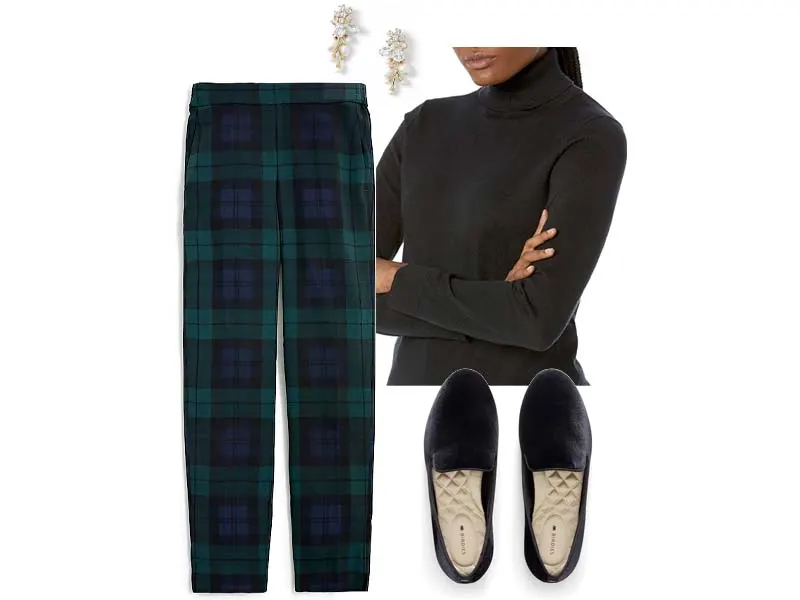 Plaid Pants, $49 | Turtleneck Sweater, $27 | Crystallized Earrings, $98 plus 40% off
Finally, I love green and blue tartan more than red and black.
It still feels like the holiday, but it is understated.
You'll see more expensive versions online, some almost $300. Don't ever spend that.
Instead, get these at J.Crew Factory for under $50.
They have a flattering flat front and comfortable back elastic. You're not wearing these three different ways, so don't spend.
Next, I used the Amazon Turtleneck Sweater, a reader favorite from last month.
This is a fantastic, affordable turtleneck. I have it in black, tan and white.
I bought my normal Amazon size, large (for reference, I am 5'10 and almost always size up in Amazon).
The fit is what many of us look for; it's not skin-tight, so we don't have to deal with lumps and bumps showing, but it's not oversized, either.
It's soft, comfortable, and fits just right.
Tons of color options with sizing in XS – 6X.
Finally, we're reusing these Ann Taylor pearl and crystal flower drop earrings for your bling.
I told you last week not to buy them until they went back on sale, and today they are 40% off, so, if you like them, go for it🙂