Before you JUMP off the page because you hate distressed jeans, give me a second.
I'm not going to attempt to convince you to give them a try. Instead, you can swap them out with these classic, high-waisted straight legs.
My point for this post is to show you outfit options that complement straight-leg jeans because they are everywhere.
Can you wear your skinny jeans instead? Of course, we're still seeing them both in stores and street style.
But if you want to keep your style current, a few extra, affordable jeans in a straight cut will add some much-needed variety to your wardrobe.
And they are simple enough to wear; you may have to get used to them.
Full disclosure, they took me a minute to embrace too.
I like the distressed option because I love the contrast of mixing polished and relaxed pieces, but, again, a straight-leg in a classic finish works the same.
So let's first talk about the jeans.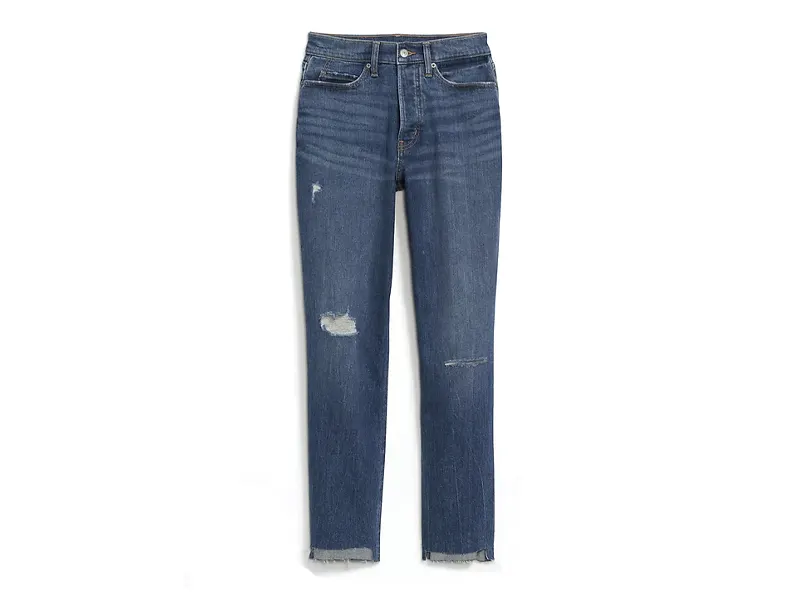 Curvy Extra High-Waisted Button-Fly Sky-Hi Straight Ripped Jeans, $50
We often talk about where to spend, splurge, and save in your wardrobe budget. I put these in the save category. This pair is $50 from Old Navy with an additional 30% off at checkout. Maybe it's the clarity that comes with being 40, but gone are the days I spend over $100 for jeans with holes in them.
Sizes range from 00 – 30 in regular, tall, and petite. Thank you, Old Navy.
I like the color and the subtle distressing.
Also, please note these are button fly, and for whatever reason, I find that button fly jeans generally run a little small, but they will stretch out. So try on your size and the size down.
Below, I created three looks for various casual occasions that might push you out of your comfort zone.
As always, I'm mixing readers' favorite pieces with new recommendations; work with what you have first.
How to Wear Straight Distressed Jeans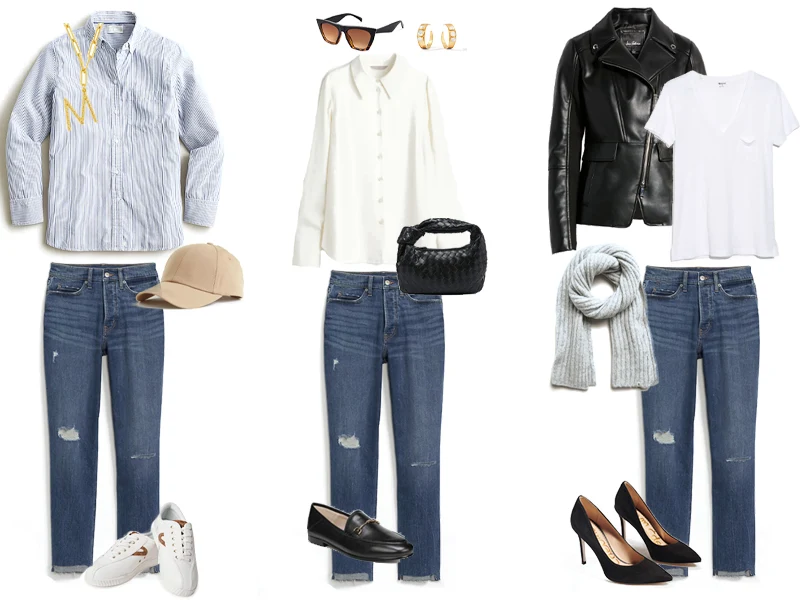 When styling a distressed piece, my best tip is to keep all the other components polished.
And when working with a true straight leg jean, one that sits away from your body, they tend to look best when they hit at or around your ankle.
If you don't like ankle skimming jeans, you can easily replace these with any dark jean that's called a straight-skinny, you'll get the length you want, with a more traditional leg, and can wear the same shoe.
Now that everyone's happy,
Let's get dressed.
With Sneakers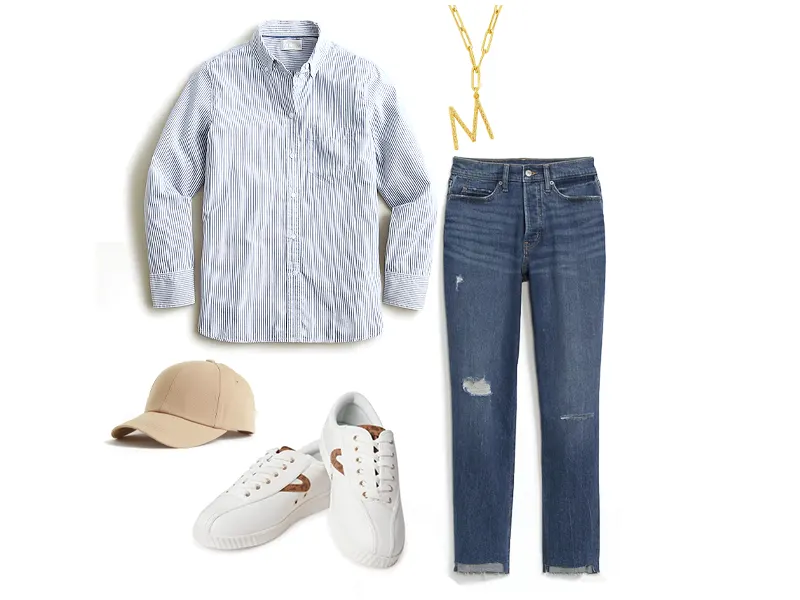 Classic-fit washed cotton poplin shirt in pinstripe, $79.50 | Leopard Sneakers, $85 | Initial Necklace, $29 | Cotton Cap, $13
First of all, how amazing is it that sneakers are socially acceptable just about anywhere?
The most important note for pairing these jeans with sneakers is that the sneaker needs to be a low-top or a low profile. I ordered these leopard sneakers for Tuckernuck (waiting for them to arrive). They are under $100, and I love the subtle wink of leopard. I think I'll wear them all spring.
For a classic, preppy look, pair with an oxford button-down. I love this Reader Favorite striped style from J.Crew ( we featured this at the end of January). It has a lived-in look, but it's not unkempt.
Roll up the sleeves, and either leave out or half tuck. You can also layer this over a simple white tank and leave open.
Then, I added two simple accessories.
A simple cotton baseball cap from H&M is another springtime staple for me, especially for long youth sports days that start early.
And a fun initial necklace. This one is on sale at Off Fifth for under $30; you have to search the initial you want, but they have a complete inventory right now, from what I can tell.
If you have better, delicate necklaces, consider layering them inside the collar of your shirt.
With Loafers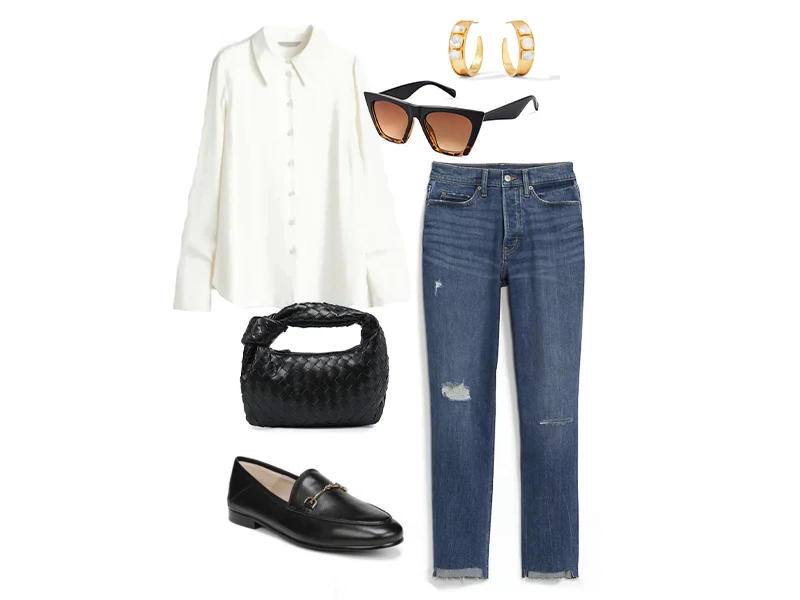 Fitted Shirt, $25 | Sunglasses, $14 |Woven Bag, $34 | Loafers, $130 | Statement Hoops, $165
The same guidelines apply when wearing a loafer; keep the shoe profile slim if your jeans are wider leg and ankle-ish length.
Above, I'm using the Sam Edelman Loafers, another Readers' Favorite. Unfortunately, sizes are limited. I also found a similar, lower-priced pair from Alfani at Macy's. I'm not familiar with them, but they have good reviews and are just under $80.
For the blouse, I went with this button-down from H&M. It's lightweight, with a pretty drape. You can also easily use this tunic blouse, also featured on Monday. For either blouse, you want to half-tuck to create balance.
Then, a pair of affordable oversized sunglasses from Amazon gives off a cool-girl vibe, which is especially nice if you are like me and very much not a cool girl.
For a bag, I had to include this black woven clutch. I just received it yesterday, and the quality, for the price, is crazy good.
Finally, statement earrings, because why not? This pair from Julie Vos is currently on my wish list.
With Heels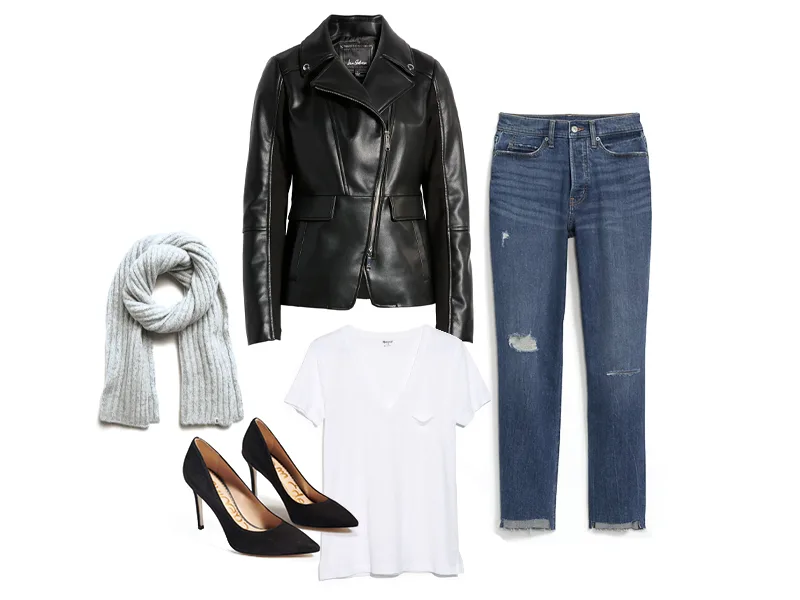 Leather Jacket, $90 | Cotton V-Neck Tee, $19.50 | Pointed Toe Heel, $140 | Scarf, $60
It's probably been a minute since you wore heels. But, if you're ready to get back in them, this is a fun look.
A heel elevates these jeans in the best way. Of course, I keep it simple with one of our go-to pumps, the Hazel Heel from Sam Edelman. I'm using the black suede option to add texture. They are my favorite pairs of shoes, and I know many of you already own them.
I wanted to feature a black moto jacket and found this one from Sam Edelman on sale at Nordstrom. I like the asymmetrical cut; you might consider sizing up if you order it.
But you can use ANY black jacket here, from leather or faux leather motto OR an oversized blazer like the Madewell Boyfriend Blazer.
You can also swap the black out for another neutral.
Related: Outfit Formula #1: The Boyfriend Blazer
For an under-piece, use a simple, casual white tee. The outfit is the jacket, so you're not taking it off.
Finally, a grey scarf to keep you warm, if necessary. I would wrap it tight around my neck and pretend I'm a girl on the go.
Our Content is Inspired by Our Readers
Our readership inspires all of our posts and is not sponsored or paid for by brands or retailers.
Recommendations are based on my experience as a personal stylist and wardrobe consultant for over a decade. I worked with busy, down-to-earth women who wanted to look chic and feel confident but were often confused by so much of retail.
Some links are affiliate links, which means if you purchase via our site, we receive a small commission.

If you enjoy our content and would like to help us grow, please follow on Instagram and join our Private Facebook Group to access more advice and exclusive in-depth conversations with other like-minded women.
Learn about our mission to help women look and feel their very best, every day, here.
Sign Up for Daily Content and Receive Our Free Classic Wardrobe Checklist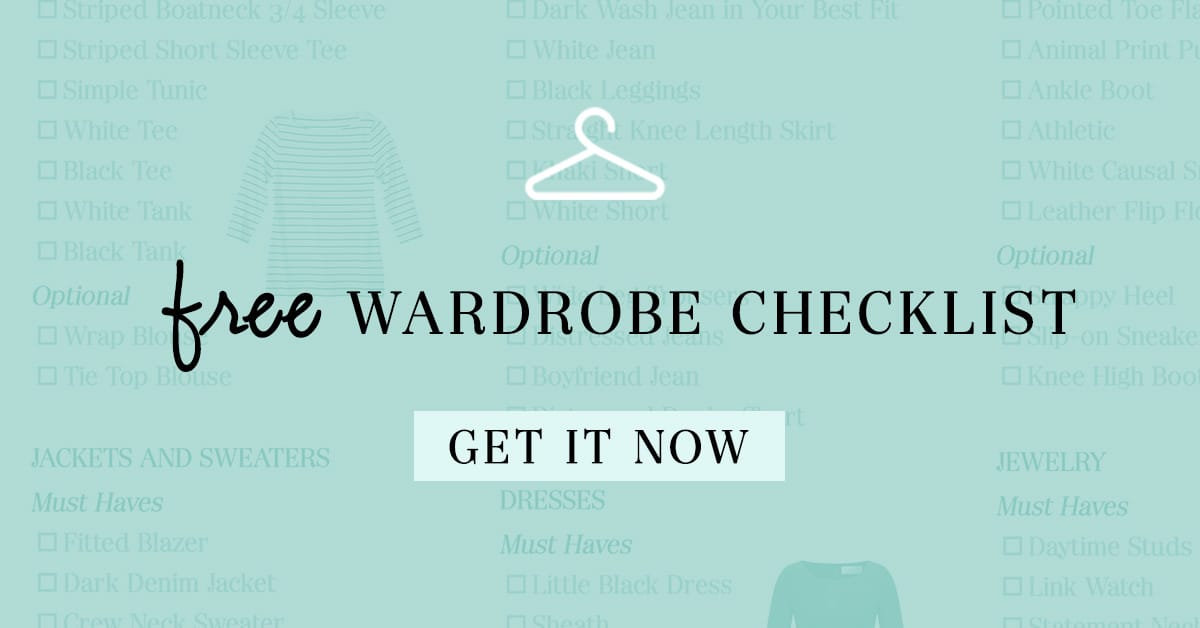 How to Wear Straight Distressed Jeans