I love watching how style evolves with time, and how trends turn into modern classics.
Take, for example, the rise of the dress sneaker.
Not your gym sneaker or what you go for morning walks in, but a clean, fresh pair that elevates an outfit.
Before the pandemic, sneakers started to appear in street style, paired irreverently with a suit or gown—the juxtaposition showing how you can create balance with opposites.
Then COVID hit and we all had our own journey. Personally, I became the walking embodiment of hanging-on-by-a-thread.
Now that American life has returned to some level of normal, we have more people working from home, and everyday life is once again overscheduled; fashion has leveled out to meet everyone where they are.
And what we'll see this year is a refinement of casual.
Still casual, just nicer. We get the best of dressing down without the defeated vibe we were rocking for a while.
With that said, may I introduce you to a sneaker that I only briefly mentioned last week, that hit the top of our Reader Favorites in a matter of days.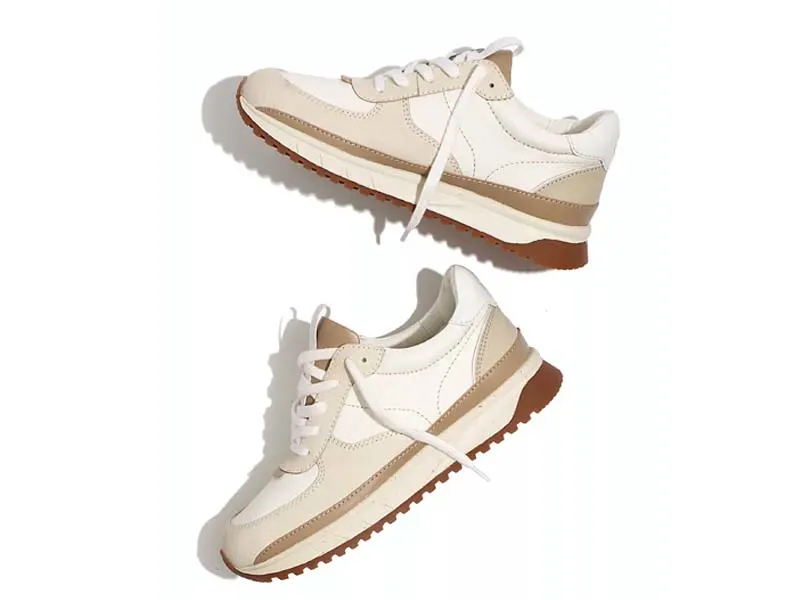 Colorblock Sneakers, $110
The colorblocking, rich tones, thick sole, and classic design, it all works so well.
So if you're wardrobe is like mine and full of neutrals, or you prefer better basic pieces, you might consider adding these into your mix.
Options!
If you picked up these Veronica Beard Sneakers at the beginning of the year, they will work in the same way.
If you would like a pair with a cleaner line and lower profile, these trainers from J.Crew (in Clay Ivory) are gorgeous and just under $100.
And for a budget option, I am stunned at how beautiful this pair is at Target for only $30.
Ok, now let's get dressed.
How to Wear Neutral Colorblocked Sneakers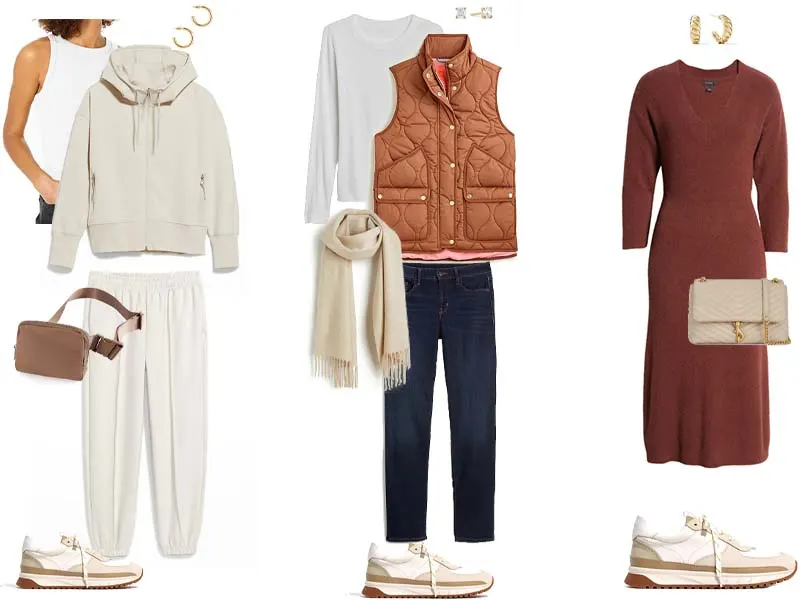 In our weekly How to Wear it series, we offer styling inspiration and product recommendations. Featuring a best selling item and offering three different ways to wear ti.
You'll notice that we reuse previously featured items. By highlighting your favorite purchases from past weeks we're able to help you get the most out of your wardrobe and share best sellers with our readership.
Below, you'll see several recently shared items, to help you create a truly wearable, practical and still chic wardrobe.
With Sweats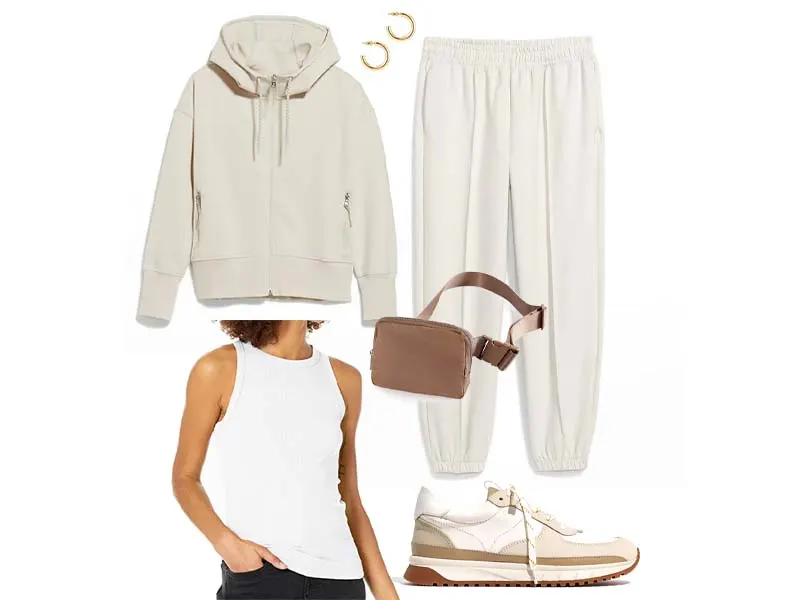 Fleece Zip Hoodie, $50 | Pintucked Sweatpants, $45 | Gold Hoops, $14 | Racerback Tank, $20 | Belt Bag, $20
I'm not going to lie, these last few weeks of wrapping up summer, getting kids back to school, sports starting back up, and, oh, working, I look like Cruella de Vil driving around on a particularly bad day.
So a cute, well-styled sweatsuit, that is comfortable AND pulled together, is just what I need.
Above, we're using the Old Navy Fleece Hoodie and Sweatpants featured here over the weekend.
The hoodie and sweatpants are available in regular, tall and petite up to a 4X, and the sweatpants
Not that the sweatpants have a pintuck detail running down the front of the leg, this helps pull the eye in and elongates the leg. It's little details like this that create a tailored look on a traditionally causal piece.
Both pieces are sold separately and available in several colors, including a chocolate brown that would also look fantastic with these sneakers.
Under the hoodie, I would layer this racerback tank from Amazon's The Drop. I have multiples of these in black and white, available in up to a 5X.
An inexpensive belt bag in a coordinating neutral; this one is about $20 on Amazon is a must have. This one is a dupe for the sold-out Lululemon Everywhere Bag. Available in a ton of other colors.
And, don't forget to put on your everyday jewelry. Mine includes these affordable hoops, also on Amazon in rose, white and yellow gold options.
Wear this for a day of running around in the early Fall or for travel.
With a Vest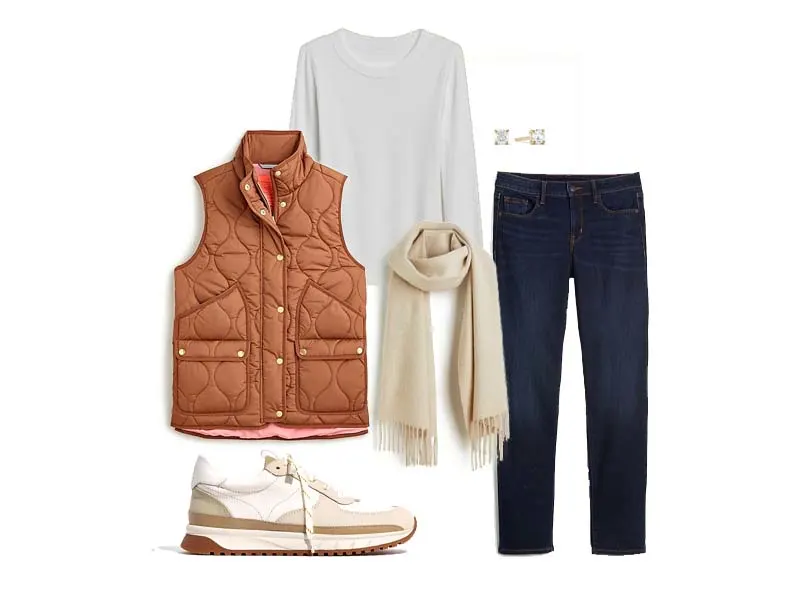 Quilted Vest, $148 | Crew Neck T-Shirt, $40 | Slim Straight Jeans, $40 | Woven Scarf, $13 | Topaz Studs, $48
If you scooped up this J.Crew Quilted Vest featured on Monday, here's an easy way to work it into your wardrobe.
It's available in several colors, but it's hard to pass up on the Nutmeg. This sort of rich caramel truly works with every other neutral.
Layer it over a simple long sleeve tee shirt; I like this one from the Banana Republic, and as the weather cools down further, a knit sweater or turtleneck.
Here, we're using these Slim Straight Jeans from Old Navy.
They are one of my favorite straight-leg jeans because they look tailored, and are ridiculously well-priced, currently 30% off $39.99, in regular, tall, and petite.
For accessories, grab this $13 scarf from H&M, and these just under $50 studs from Mejuri, using white topaz to mimic the look of diamonds.
With a Sweater Dress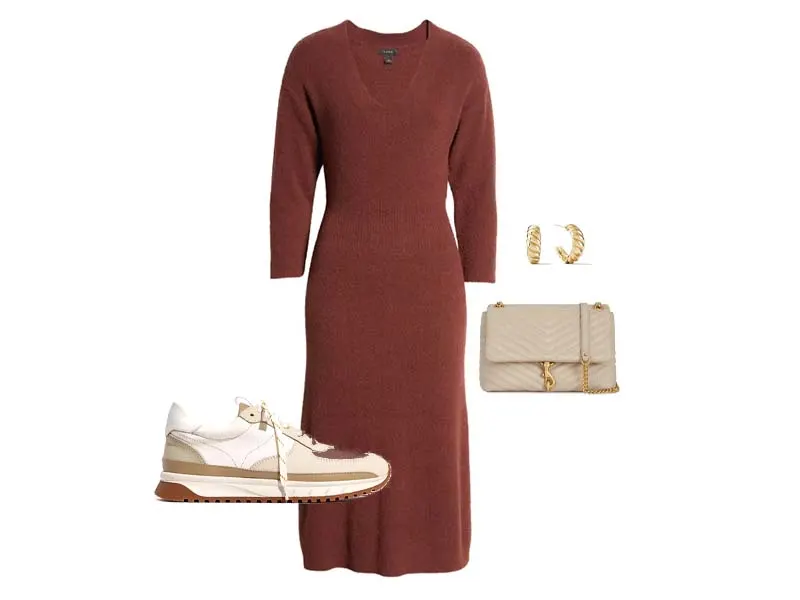 Midi Sweater Dress, $89 | Shoulder Bag, $229 | Croissant Dôme Hoops, $78
Finally, throw these on with a sweater dress, in any neutral tone.
I found this midi length one at Nordstrom in chocolate brown. I like the clean line of it and the v-neckline. They say you can wear it off the shoulder too if you want. That's up to you.
You could also wear it with something like this Fitted Knit Dress from Old Navy and add a denim jacket on top. I also like this Midi Henley style dress.
Or this polo style dress at Target, available in regular and plus size, though it may be a smidge short if you are tall.
And there will be more options as we get into the season.
For contrast, we went with this elegant cream-colored quilted shoulder bag by Rebecca Minkoff.
And to pull the gold from the bag into the look, wear these popular Croissant Dôme Hoops also from our Mejuri round-up.
52 Outfits in 2022!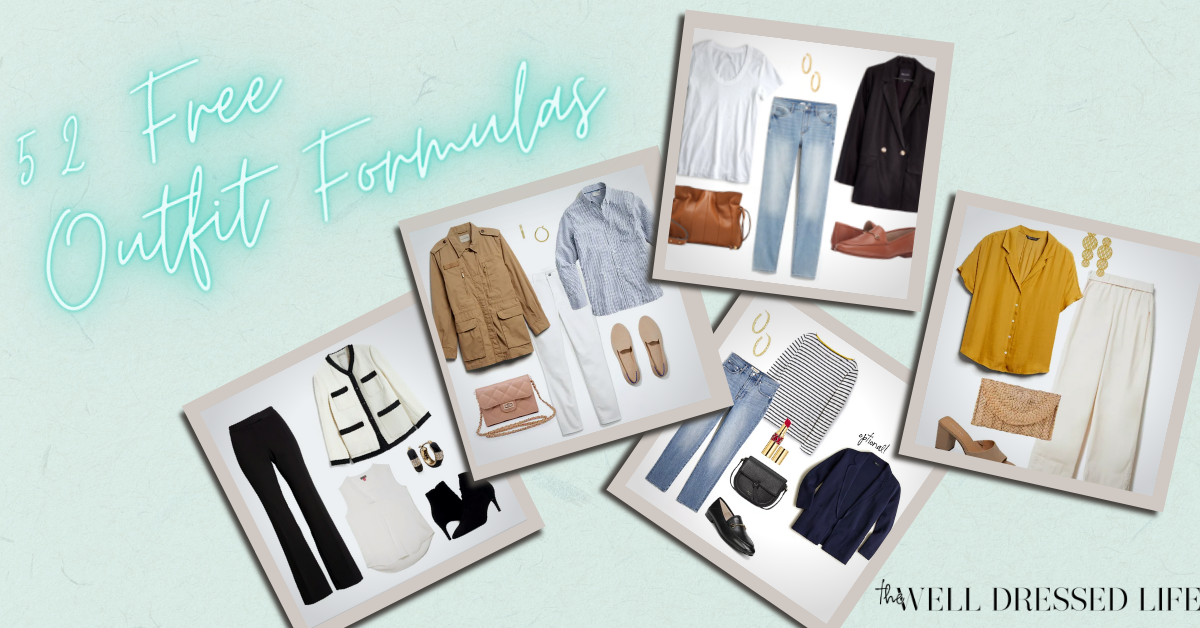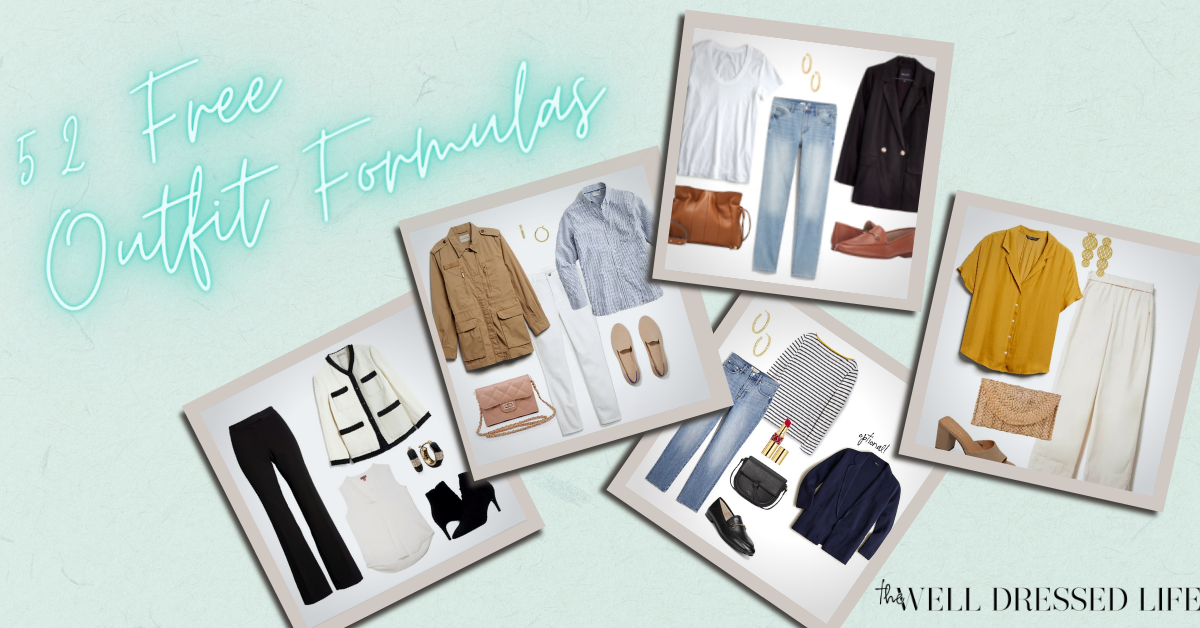 Follow Us on Instagram!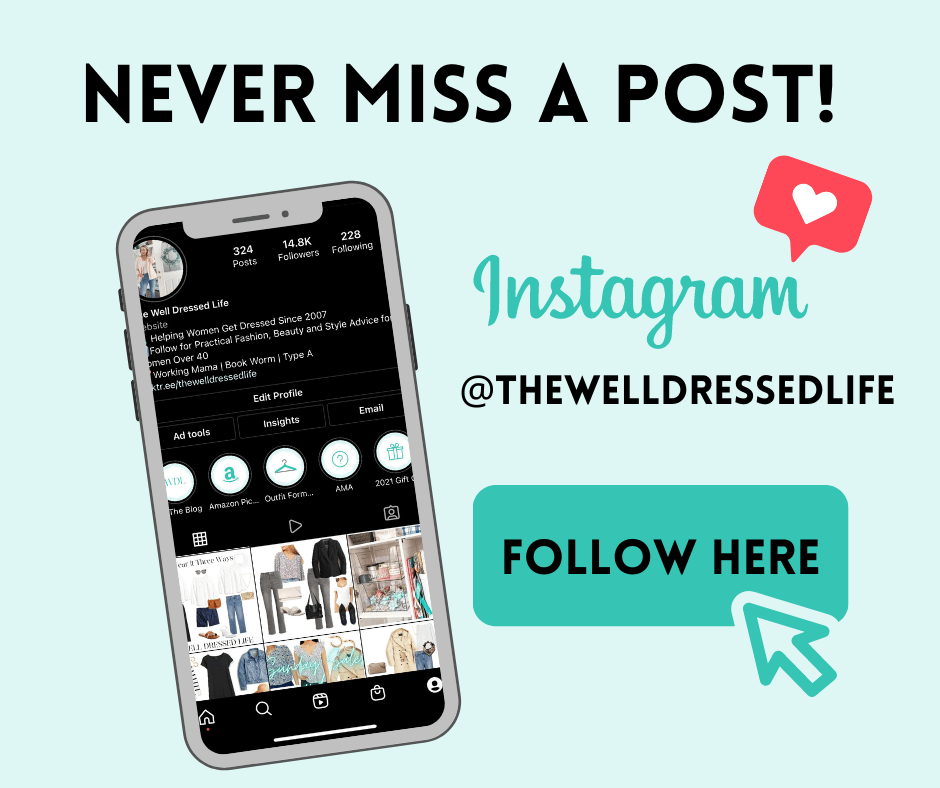 Our Style Content is Inspired by Our Readers
Our readership inspires all of our posts and is not sponsored or paid for by brands or retailers.
Recommendations are based on my experience as a personal stylist and wardrobe consultant for over a decade. I worked with busy, down-to-earth women who wanted to look chic and feel confident but were often confused by so much of retail.
Some links are affiliate links, which means if you purchase via our site, we receive a small commission.

If you enjoy our content and would like to help us grow, please follow on Instagram and join our Private Facebook Group to access more advice and exclusive in-depth conversations with other like-minded women.
Learn about our mission to help women look and feel their very best, every day, here.
Sign Up for Daily Content and Receive Our Free Classic Wardrobe Checklist