This content has been archived. It may no longer be relevant
Keeping outfits simple doesn't mean they have to be boring. Over the years, as my taste and lifestyle have evolved, I've tried to deliberate with my style choices. Classic with a modern twist has always been my wheelhouse. I define that as outfits rooted in better basics, with one or two stylized, maybe trendy elements and an overall tailored feel.
Classic pieces won't last you "forever." Will you wear them longer than trendy pieces? For sure. The point of classic pieces is to wear them in a variety of ways while they are current. Even traditional styles evolve. Line black pants up from the '80s, 90's, 2000's to today, and you'll see the gradual evolution of a silhouette.
Today's look is by no means groundbreaking, but it is an example of a classic outfit, built with better basics, with a modern twist: the jogger pant.
Joggers have been around for a while now. What's nice about them is how they easily slip into the place of a basic black trouser to elevate your look, hence the "twist."
They are modern, current, and just a bit sporty.
How to Wear Joggers to Work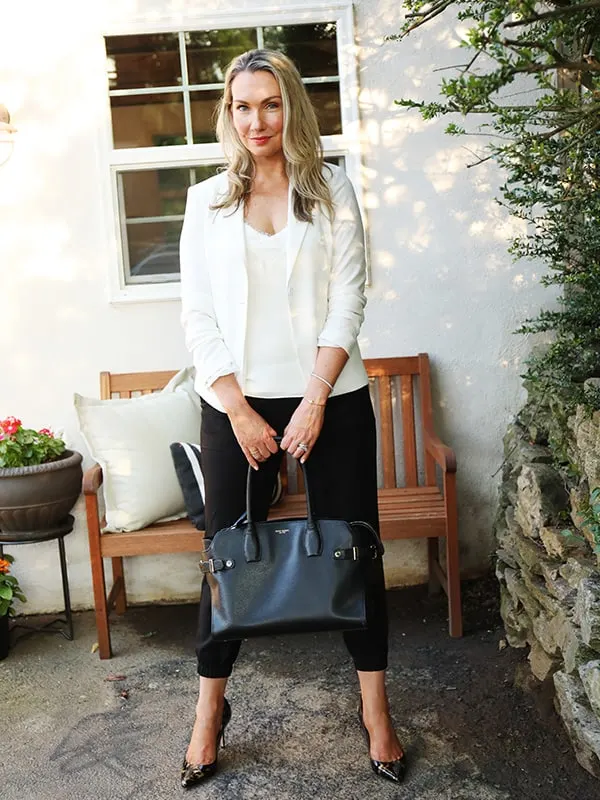 These pants are by Chelsea28 at Nordstrom for $79. They run true to size (I'm wearing an 8), have just enough stretch to be comfortable but not lose their shape, and best of all – pockets!
You could also try a ponte fabric, like these from Gibson (also at Nordstrom). For something more relaxed, and in all sizes, LOFT has a twill pant is a nice option. Pairing these with a heel elongates your leg and helps avoid the hem of the pant cutting your leg off at an awkward point. But depending on how they fit you, you could wear loafers, slides or even sneakers.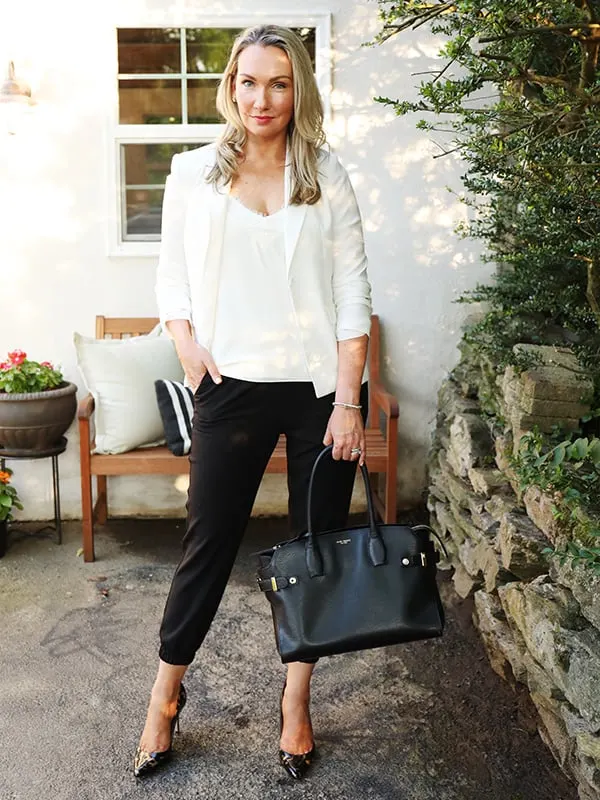 I like to pair them with a blazer and a pump to bring them into the professional world. I'm wearing the Mural blazer we've featured several times in ivory. (It's still available in black here.) You could also use this Gibson notch color blazer, (plus size here) another reader favorite, for under $100.
Underneath, a lightweight crepe cami that falls from your body complements the drape of the pants. It's a more elegant and polished look than a cotton tee or tank.
For an unexpected element, these tortoiseshell pumps from Ann Taylor add some pattern and interest while still acting neutrally. They are higher than what I usually wear but surprisingly comfortable. I've lasted all day in them with no discomfort. Right now, they are on sale for 40%. If you can rock a higher heel, they're a great buy that you'll wear throughout the fall.
Shop this Post