This week's key piece and best seller is the Birdie's Starling Loafer, created to look and function like a high-end flat with the comfort of a slipper. It's by far one of my best purchases of last year.
So let's create two fresh outfits so you can get as much wear out of them as possible now and throughout the holidays.
And like we do in all of our outfit inspiration posts, we're using other popular items featured here on the blog to help you create a versatile, modern wardrobe.
Whenever I put a look together, I like starting with a base. I'm keeping it casual for these outfits, with the loafers and a pair of straight-leg jeans in a traditional blue wash from J.Crew.
They are calling these "90s style," which cracks me up. Simply put, they are high-waisted, straight-legged, classic jeans. I find J. Crew jeans run true to size, wash and hold up well. Available in classic, petite, and tall options.
How to Wear the Birdie's Starling Loafer.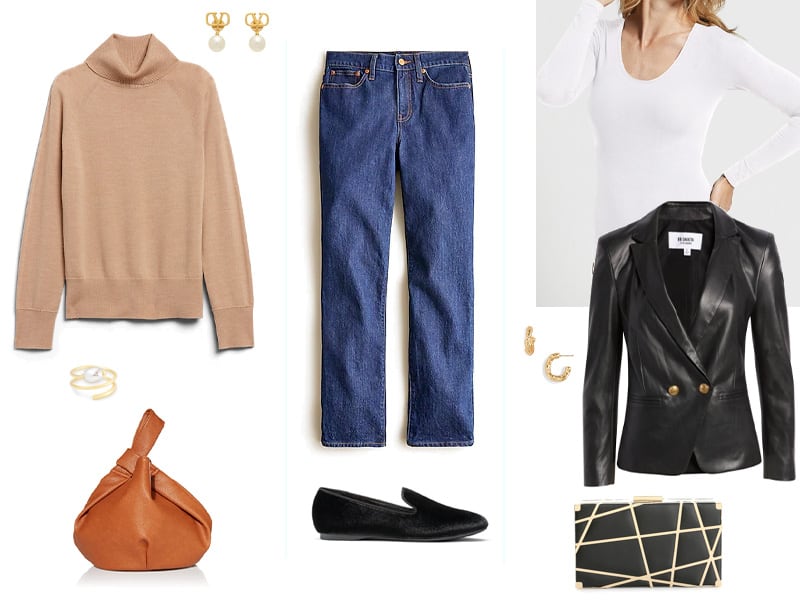 Base Pieces: Loafers, $95, Straight Jeans, $138 Outfit One: Merino Turtleneck Sweater, $79.50 | Earrings, $290 | Ring, $78 | Small Tote Bag, $40 Outfit Two: Faux Leather Blazer, $99 | Bodysuit, $48 | Hoop Earrings, $20 |Cage Clutch, $40
Outfit One
In our first look, all I did was use the Merino Turtleneck Sweater from Banana Republic. It's a great basic to wear alone or with a layer, available in a range of colors, in XXS – XXL.
Then, I reused these over-the-top Valentino Earrings that I am mildly obsessed with, and this under $100 ring from Kendra Scott.
I discovered this unique, small tote last month, and it is quite possibly my best Amazon find in a while.Ba Use it as an alternative to a clutch. I picked it up in tan (above) and black.
Outfit Two
For our second outfit, I dressed it up a bit while keeping it casual.
When I first landed on this Faux Leather Blazer, I assumed it was way out of budget, but amazingly, it's only $99. Immediately adds to cart.
Of course, they are showing it with a crop top, so realistic. I'm opting instead for a bodysuit because I like that it will stay smooth and tucked. Alternatively, you can wear your favorite better white tee or a silk shell.
For accessories, I want to play off the gold buttons of the blazer. This creates a cohesiveness that makes your outfit feel purposeful without being too matchy-matchy.
These inexpensive hoop earrings are perfection. Finally, I found this clutch at DSW for $40, and I think it pulls the entire look together.
Now, I love this look, and I would wear it just as is, or I would swap out the Birdies for s less practical heel for a date night somewhere hip and cool – not that I go anywhere hip and cool anymore, but if you do, go for it.
Our Style Content is Inspired by Our Readers
Our readership inspires all of our posts and is not sponsored or paid for by brands or retailers.
Recommendations are based on my experience as a personal stylist and wardrobe consultant for over a decade. I worked with busy, down-to-earth women who wanted to look chic and feel confident but were often confused by so much of retail.
Some links are affiliate links, which means if you purchase via our site, we receive a small commission.
If you enjoy our content and would like to help us grow, please follow on Instagram and join our Private Facebook Group to access more advice and exclusive in-depth conversations with other like-minded women.
Learn about our mission to help women look and feel their very best, every day, here.
Sign Up for Daily Content and Receive Our Free Classic Wardrobe Checklist