Last week I featured these black fur-line Nordic boots from J.Crew. At the time, they were marked down from $200 to under $60. So many of us ordered them, they are fantastic, and the sale price made it feel like we got them for free.
They are almost sold out with just a few sizes left, but I had enough requests to style them that I'm using today's post to share some inspiration, especially since we're getting ready for some cold, snowy weather here on the East Coast this weekend.
Because the J.Crew ones are limited I went searching for another option and was thrilled to land on this pair by Splendid, on sale at Off Fifth for under $90, with an extra 25% off with the code COLD25.
They are a really close match in both style and price.
So let's make some outfits.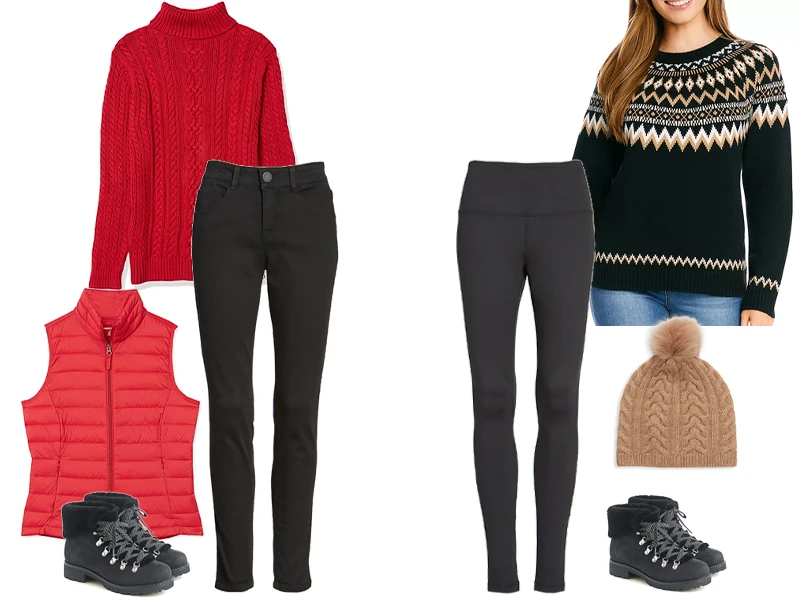 With these kind of boots, you have to embrace cold weather style. Like, really lean into a the idea that even if you are walking around Target, in your mind, and soul, you're in some luxury lodge without a care in the world.
Below I made two looks with items I haven't featured yet.
But look in your closet too. If you picked up a "shacket" at the end of last year, layer that over a tee shirt and pair straight/skinny jeans. This one was a best seller from Old Navy, in the "white plaid" available in all sizes.
You could also wear a turtleneck and wrap a cape or poncho over it. If you bought this Banana Republic poncho, you can wear it here, too.
Because the boots are heavy, you want to balance them with a top that also has weight. Sweaters with texture and layers will work well.
Sporty & Warm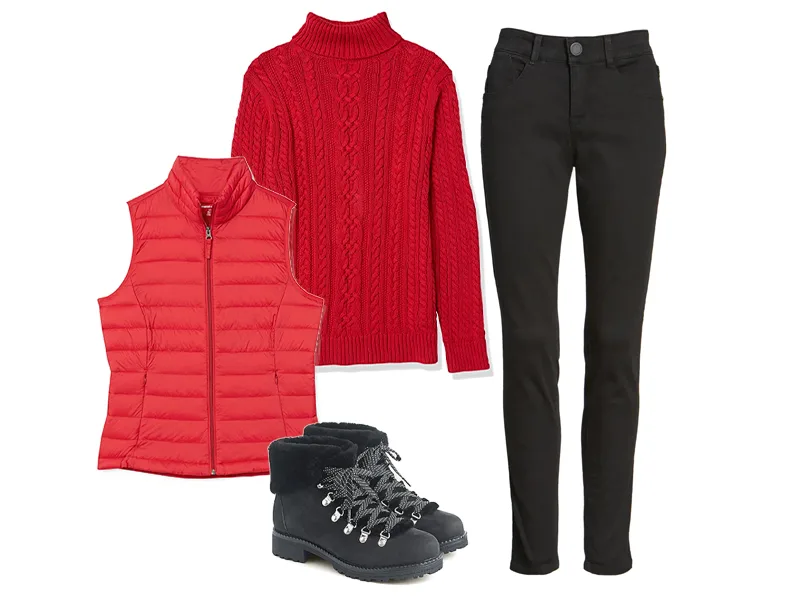 Packable Puffer Vest, $30 | Cable Knit Sweater, $34 | Stretch Skinny Jeans, $68
The J.Crew boots come with both black and read laces, so I did a black and red look, because it's cute.
Here, I used the popular puffer vest from Amazon Essentials. I really like these, especially for the price. They come in a range of colors, up to a XXL.
I layered it over a cable knit sweater. This is a nice, thick cotton sweater, so for all my ladies who can't wear or don't like wool, you might consider giving it a try.
Finally, whatever pant you go with, wear one that can go into the boot, so you can highlight the fur detail.
I'm using a stretchy pair from Wit & Wisdom, in petite and regular.
But any black skinny bottom works, like your Banana Republic coated jeans, or the Old Navy Ponte knit (these are still sold out but I'll update when the come back in stock.)
Lodge Lounging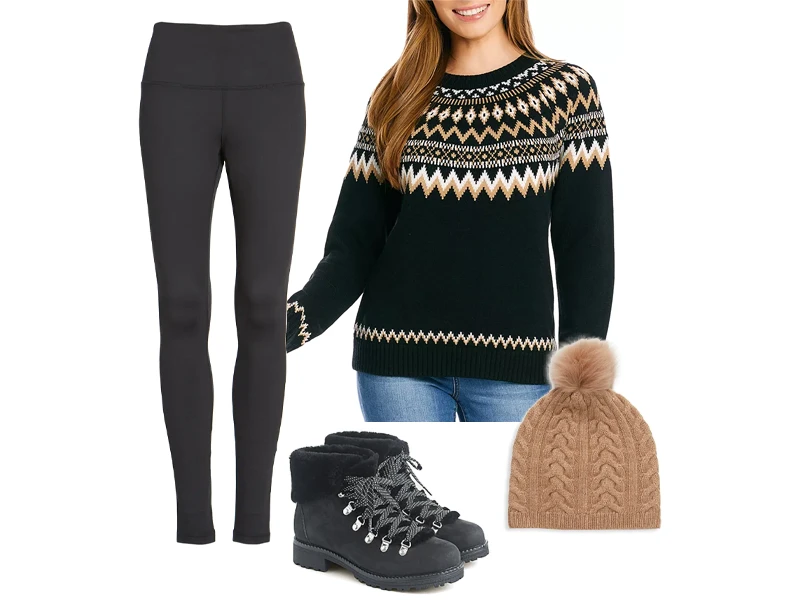 Fair Isle Sweater, $65 | High Waist Leggings, $59 | Beanie, $50
I'm the only one in my house that doesn't like to ski. I find the idea of throwing myself down a snow-covered mountain panic-inducing.
But I love every activity that surrounds it and the outfits.
So I made a look I would happily wear doing literally anything else.
Black and tan is such a classic and elegant combination, so I was thrilled when I found this Fair Isle Sweater on sale at Bloomingdale's for under $70. I paired it with leggings, but again, wear any skinny bottom you have.
Finally I added a camel beanie to pull it together.
Throw over your black puffer coat, or a vest, like the Amazon one above in black, or the one from Nordstrom we featured earlier this month, and you are perfect.