Over the weekend, one of our lovely readers shared this trench from Ann Taylor in our Private Facebook Group and I was shocked at the overwhelmingly positive reaction.
It's a gorgeous, neutral yet striking plaid, in a classic cut, combining some of our favorite colors.
So I thought I'd get ahead of it and share three ways to wear it, in case it's sitting in your shopping cart waiting for you to pull the trigger.
Today, it's on promo for $50 off with the code DETAILS50. I don't know when the promo will end.
Ann Taylor Plaid Trench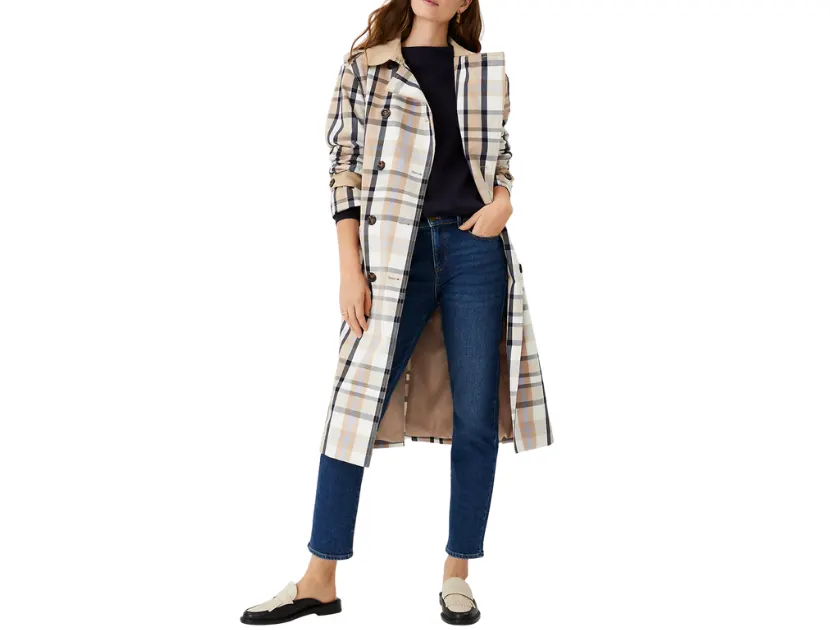 Available in a decent size range, at least for Ann Taylor, in regular and petite in XXS – XXL.
Likely, some tailoring, which is simple to do, is needed to make the fit on this perfect.
Don't be afraid to take this to a tailor or seamstress and have a few inches chopped off the hem. It will make a huge difference.
Unless you are as tall as the model, you probably want this to hit right below your knee, or an inch or so below. If it's too long it will drag down the line of your body AND the pattern will be overwhelming.
And don't think of alterations as a hassle.
Instead, even though it is an extra step, utilizing alterations opens up a wider range of options.
How to Wear a Plaid Trench Three Ways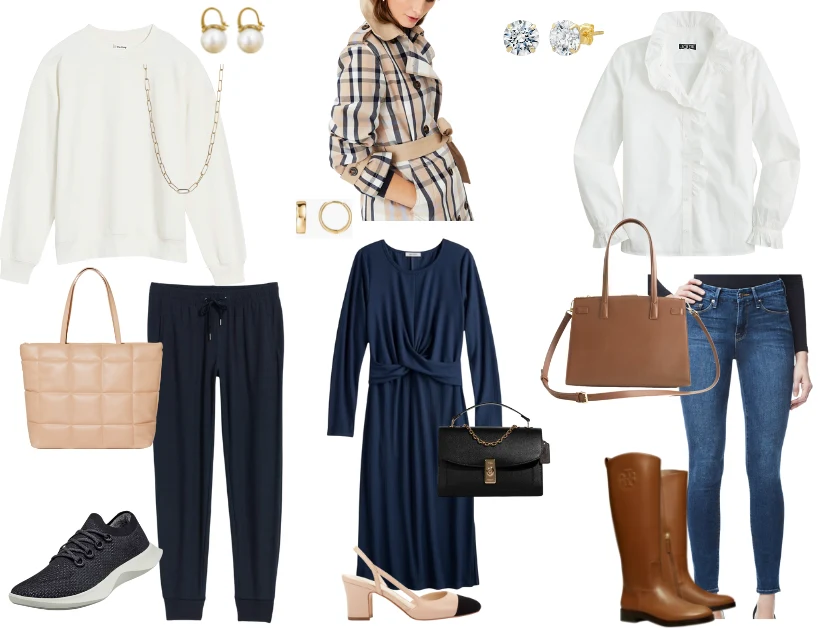 So you know the rule, if you love it and want to buy it, ask yourself, how often and how many different ways will you wear it?
Today, I'm helping you out a little bit and sharing three ways to style the trench, that you can take and make your own.
With a Dress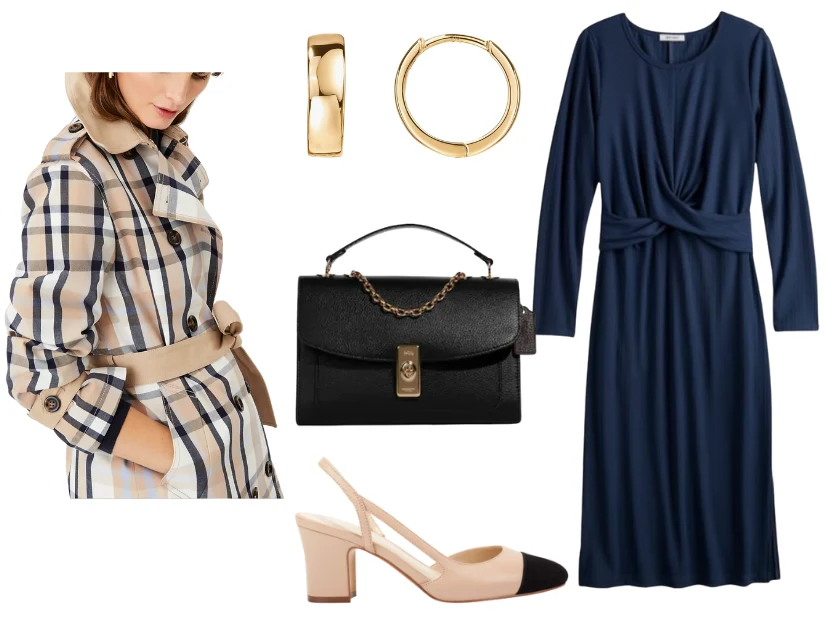 You can pull any color from the plaid and make a perfectly coordinated look.
And that is just what I did here with this navy dress.
Now, I'm not a Kohl's shopper, but this dress showed up in my search and I'm intrigued.
It's by Nine West, is on sale for $35 and comes in several colors in sizes XS – XXL.
I'm featuring the navy option above, and there is a pale blue that pulls out the pale blue in the trench as well.
I love the flattering twist front design, texture and added stretch for comfort.
You can do a lot with the dress. Pair it with knee high or ankle boots.
Above we're using these two-tone slingback by Marc Fisher.
I have the Amazon version of these if you want to save a few dollars.
Because these shoes add a pretty, lady-like vibe, I like to match that with the handbag. So you don't need your shoes and back to be matchy-matchy, but you want them to be in the same category, to give the same feeling.
This bag from the Coach Outlet does just that. It's a proper, structured bag the "gives the same energy" as the shoes.
And I say all the time, don't sleep on the Coach Outlet, you can find some gorgeous, quality bags for under $300.
Finally, a pair of simple huggie hoops.
These are by the same brand that makes our favorite hoops. You can buy them separately or as a two pack in gold and silver for $22.
With Jeans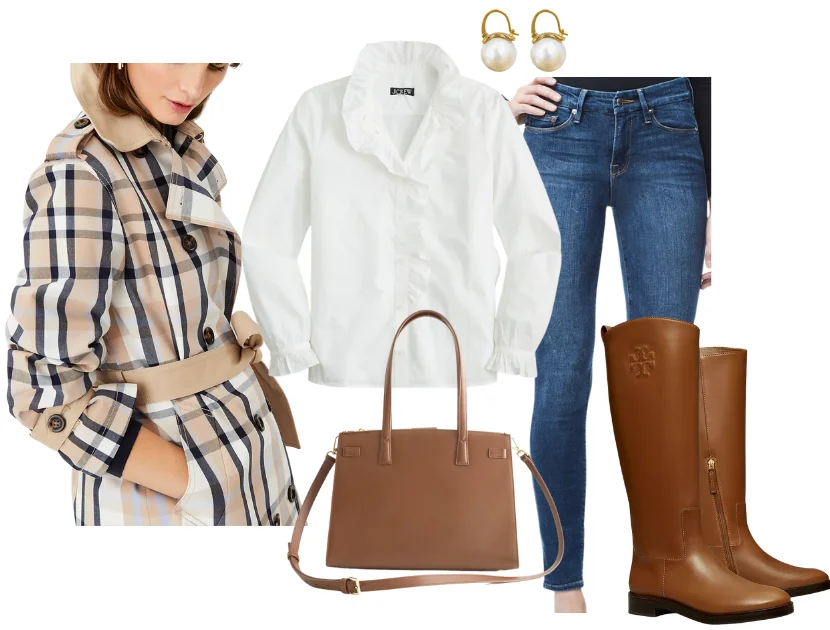 Last night I watched several influencers proclaim that "skinny jeans are back." And these are the same ones who told you to throw them all out last year.
I mean, the whiplash.
Just remember who told you to ignore them – me 😉
Skinnies are always an option, but they are the ONLY option when you want to wear knee high boots.
That's what I wanted to use because so many of you picked up these sale priced Tory Burch Flat Riding Boots we featured a few weeks ago.
They are sold out everywhere except Bloomingdales, with tan and black still available in various sizes (getting limited). They are still an spend, but originally they were $648 and now they are $388.
And speaking of skinnies, the pair above is by Good American. I bought these last week to take on my girls trip to Key West, and I wore them the whole time.
They are awesome.
Listen, I don't want to give the Kardashians any more money either, but, sometimes we have to make hard choices and here, I'm choosing a jean that fits my long legs and hugs my curves in the MOST flattering way.
Plus, they are just under $100, which is a very fair price for what you get, come in two washes AND include plus sizes.
For a top, we're using this ruffle-detailed button down from J.Crew's new arrivals.
Available in sizes 00 – 24, use code REFRESH and get 30% off.
Don't like ruffles?
Where something else, like a traditional button down, a cashmere sweater, a boatneck top or a simple long sleeve tee shirt.
The ruffle detail of the shirt sort of call for a pair of pearls, so were using this $15 modern dangle pair featured in yesterday's Amazon Favorite Roundup.
And for the bag, we're introducing this structured satchel from Quince in cognac, at an amazing price (under $200) for the quality.
I appreciate the crossbody option and that the top handle can fit over your shoulder.
With Sweats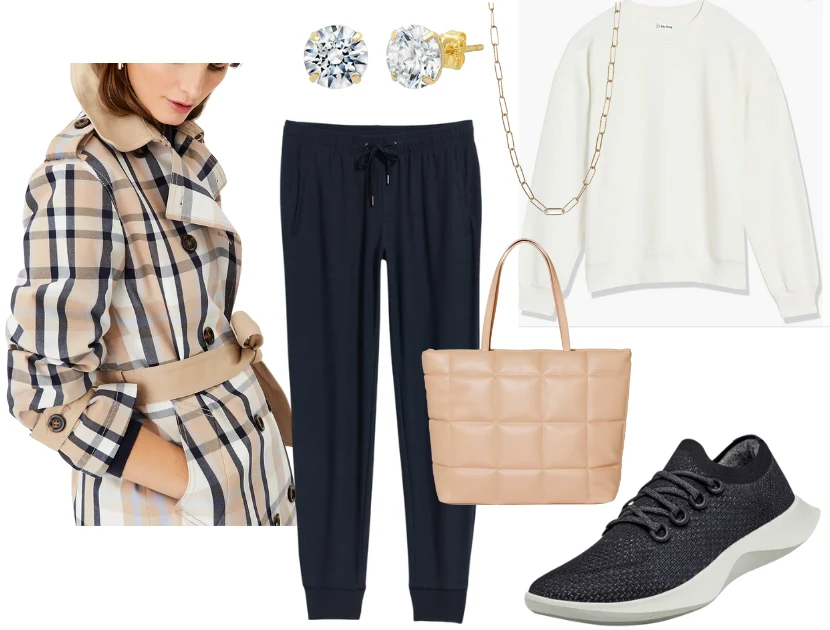 Finally, we're having a lot of conversations about how sweats don't have to be frumpy.
In these modern times when everything is casual, you can maintain your comfort level and still look polished.
Here, instead of a matching set, I mixed and matched with a navy jogger to give slim leg and a white sweatshirt.
Both of these pieces are from Amazon's The Drop Line.
I like these because the are not the thick, plush material you find in sweatsuits.
Instead, they are still soft and cozy but a thinner, in a good way.
You can buy the sweatshirt here, in a range of colors, up to a size 5X for $40.
And the joggers here, in the same size and color range, also for $40.
I kept the line of the legging long by using a dark pair of sneakers. The ones above are from All Birds in a color called "Thunder" which is lighter than black and works with navy.
A fun, affordable, quilted bag from Target adds a bit of trend.
This is only $30 and comes in a range of color options.
And finally, I say it all the time, the key to elevated loungewear is grooming and accessories.
Do your hair, and give yourself a fresh, five minute face.
Then, add your jewelry.
Above we're using the Mejuri chain necklace and these popular oversized Swarovski studs from Amazon.
But go into your jewelry and see what you have. Play around with layers, stack bracelets, wear the jewelry you're "saving" for a special occasion every day.