This content has been archived. It may no longer be relevant
Plaid blazers are everywhere right now, and they are all so good. They blend preppy plaid, with menswear details in a slim and feminine cut. For me, there is nothing better. Today, we're breaking down how to wear a plaid blazer for work, assuming you work in a jean friendly environment.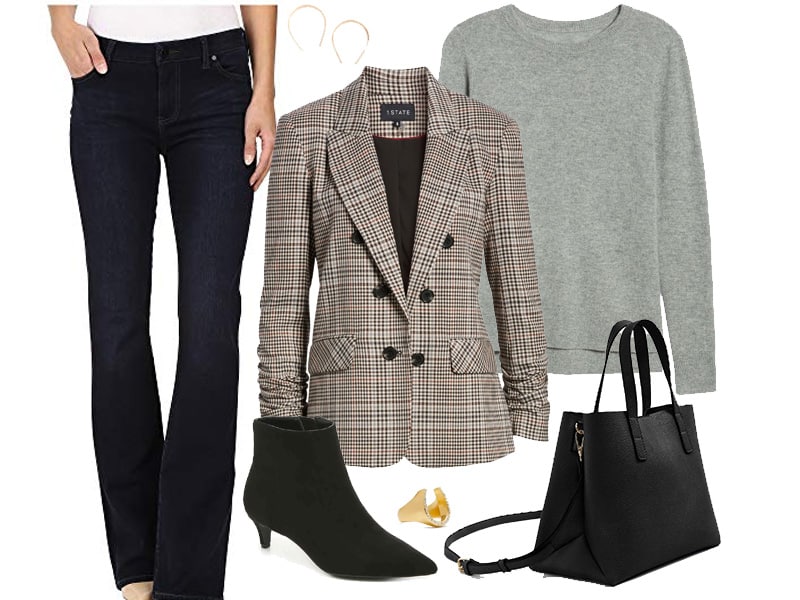 Blazer | Jeans, $89 | Sweater, $89 | Boots, $70 | Bag, $30 | Earrings, $165 | Ring, $58
How to Wear a Plaid Blazer
I found this 1.State Checked Blazer, and it already sold out at Nordstrom. I guess great minds think alike. There is super limited sizing currently at Lord & Taylor. Other options to consider are this black version of the same blazer, this similar style from Anthropologie, and this classic style from J. Crew.
When looking for a plaid blazer, think about the contrast between the ruggedness of the plaid, and the femininity of the cut. It's that element that makes it unique.
Related: How to Wear a Herringbone Blazer
Remember the loose rule of following the buttons. If the pins are black, go with black details, brown, stick with brown, and if they are metal, use that metal throughout the outfit to create a cohesive look.
To layer under the blazer, you have many options. You could wear a simple tank and not take your jacket off, a basic white tee shirt, a crisp white button down, or, like we did, a crew neck sweater in a thin knit. I prefer the sweater options so you can remove the blazer if you want.
This sweater by Halogen at Nordstrom is a fantastic and affordable basic that comes in several easy to wear colors. It is slim but also slouchy and doesn't feel too precious so it work with the whole vibe of the outfit.
If you can wear jeans to the office, and it's still a professional office, go for a dark wash in a slim boot cut or straight leg. I went with these Lucy Bootcut Jeans from Liverpool. I just received a maternity version in my recent Stitch Fix and I really like the wash and fit, especially for under $100. They run full, so size down as they will stretch.
A bootcut jean requires, you guessed it, a boot! These Charles by Charles David ankle boots that I found at DSW are kind of perfect. They have a low heel and pointed toe that helps elongate your leg. It's a more elegant look if you're taking this to work.
Related: The Best Life Hacks for Working Moms
Finally, grab a black bag with gold hardware. This pebbled tote bag at Mango is only $30. I would rather you spend $30 on a simple and unadorned bag, than $30 on something with print, pattern, logo and over the top hardware that will take away from your look.
For jewelry, you know I'm a big fan of keeping it simple and wearing your better pieces everyday instead of always swapping out. Do that here, but you can also add one statement piece. I used this fun horseshoe ring, and modern hoop earrings that will almost disappear.
Shop How to Wear a Plaid Blazer