It took me a few seasons to get on board with maxi dresses. Since they first gained popularity, they have evolved to become more wearable. I use to find them shapeless and a little frumpy, but today you can find flattering and feminine options to work for any event you might have on your weekend calendar. This time of year, a popular question in my email is about how to wear a maxi dress.
The secret is to keep it simple, especially if you're wearing a patterned dress. Because the dress has a lot going on, let is stand on its own. The dress itself is the focal point, so balance the flow of the fabric and print with accessories that compliment the dress, but also disappears.
How to Wear a Maxi Dress on the Weekend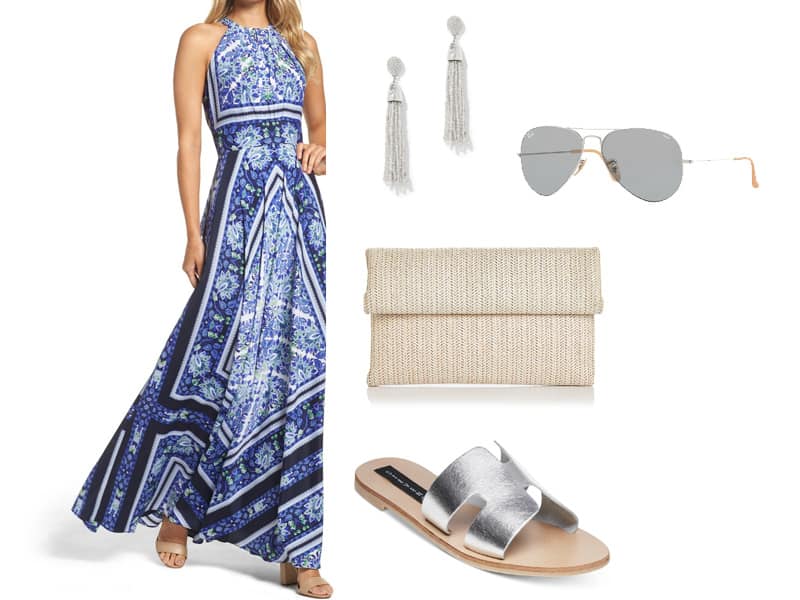 Dress, $158 | Sandal, $79 | Clutch, $50 | Earrings, $20 | Sunglasses, $183
I know I don't feature enough silver pieces, so I was happy to find a cool-toned dress that called for silver accessories, and found the right accessories since silver is not currently as popular as gold. Eliza J makes lovely, affordable dresses and is often a brand a turn to for casual pieces with a little extra detail.
Let's talk about shoes first. I tend to lean toward a flat with a maxi. It feels more modern and often works best for where you're wearing a maxi – think the beach, or outside party. If you'd like some height, go with a wedge, but don't do one that is disproportionally high, it will throw off the line of your dress. I like these sandals by Steve Madden. Many of you picked them up after we featured them a few weeks back. They work with this kind of dress, a short skirt or shorts. I thought they were tight when I first put them on, but they do stretch out.
For accessories, I reached for some inexpensive yet impactful items. This $50 straw clutch from Street Level is so chic. It pulls texture into your outfit, which adds depth especially when your wearing such a bold pattern. You'll carry it all summer.
When it comes to earrings, I am so dull. Despite a drawer full of statement earrings, I wear a pair of simple diamond studs every single day. So I'm making a conscious effort to step up my game. These silver tassel earrings work well with this maxi dress. It mimics the movement of the skirt. I would keep my hair down with these earrings to tone them down. You want just a hint of movement. Otherwise, they would be distracting. Finally, don't forget your sunnies. These Ray Bans are lightweight and go with everything.