This content has been archived. It may no longer be relevant
Jumpsuits became popular a few years ago. What was at first considered a trend has turned into a staple in many wardrobes, and I am here for it.
They are a sophisticated alternative to our standard jeans and cute top outfit formula. You can easily dress them up or down which is extra helpful when many of us are traveling or just have busy weekend schedules.
Now that they have hit mainstream retail we get asked about them frequently.
Do you wear them to work or on the weekends?
Am I too short or tall to wear them?
Why can't I find the right fit?
What happens when I have to use the bathroom?
That last one always makes me laugh, it's seriously the number one question I get in my inbox about jumpsuits. I haven't figured out an answer other than, you pull it down and go?
Anyway, potty breaks aside, I'm a fan. I like one step dressing and the relaxed and casual ease of a well-fitting jumpsuit. So today we are going to share a round-up of tips to find the perfect one for you, what to pair with it, and how to go from chic, to casual, to a dressed up evening.
How to Wear a Jumpsuit
Because jumpsuits have become more of a basic than a trend, there are a lot of options out there, and by "a lot of options" I mean a lot of bad ones. Run for life away from baggy, drop crotch styles (yes, that's a thing). Avoid the ones that look like pajamas, or are covered in a busy pattern with lots of ruffles and bows (also a thing).
Focus instead on a reasonably priced classic style. Today we're using an Eliza J jumpsuit that is under $100.
Plus size? Vince Camuto has an almost identical style.
It's reminiscent of a wrap dress but might be even more versatile. The v-neck top is flattering on everyone and the jersey stretch fabric is what makes it applicable across different categories of style.
Find the Right Fit
I feature a lot of Eliza J because of the price point, quality, size range, and fit. Regardless of what brand you purchase, keep a few things in mind:
If you are only buying one and want the most versatile, go with a full-length wide leg. There are so many styles available, from tapered and skinny legs to wide cropped legs. We can make all these work in different ways, but the easiest to wear are the full lengths.
Have the leg hemmed based on the kind of shoe you plan on wearing. If these are too short on you, you'll lose the elegance of it, and it will seem awkward.
Be sure it fits well throughout. You want the waist to hit you at your natural waistline. There's not a lot of wiggle room here due to the nature of the design so play around with different cuts and styles.
If the width of the leg seems too wide, you can have some of the fullness taken out by a tailor. It's a simple alteration that will make a big difference in fit.
3 Easy Ways to Style a Jumpsuit
Date Night Outfit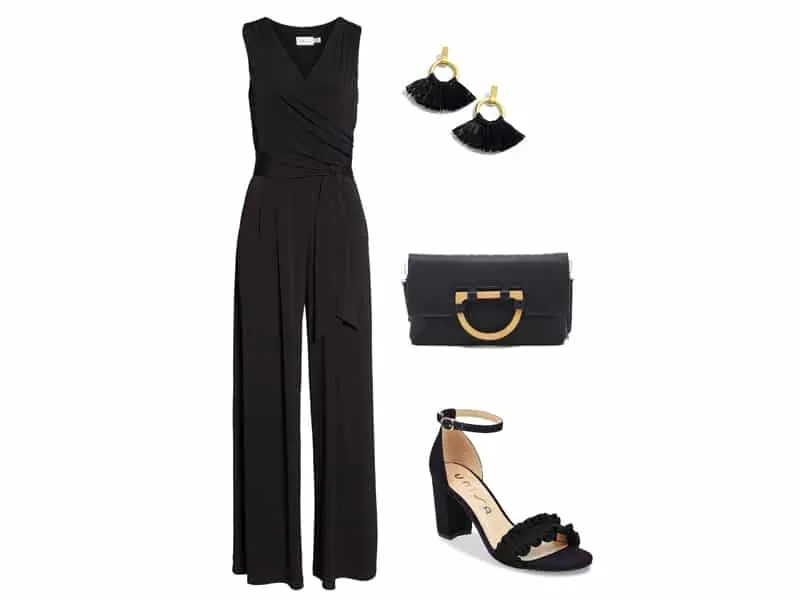 Jumpsuit, $98 | Earrings, $32 | Sandal, $45 | Clutch, $55
For a chic date night in the city when the temperature is warm yet comfortable, wear the jumpsuit as is. With the right combination of accessories, you can create a composed look that doesn't involve layers or any fuss at all.
This whole look is $200, and all the elements will get a lot of use throughout your wardrobe. How great is that?
I used whimsical tassel earrings by Madewell to keep the look from feeling too serious. There's something about a tassel that feels more appropriate for the warm weather, so even though this look is all black, it doesn't feel heavy and is seasonally appropriate
The open toe sandal helps keep the look light as well. They have a block heel which is important to help ground the look. It maintains the casualness, and the shape of the heel balances out the width of the pants.
The more I look at this clutch, the more I love it. It has a high fashion feel for only $50 (aaaannd it just went in my shopping cart). I like that it complements the earrings in terms of shape, so you instantly create a cohesive look.
Keep in mind, when you are creating a look for the warmer weather, you don't have the option of adding many layers. Since that is what helps create depth and interest to a look, you have to be strategic about your accessories.
Casual on Vacation Outfit
Jumpsuit, $98 | Jacket, $90 | Clutch, $195 | Sandal, $186 | Earrings, $85
Next up is a look I would wear on vacation. The jumpsuit is easy enough to pack because of the nature of the fabric. It also pairs with a range of other materials, like the denim jacket above.
My idea here is you are going to dinner; your hair is pulled back in a low ponytail, or wrapped in a bun. You wear a bold-for-you lipstick and a few accessories.
I just know people are going to ask about what to wear when it gets chilly. You could wear a denim jacket, or, you could carry a lightweight wrap, either one would work and will keep the chill off your shoulders.
This striped raffia clutch is perfect for making the outfit look vacation-y. Looking for something less expensive? We've featured this straw clutch several times, and it would work just as well.
Finally, I'm so happy with how the earrings work with the sandal. Again, this is how you create a cohesive look without adding layers.
Dressed Up Evening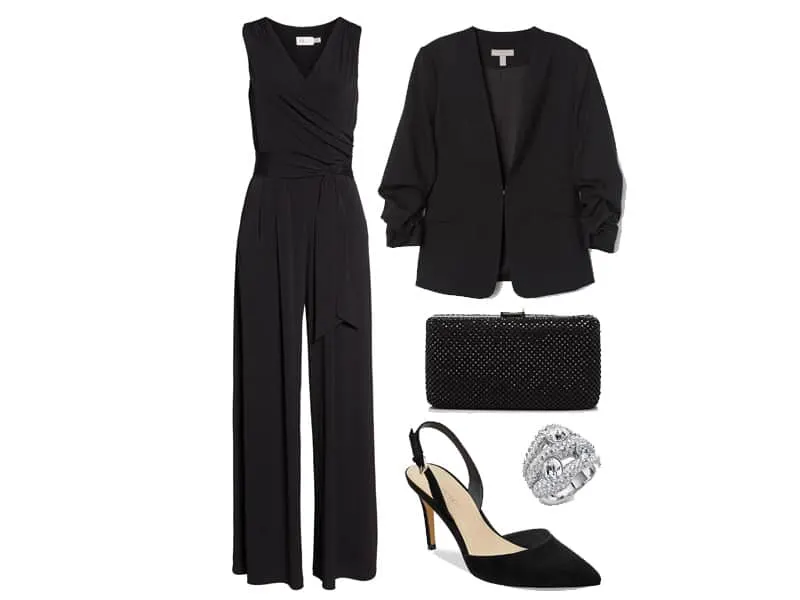 Jumpsuit, $98 | Jacket, $50 | Pump, $60 | Clutch, $160 | Ring, $187
Finally, if you have an after-work function, an evening event, a casual wedding or a cocktail party, you can wear a jumpsuit.
To give the outfit a more grown up, or professional vibe, add a blazer for some structure. You could wear black like we have above, or white. I like how this blazer isn't too stuffy. The sleeves are permanently ruched, and it has shape without looking like you took a suit jacket and paired it with a jumpsuit.
For shoes, you can wear a pair of pointed pumps. A slingback would work well because the openness in the back keeps it feeling light, and that will work with the weight and drape of the pants. Be sure here that the pants are puddling on top of the shoe to create a long line to your body.
Then grab a black evening clutch, I love this box style one by Sondra Roberts. Finally, have some fun and slide on a cocktail ring.