I spent ten years as a personal stylist, schlepping up and down the east coast to work with clients. During busy seasons, I practically lived in the private dressing rooms at Nordstrom. Season after season, I knew every piece of inventory in almost every store.
By the time I stopped working with clients, I was pretty burned out, and if I never had to see the inside of a mall again, it would be too soon.
What are you supposed to do when you hate to shop, don't want to go to the mall, but still need clothes?
Enter Stitch Fix, the subscription box service that sends a curated selection of clothing to your front door.
I'm often asked how to use Stitch Fix and if it's worth it. As someone who built a business helping women get dressed, I think Stitch Fix is genius.
Is it a perfect service? No, but you can get a lot out of it, depending on your needs. Over the years, they've done much to improve, including expanding their merchandise to include plus and maternity sizes and offer men's clothing. (I would have been all over this when I was expecting.)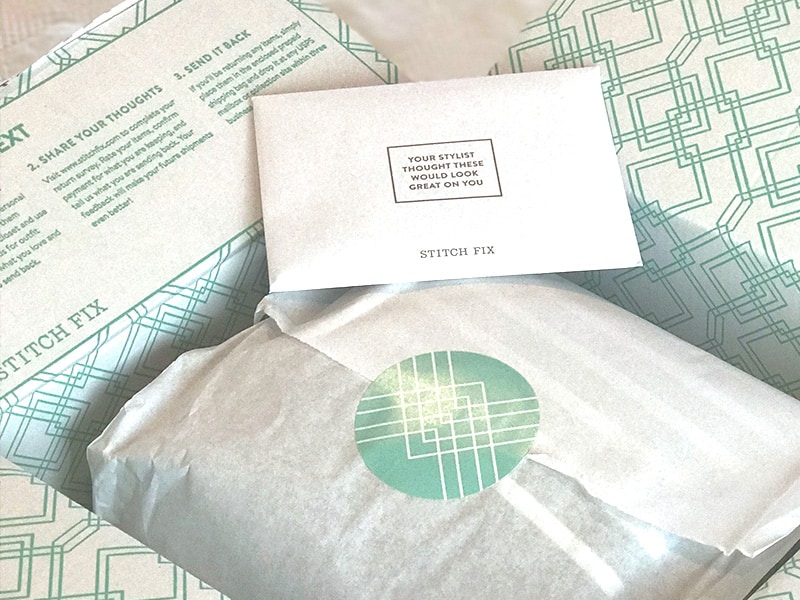 How to Use Stitch Fix
Stitch Fix allows you to work with a personal stylist and receive a customized selection of clothes and accessories every few weeks. You can choose how frequently you want your "fix" to be delivered. Every time you schedule a fix you pay a $20 styling fee which can be used for whatever you decide to purchase.
If you chose not to make a purchase, you would lose the $20 – more on that later. From a pricing perspective, it's a fantastic value compared to what you would pay to work with a personal stylist.
Note: It's not the same as working one-on-one with a professional, more like having a relationship with a sales professional at your favorite store.
Once you create an account, you'll fill out a fairly comprehensive style profile. Be sure to take the time to provide all of your information, from your size and budget to notes about your lifestyle. The best part is that you can convey your style preferences to your stylist by choosing from a selection of images, designed to help create a visual around your tastes.
I started using the service about two years ago, I stopped for a bit, and picked back up right before the holidays. My wardrobe is split into three categories: professional, activewear and casual.
Since my professional work is pretty vanilla, I keep it simple and classic. A few dresses and suits with heels and I'm good to go. Because I hit the gym and workout classes regularly, I have a lot of activewear – almost all black because I don't want to think about what I'm wearing and also I don't care.
The real struggle is in my casual wardrobe. Is it just me, or does anyone else feel like they are blowing through their casual pieces? I'm always replacing jeans and better basics, so those fun and trendy pieces are the last things on my list. Stitch Fix has helped fill that void.
Below are my tips if you are thinking about giving Stitch Fix a try (THIS IS NOT A SPONSORED POST:
Figure out what you need
Before you shop anywhere, make sure you have a good idea of what you like, what you have and what you need. Our 4 Weeks to a Better Wardrobe series (part 1, 2, 3, 4) walks you through a detailed process of defining your style and organizing your wardrobe.
You'll be able to see what you're missing, come up with a list and share it with your stylist. I use it primarily for casual pieces to wear on the weekend, drinks with friends, or weekly dates with Bri. If you need pieces for work, or special occasions, it works just as well.
Communicate with your stylist
Take advantage of your ability to correspond with your stylist, doing so makes all the difference in the world. You'll have an opportunity to write to them before and after each order. When you receive an order, let them know what worked, and more important, what didn't and why. Before an order, you can tell them if you are looking for something specific.
Additionally, you can connect with them on social media and share your Pinterest boards. Sharing photos is always the most helpful way to convey your style.
Try on everything
Try every item you receive on, or you might miss out on something great. A few months back I received these Liverpool black pants. I didn't think they would fit or that I needed another pair of black pants, so I threw them back in the box. At the last minute, I pulled them out and tried them on. Thank goodness I did because they are one of my most favorite pairs of pants and (yay!) have amazing fit.
Only keep what you love
Trust me when I tell you that you will be tempted to keep something. Early on, I kept a lot because it fit well, not because I loved it. Now, my Poshmark shop has a few barely worn pieces for sale. As much as something fitting well feels amazing, avoid the temptation to keep it unless you L.O.V.E it.
Don't fall into this trap
You'll pay a $20 styling fee for each fix. If you make a purchase, your fee is applied to the purchase of the item. If you send everything back, you lose your fee. I'm pretty sure every box has something that costs $36 – $42, like an accessory or scarf, just so you say, "Well, it's only $16 more!"
I can't tell you how many times I kept a dumb scarf, which I didn't like, only because I was going to spend $20 anyway. Instead, if you don't love your fix, send everything back, pay the $20, work with your stylist to get pieces worth buying and keep the junk out of your closet.
Give it time
Have some patience with the service. My first order back was great. I took the time to update my style profile and wrote my stylist that I was looking for better casual separates to dress up or down for the holidays. I loved everything she sent. Because I kept all five pieces, I received a 25% discount on the order.
My most recent order was ok. I wasn't crazy about a few of the pieces, and didn't need others, but did end up with a new pair of jeans for the spring. I figure, just like when you stop in a store, not everything is going to blow your mind all the time. I also don't need to always be spending.
Overall, I'm delighted with the service. If you are looking for casual, easy, well-priced pieces to update your wardrobe, and hate to shop, give it a try.
This post is NOT sponsored.