I've happily lived the life of a small business owner since I was 27 years old: hustling, failing, learning hard lessons, and picking myself up and starting again. One of the best parts of this journey has been the great friends I made along the way, other small business owners, entrepreneurs, restaurant, bar and gym owners.
When you go down this kind of career path, you quickly get used to the idea of uncertainty. But 2020 turned that concept on its head. Over the years we have seen and heard it all, and yet, nothing could have prepared anyone for the scenario millions of businesses find themselves in right now.
I don't need to tell you how bad it is, specifically for all the businesses that depend on their fourth-quarter revenue. Unfortunately, with increased restriction, many of our most beloved established are buckling under the pressure.
Today, I thought I would do two things. First, share my favorite, most reliable resources I turn to this time every year. Some are local to me (so if you are also local, be sure to check them out!); others are small businesses from around the country that I've discovered over the years.
And then, I'm opening the comments for you to list where you live and the small businesses you love in hopes that it will help generate some extra attention for them. Feel free to add their website in the comments, too, and what makes them special.
I'll then take them and feature them across my social platforms to help build their reach.
It hasn't been easy, but, by the grace of God, I've been fortunate this year. Had I kept to my original business plan of working 1:1 with clients face-to-face, in stores, I'd be out of business within the first few weeks of this disaster.
I believe just as much in economic health as I do personal health. The two are not mutually exclusive, so any way we can help support our local communities, especially this time of year, will make a tremendous, lasting, difference.
How to Help Small Business this Holiday Season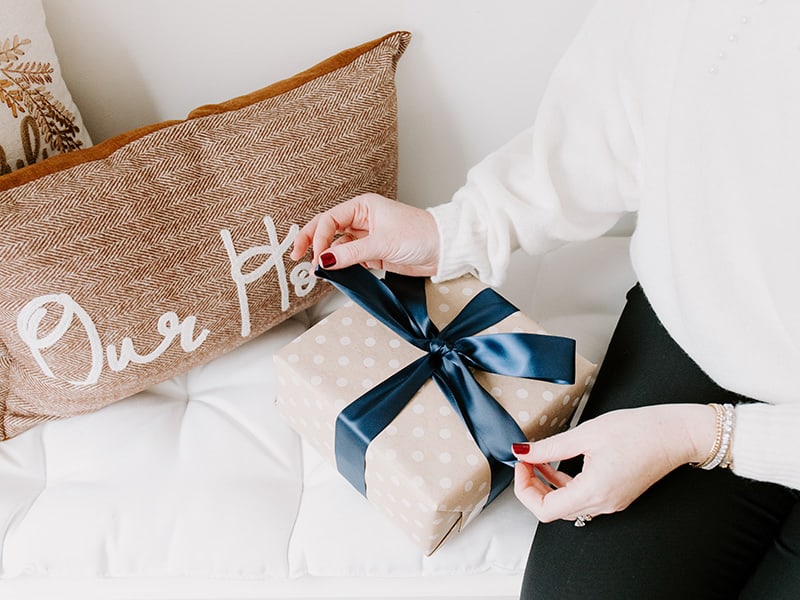 This post is not sponsored, and there are no affiliate links in it.
Local to Me
I have many local readers, so please allow me to indulge for a minute and highlight some local to me businesses I adore. No matter where you live in the country, think about how you can support local first.
I live in a town called Lafayette Hill, about 20 minutes outside of Philadelphia. We sit next to Chestnut Hill and Conshohocken (where we lived for nearly ten years). One of the many things I love about living here is the small business community. They are the backbone of the neighborhood. They support all of our youth sports leagues and school fundraisers. Their owners are our friends; their kids go to school with our kids; it's a very interconnected place.
These are the resources I use all year long, especially this time of year when life is extra busy. I use to think I had to do everything myself. Happily, I realized a few years ago, outsourcing many of the tasks that bogged me down during the holidays was freeing.
We host all the time, this year will be smaller and different, but we're still celebrating. As much as I love to cook, I have most gatherings catered. I find there is almost no difference between the cost of doing it myself and having it brought in, and having it catered lets me take a shower, get dressed, and have fun at my own party.
There are four local restaurants that I turn to regularly:
Need some baked good? Go to Brendenbecks in Chestnut Hill. Every time I walk through their old heavy front door and hear the chimes ring, I go back to my childhood. The place smells like heaven. We order all of our cakes for birthdays and special occasions. Every Christmas Eve morning I grab a coffee and head over to pick up my order, which always includes their melt in your mouth Petite Fours.
For fun sweets to fill stockings or give as gifts I go to Edwards Freeman. They have amazing chocolates and candies and the best assortment of retro candy I've ever seen. My kids go crazy there.
To send flowers to someone you love, or for your holiday table, I use Robertsons Flowers, also in Chestnut Hill.
There are places like these in your hometown. Now is the time to support them as much as possible.
Gifts
It's so easy to support local business when sending gifts this year. Before you do, remember: we can't expect these independent stores to compete with Amazon. It's why so many of them are going out of business. So, if you are going to support local, go all in. Please don't complain about shipping fees and, for god sake, give them enough time to ship them out.
The first place I look for almost anything gift related is Etsy especially this year, when you might want to give something handmade, personalized and extra thoughtful. I've used this shop to have a custom watercolor made for a friend's birthday, for candles I love Basic Bee Candle Co, and I think custom stationary is such a simple yet thoughtful gift, mine is made by JulieBee Design Studio.
If you're like me and love giving books as a gift, use Indiebound a website designed to support local independent bookstores. You can search by title and shop online or enter your zip code and be connected to a bookstore near you.
For unique and gorgeous gifts I like Chateau Sonoma (located in Sonoma California). They have a beautiful selection of affordable gifts like these French Cooking Salts, or this cheese knife set.
Finally, I order quiet a bit from Jenny Steffens Hobick of JSH Home in Lexington, Mo. She designs her own stunning wrapping paper, and linens. I like buying her napkins for my own use and to use as part of a hostess gift.
Now it's Your Turn
So now it's your turn, in the comments below share some of your favorite small business in your local area, why you love them and if they have website, you can put that in there too.