This content has been archived. It may no longer be relevant
If you feel like maybe you're in a style rut, it might be time to shake things up a bit.
Nothing too drastic, but putting your toe outside your style comfort zone can kick start your enthusiasm for the new season and open your eyes to even more fashion possibilities.
Plus, I bet you get a ton of compliments, and that never hurts:)
Over the next few weeks, we'll feature lots of outfit inspiration designed to help you incorporate a new trend or jazz up your basics to show you how to add the "twist" in the classic-with-a-twist style we love around here.
And we'll do that by featuring new items while mixing them with other popular items recently featured on the blog, so you can get the most out of your purchases.
Today, we're starting with how to wear a pair of print pants.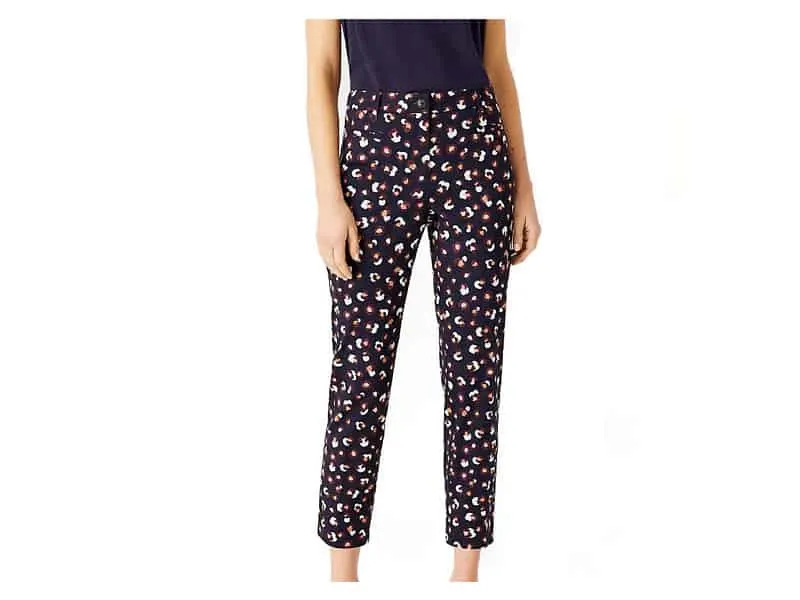 Pants, $79.50
Print bottoms have been around forever. What makes them a trend, and can therefore date them, is the pattern. To keep them leaning classic choose a subtle print. (Of course, if you love a big, bold print, go for it! They may just be limited in how long you'll want to wear them.)
For this post, I'm using these Ann Taylor crop pants in what they are calling an animal print. It's more of an abstract version of one, using neutral colors, which I like more than a traditional print. The base color is called "Night Sky."
The pants are available in a range of sizes, from 00 – 18, in regular and petite with a curvy cut option.
Below, I'm showing two ways to wear them, one for day, one for night, using some of our past reader favorites for the season.
Sporty Daytime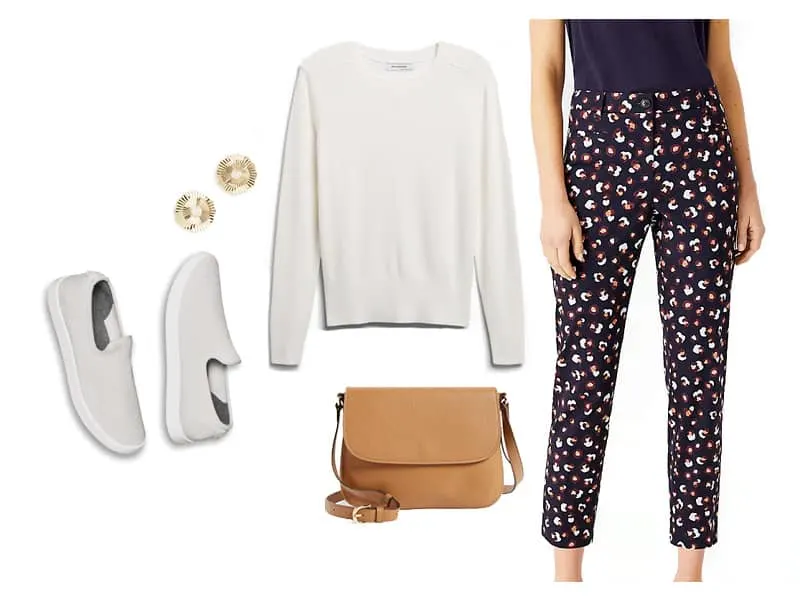 Sweater, $80 | Crossbody Bag, $129 | Earrings, $45 | Slip-On Sneaker, $95
Anytime you work with a pattern, the easiest way to make it work in an outfit is to pull out one color and work with it. Here, because the weather is warming up, I'm using white. It instantly makes the look feel fresh.
Banana Republic makes a fantastic knit, like this crewneck lightweight sweater, available in XXS – XXL in regular and petite.
To keep it sporty, I used white slip-on sneakers from Allbirds. These are great, everyday sneakers for under $100. You can walk all day in them, run errands, travel, visit the grandkids, etc. There are many color options; I prefer the white, grey, and beige.
Then, since we're wearing this on a busy day, I used this tan crossbody from Nordstrom. I featured it in our What to Buy at Nordstrom post last month and have received so many notes from readers who are enjoying it. I have three kids and a non-stop schedule, so a stylish crossbody is one of my go-to's this time of year.
Finally, I discovered Gorjana, a fantastic affordable jewelry brand, last year. If you want a few jewelry pieces that look different but still fall under the classic category, give them a try. I picked these under $50 earrings for this look because they are small enough for a casual day but mimic the pants' print, tying everything together.
Night Out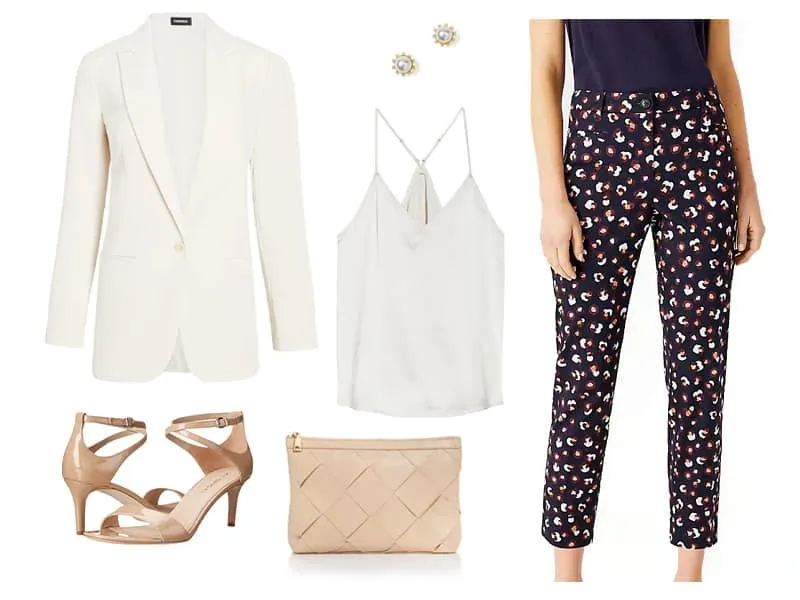 Earrings, $32 | White Blazer, $128 |Camisole, $68 |Woven Clutch, $58 | Heels, $65
Oh, how I love heels and blazers!
Here, I used the white blazer we featured from Express in yesterday's post and layered it over this camisole by Spanx (also featured in our What to Buy at Nordstrom post).
Then I used these neutral-colored strappy heels by Via Spiga (on sale over on Amazon) and this woven clutch which is my new favorite find from Bloomingdales.
Lastly, these gorgeous earrings are only $32 at Lilly Pulitzer.
Our Style Content is Inspired by Our Readers
Our readership inspires all of our posts and is not sponsored or paid for by brands or retailers.
Recommendations are based on my experience as a personal stylist and wardrobe consultant for over a decade. I worked with busy, down-to-earth women who wanted to look chic and feel confident but were often confused by so much of retail.
Some links are affiliate links, which means if you purchase via our site, we receive a small commission.

If you enjoy our content and would like to help us grow, please follow on Instagram and join our Private Facebook Group to access more advice and exclusive in-depth conversations with other like-minded women.
Learn about our mission to help women look and feel their very best, every day, here.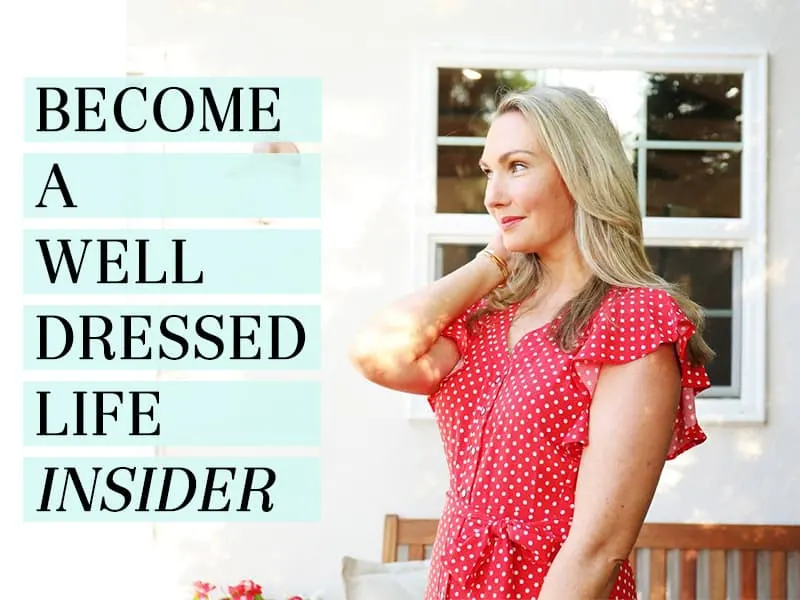 Sign Up for Daily Content and Receive Our Free Classic Wardrobe Checklist