Today, we're continuing our personal brand series with a conversation about confidence.
Simply put, having confidence makes life easier. The most confident, and confident-appearing people I know share similar traits. These traits help them appear to effortlessly navigate their careers and build their businesses. But, like everything, exuding effortless confidence takes work and discipline.
By nature, I'm not the most confident person but I've used these tricks and strategies over the years to help appear, and eventually feel more confident. It's made all the difference in the world with how I come across in meetings, how I interact at work events, and especially in building my personal brand in my corporate work.
The hardest part is recognizing what you are doing, intentionally or unintentionally, that ultimately diminishes your confidence. Start by thinking about how you want to be perceived. Then ask yourself, is your behavior helping you reach that goal?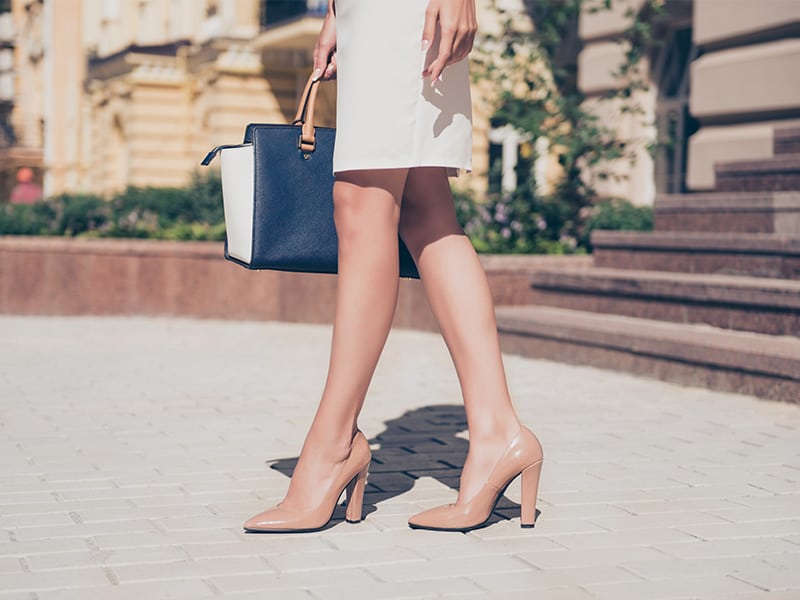 Be Yourself
This is a personal one for me.
You'll never be confident if you try to be anyone other than yourself. It's one thing to be the professional version of yourself, it's another to alter who you are to fit in. I spent a long time being who I thought people wanted me to be, rather than who I was. Of course, once I came into my own, my business grew beyond my expectations.
Figure out your positive traits that make you unique and focus on them. For me, I realized I didn't need to hide my down to earth nature and humor. They are my unique characteristics that create my brand and help me connect with others.
Positive Mindset
My dear friend Neen is the most confident person I know. She has a saying, "assume everyone wants to play with you." Go into every interaction assuming you have something to offer, that you belong in the meeting and that your audience is delighted to see you.

It took me a long time to wrap my mind around this kind of thought. It's difficult to flip the script when you are used to thinking you don't belong (classic impostor syndrome). But once you do you won't believe how much better you feel, and how your confidence instantly increases.
How to do it: Give yourself a pep talk every time you are about to interact, whether you're walking into a meeting or hoping on a call. The more you do it, the more you'll start to change your thought process.
Manage Your Energy
Are you having a bad day?
Are you running late?
Argued with your spouse?
No one cares.
Remember that you are responsible for the energy you bring into a room. Whatever you are dealing with, learning to compartmentalize your emotions will help you come across composed, and you'll start to show up as your best self.
Stop Apologizing
There is nothing confident about a woman who is constantly apologizing. The challenge is that we are so programed to apologize we don't even realize what we are saying.
Why would you apologize when asking a question in a meeting?
Why are you apologizing for having a thought?
Why say "sorry" when "excuse me" would be more appropriate?
If you find yourself unnecessarily apologizing, be thoughtful with how you structure sentences. It sounds simple, but think before you speak.
The first few words out of your mouth are the most important in setting the tone of a conversation. Know what you want to say, and how you want to say it before you speak.
How to do it: Ask a trusted friend at work to call you out when you start with "sorry." Eventually, it will work itself out of your language.
Don't Dumb Yourself Down
Along the lines of apologizing, we tend to say words and phrases that make us appear unsure.
The first thing to do is try to eliminate "filler words." Filler words are defined as meaningless words or phrases that notes a pause or hesitation in our speech. Using too many of them will make you appear like you don't know what you are talking about, even if you are a topic expert.
This article will give you direction to remove them from your language in only 4 weeks.
Am I perfect with this? Not at all. But I've removed enough from my speech that I notice I sound stronger and more confident. It's worth the effort to change your habit.
Open Yourself Up
Body language is more important than we think. For women, when we slouch, cross our arms in front of us, and fidget, it creates a perception that we are nervous, worried and disengaged.
You don't have to go crazy and over execute this. Simply maintain open body language. Stand/sit up straight, keep your shoulders squared, and relax your breathing. You'll instantly appear more confident.
Don't take it from me, check out this article, 10 Ways to Have More Confident Body Language.
Send a Message with Your Clothes
It goes without saying that our clothes play a role in how we look and feel. I've dedicated a good portion of this site to help women make positive choices in their work wardrobe.
To look and feel more confident at work, focus on structured pieces. Swap a cardigan out for a blazer, look for dresses with seam detail that creates shape. Use tailored pieces to create a polished and professional look.
Our Wear to Work Series provides weekly inspiration for all kinds of business wardrobe needs.
Only wear clothes that make you feel fantastic.I know that sounds crazy. But doesn't it seem crazier that so many of us are wearing clothes every day that don't make us feel great?

It's hard to be confident when you are fussing with ill-fitting or uncomfortable garments. It's even more impossible to exude confidence when you don't even like what you are wearing.
Join us for 4 Weeks to a Better Wardrobe and pull together a work wardrobe you love.
Our seasonal Wardrobe Challenge is back.
We'll go through our closets, get organized, define our personal style and come up with a shopping plan for the spring. This time around I am hosting it exclusively on our Private Facebook Page. We'll have private conversations, you can post questions and photos, and I'll share new video content and some shopping lists. If you are not part of that community, you can submit a request here.
This group is only for women, and you much answer the prescreen questions for admission.