We've received many requests for advice on how to dress while expecting. I usually reply to these inquiries individually, but there have been enough over the last few weeks that I figured a post would be an easy way share our tips and allow us to update it as necessary. We'll be back with non-pregnancy content tomorrow. If you've had a baby recently, or even not so recently, let us know in the comments below how you managed to get dressed over those nine months! Feel free to share the good, the bad and the ugly 🙂
Maternity clothes have come a long way. In the almost 11 years between my first and third baby, the options are so much better. Even better are the affordable resources available. I remember when I was expecting Maddie, my oldest, and my choices were A Pea in the Pod, which was so expensive, or Target. Today there are so many more stores and services so you can feel stylish and not have to spend a small fortune.
Some women love being pregnant, and I am not one of those women. This last pregnancy was particularly challenging for me. I had multiple health scares, I was sick my entire first trimester, my anxiety went through the roof in my second, and by my third, I had a severe case of edema. I've never felt less like myself, it was awful.
The one thing I did that helped me manage and recover was working out and eating well. I went to the gym almost every day until I was put on bedrest around eight months. I also made an effort to get dressed and pull myself together. It made a big difference in my mood, especially on days when I felt uncomfortable in my body and just generally gross.
Thank goodness pregnancy is a temporary state. Since it doesn't last forever, there is no reason to spend a lot of money on your wardrobe. It takes a little bit of effort, but you can certainly have a stylish pregnancy on a budget.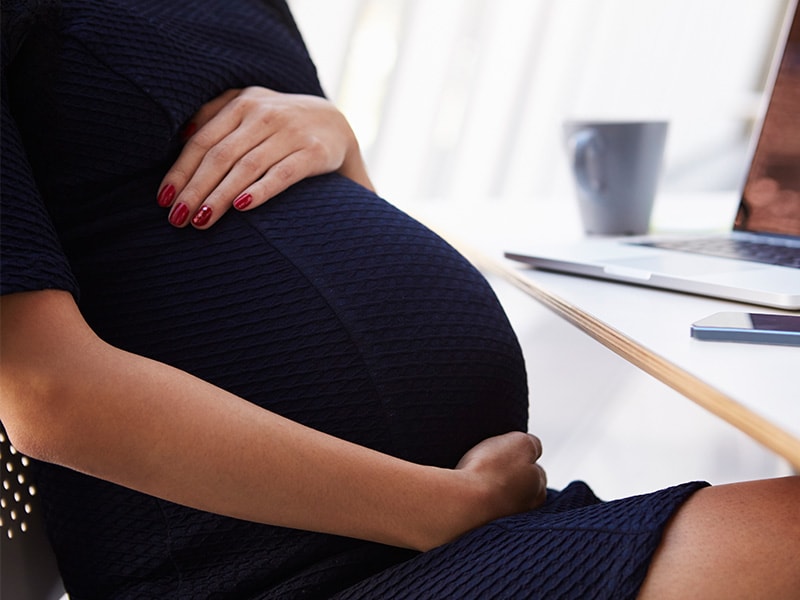 Here's what I did to maintain some semblance of style, and not break the bank:
1. Look in your closet.
Before you spend a dime, look in your closet. You'd be surprised by how many things you already own that will work as your body changes, especially in the first and second trimester – all bets are off once you hit your third. Wrap tops and dresses, tunic sweaters and long cardigans are all "bump friendly." Using pieces, you already have, at least in the beginning, will help you feel like yourself and add some of your personality to your outfits and save you money.
2. Only shop when you need something.
Contrary to what I usually say, when you're expecting you should piece feed your wardrobe and only pick up what you need when you need it. You can't anticipate how or where your body will change and every pregnancy is different. If you "stock up" on pieces you will likely be left with items you never wear.
One thing I would buy in the beginning is a "starter set" of basics. This works as nice base for casual looks that will last throughout your pregnancy and for a few weeks after your baby is born. I liked this one from A Pea in the Pod.
3. Size up before you buy maternity.
Instead of immediately buying maternity clothes, consider buying basics in a size up at affordable retailers. I lived in Old Navy Rockstar jeans (they have excellent stretch) in the dark blue and black in a mid rise cut. I also picked up a few new pairs of Zella leggings, that I ended up being able to wear for almost seven months.
You can also use these pieces when you're postpartum.
4. Think Outside the Box for Work and Special Occasion Clothes
Here's the thing about getting dressed when you're pregnant: casual clothes are easy. Pick up some jeans, a few leggings and filter in various styles of tops as necessary and you're good.
Work is another story.
If you have to get dressed for any kind of professional environment, being pregnant is a big challenge. I ended up using Stitch Fix and Rent the Runway with a lot of success.
Stitch Fix: offers a beautiful assortment of maternity clothes at affordable prices. I scheduled a delivery for every 3 weeks and ended up buying the entire delivery a few times. Each time, all five pieces were under $200.
Be sure to communicate to your stylist what you need, how you're carrying and the price point you're comfortable spending.
They sent me a few dresses, my maternity jeans, a pair of black pants and a blazer that ended up making most of my core wardrobe.
Rent the Runway: is more than just evening dresses. They offer everything from gowns, and party dresses to separates for work and accessories. I rented blazers, sweaters, and dresses throughout my pregnancy.
Their unlimited service is about $150 a month and lets you rent a rotation of pieces every month. It's worth every penny if you use it regularly. I ended up using it for four months and you can easily cancel any time.
Amazon: By my third trimester I was huge, I mean, scary, huge. A few weeks before Vivian was born I had to go to my grandmothers funeral, and had four work trips I was committed to, all of which required me to put on a dress and look like a person. I ordered a handful of stretchy dresses on Amazon and called it a day. I wore this dress in black and navy ($35), this short sleeve dress in black ($20), and bought this long sleeve scoop neck dress in three colors ($30). I add a better pump I already owned, wore my better jewelry and ended up being complimented more than when I'm not pregnant.
5. Accessories
Pull out all your accessories: scarves, necklaces, fun shoes, and keep them where you can see them. Incorporate them into your maternity basics to add your personality and style.
6. Spend on yourself.
Don't spend on clothes, do spend on yourself. Schedule regular manicures and pedicures, get a few blowouts, buy a few new lipsticks. Keeping your grooming and make up neat and polished will help elevate your look when you're limited with what you can wear.
In the comments below, let us know, when you were expecting, what worked? How did you manage to get dressed for those long nine months?