There is a profoundly emotional link between women and our clothes.  Whether you have a closet full of clothes you love or loathe, parting with them brings up a lot of "stuff."  I use to be surprised at how exhausted I was when I came home from helping a client edit her closet.  Sometimes I couldn't form a cohesive sentence or would need a nap. I knew I wasn't performing brain surgery or finding a cure for cancer, so why was I so fatigued? I realize after a few years; it wasn't the task that drained me but the constant negotiations back and forth between the client and me.
The challenge was the longer I was in business, the faster I worked. Because I wasn't emotionally attached to the clothes, if left uninterrupted, I could edit a decent sized wardrobe in under an hour.  But most clients, at least in our first meeting, wanted to tell me the life story of every item they ever purchased and debate every single piece we were purging. I left many appointments wondering how this was my career.
But it turns out I wasn't the only one drained; clients would let me know they too were surprised how wiped out they felt after our time together. Because our clothes are an extension of who we are, a link to our past and future, and almost entirely tied to our self-esteem parting with even the most unwearable piece can be stressful. To make the experience easier for both of us, I had to figure out a way to not only streamline the process but also lessen the rush of anxiety many clients felt.
Since I've stopped working with clients, we've published countless posts on how to edit and organize your wardrobe (here and here).  We even created our interactive 30 Day Style Challenge a few years back, and subsequently followed it up with our series:  4 Weeks to a Better Wardrobe (week 1, 2, 3, and 4).  But we've never talked specifically about the mindset you need to move through the process.
Today's post was inspired by the comment below:
"I'd love to know more strategies for getting rid of clothes that are no longer doing me any favors but for some reason I am holding on to." – Annie F.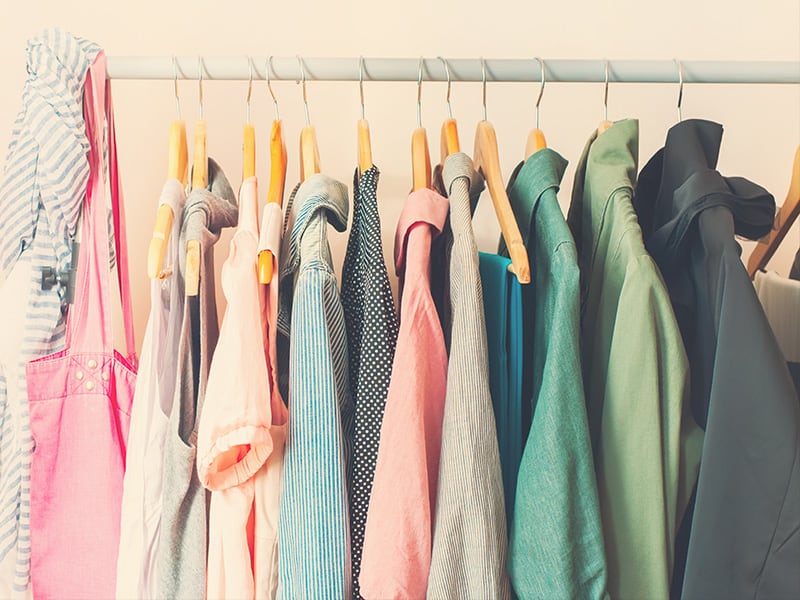 It's the perfect time of year to talk about editing and paring down our wardrobes. If you have a grasp of the steps but struggle with actually letting go, there are a few things you can do to lessen the strain and stress.
Know your style.
You cannot curate your wardrobe if you don't know your style.  This is an absolute MUST. If you don't know your style, you will not be able to create a framework for what to put in and take out of your closet.  Before you attempt to edit your wardrobe, take some time to figure out what you like.
When we worked with clients, before we even entered their closet, we asked them to pull pictures from magazines and catalogs or create a Pinterest board of looks they loved.  Giving yourself a visual will help you see a common theme. Do you like pants more than skirts? Solid colors or bold prints? We dive deep into this in week one of 4 Weeks to a Better Wardrobe.
Going through these steps prior to starting your edit made a huge difference for our clients.  It gave them "permission" to let go and provided some much needed clarity and focus.
You already spent the money.
"How can I get rid of something I spent money on and barely wore?" It can be so frustrating when you look at your donation pile and see nothing but wasted money.  Tell yourself: you already spent the money, whether it's hanging in your closet or someones else's, at this point, doesn't matter.  Is it in excellent condition but doesn't work for you? Sell it on Thredup or Poshmark (see our tips here). If it's in decent condition but not sellable, donate to someone who can benefit from it and move on.
It's not coming back in style.
While trends come and go, each new iteration has nuanced details that keep it modern.  Unless we're talking about a Chanel tweed jacket or YSL suit, nothing you own (and myself is included in this) is coming back.
Your daughter (girlfriend, niece or neighbor) doesn't want it either. 
Chances are, with few exceptions, your friends and neighbors don't want what you are giving away. Don't pass your old stuff off on people you like; you're just giving them more work to do.
Get it out of your main closet.
If you have items you are on the fence about, don't stress.  Move them to a separate closet or store them in a box.  After a few weeks, or even at the end of the season, if you haven't reached for them, you know you can finally let them go.
Finally getting organized and building a wardrobe you love is a lot like getting fit and healthy.  There is no quick fix or magic wand to quickly turn it around.  It takes a great deal of time and discipline.  Editing your wardrobe is like those first few workouts back at the gym.  It's miserable, but then you feel great, and then it gets easier.