Losing weight is a challenge. For women, especially as we age, we battle everything from shifts in our hormones to demands on our time, and the level of disciple required to make even the slightest bit of progress is exhausting. You wouldn't think figuring out how to dress while losing weight would be difficult, but it is.
Having a plan and some guidance can make all the difference.
Over the years, I've spoke with hundreds of women, all in the middle of a weight loss journey. Without exception, they all struggled to figure out what and when to spend on new clothes and how to dress their changing body.
So today, I'm sharing my best tips to make this small but essential part of the weight loss a little bit easier.
How to Dress While Losing Weight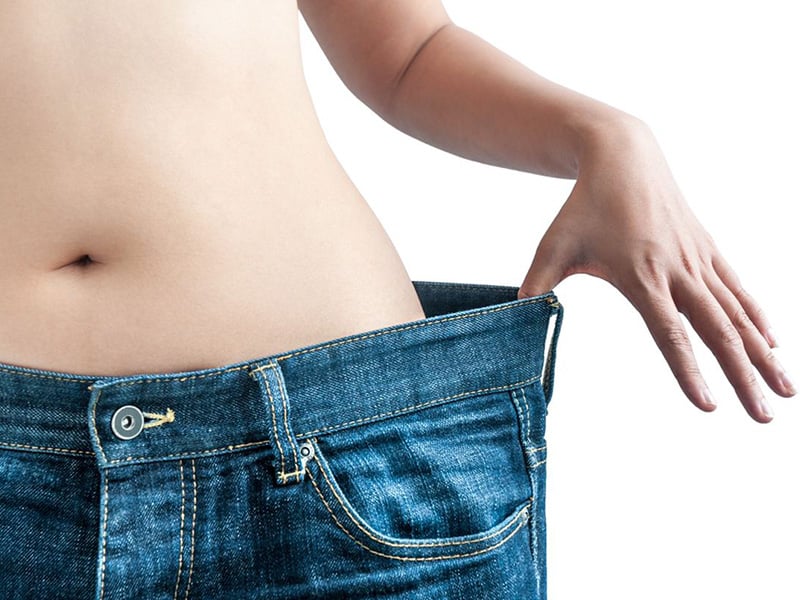 A Quick Note
Here at The Well Dressed Life, it is important for me to maintain a space that encourages size inclusivity and body positive messaging. Women are inundated with unrealistic, photoshopped images all day long. As a woman and mother of three girls, I find it incredibly frustrating that society is still trying to sell an impossible standard of beauty to us.
So, I don't want to talk about weight loss in a way that contributes to our insane diet culture. Rather, this is about being healthy, having energy and feeling strong. It's important for us to love ourselves at any size.
If you are currently losing weight, I encourage you to ignore your instinct to wear oversized sweatshirts and leggings all day long. Feeling good while you are losing weight is a major motivator to help you reach your goals.
And we all know that looking good and feeling good go hand in hand.
Best Tips for Getting Dressed While Losing Weight
#1 Edit Your Current Wardrobe
To make this easy, QUICKLY go through your closet and select only the pieces that fit you well right now, and put them on a rolling rack. I did this after my last baby was born (two years ago in December) and it made life so much easier.
I essentially created a small capsule that allowed me to get up, get dressed and go about my day without feeling like a total hot mess. I filled in the gaps with inexpensive pieces from Old Navy and Amazon. Every few weeks I paired down the rack, retiring pieces that got too big, and bringing in affordable wash and wear options.
This not only made getting dressed fast and easy, it helped my mental health stay strong and kept me focused on my goal.
For now, simply isolate what works from everything else. Don't worry about getting rid of anything. Once you either reach your goal, or lost a significant amount of weight, you can properly edit your wardrobe.
#2 Be Realistic
Despite our deepest wishes, weight doesn't just fall off. If you are following a healthy plan, you'll lose 1 – 2 pounds a week. That gives you several weeks, or even a few months to see and feel a difference in your clothes. At first, the clothes you have may start to fit better. In time, you may need a waistband taken in, etc.
Pay attention to what is fitting well, what could use an alteration, and what needs to be replaced. If you have to buy something new, buy your current size. You'll likely be able to wear it for at least a season.
#3. Understand Dress Sizes
This is my most important tip. A weight loss of about 10 pounds translates to going down one American dress size. You could lose up to 15 pounds and your clothes may fit better – so try everything on frequently. Most basics can be altered down two dress sizes before you compromise the garments integrity.
That's good news! It means you don't have to replace your entire wardrobe, and you can still have clothes that fit well during the process. You just need to watch how your body changes and how your clothes fit. Taking garments that are a little big to your local dry cleaner or seamstress to be fitted is key.
#4. Ask a Friend
I remember working with clients who had lost a significant amount of weight, and they had a hard time seeing the changes in their bodies. Often, they would insist on bringing larger sizes into the dressing room. And even after putting them on, would overlook the size discrepancies. Items would still be oversized and ill-fitting. This is when having an objective opinion is helpful. Have a friend come over or, even better, take you shopping, to help pull you out of your comfort zone.
Now that so much of our shopping is done online, it is imperative that you take your measurements and have them in front of you when ordering. Doing so will help you order the correct size and limit the amount of returns you have to make.
#5. Know When to Replace Your Clothes
When something can no longer be altered, is starting to overwhelm you or looks worn out, buy new. And don't feel guilty. Celebrate your accomplishment! There are many well-priced options available that have real staying power. Of course, only buy what you need, and remember, you can restart the clock on alterations. So if you go down one more size, some easy alterations are all you'll need.
Weight Loss Capsule
I thought it would be helpful to share a sort of "Weight Loss Capsule." To pull this together, I imagined you were my client, and you asked for a list pieces you can buy now that will see you through a good portion of your journey. Some of these are one season wears, others, are year round that can be alter, all or wardrobe builders that will give you lots of options with the pieces you already have in your closet.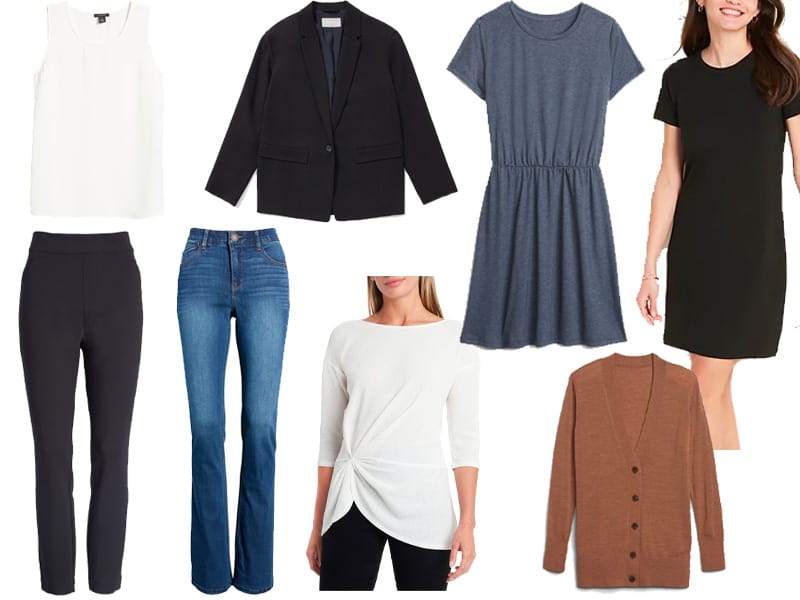 Weight Loss Capsule Shopping List:
Perfect Black Pants, $128: These pants are worth every penny. They fit great, are slimming, and are easy to alter.
Ruched Top, $59: Look for simple tops with side ruching. This does two things. First, it shows off your shape by pulling you in at the waist. Second, the extra detail gives the top depth, so you don't need to add much to it to create interest.
Jeans, $78: While losing weight, you can get away with a slightly oversized top or dress, but your jeans and pants need to fit well all the time. Wit & Wisdom make my favorite under $100 jeans. The fit is fantastic, with just the right amount of stretch.
T-Shirt Dress, $30: Casual dresses are a great alternative to leggings and sweats during weight loss. They are more polished, but just as comfortable and offer more flexibility with sizing. I'm featuring tee shirt dresses here, but you can replace them with a midi, or maxi dress, in solid colors or play with pattern.
Tee Dress, $25: Another slimming tee shirt dress option, so easy to throw on. Add a denim jacket and sneakers.
Blazer, $128: Include a few structured pieces into your weight loss wardrobe. These will help you look professional at work and create a shape for your outfits. This specific blazer from Everlane will carry you through formal and casual looks.
Shell, $39: These layering tanks at Nordstrom are fantastic for everyone and affordable enough to stock up on what you need at your current size.
Cardigan, $63: Finally, knits are the one category you can't alter, so look to update yours seasonally, as needed. Pick neutral colors in classic cuts to get the most wear out of them as possible.
Have a Question about How to Get Dressed While Losing Weight?
Add it in the comment section below and I'll answer it!
---
Our readership inspires all of our posts and is not sponsored or paid for by brands or retailers.
Recommendations are based on my experience as a personal stylist and wardrobe consultant for over a decade. I worked with busy, down-to-earth women who wanted to look chic and feel confident but were often confused by so much of retail.
Some links are affiliate links, which means if you purchase via our site, we receive a small commission.
If you enjoy our content and would like to help us grow, please consider following on Instagram and join our Private Facebook Group to access more advice and exclusive in-depth conversations with other like-minded women.