This content has been archived. It may no longer be relevant
Being able to work from home is a real blessing. My husband and I both are home-based. He travels extensively, but works from home when he's not on the road. It's a unique situation and one that we try to leverage as much as possible.
The lack of commute and flexibility allows us to be active in our kids' lives, from volunteering at school, coaching their sports, and being accessible to them during their day. It also gives us no excuses when it comes to fitness. It's a lot easier for me to go to a mid-morning workout class than it is for others.
But like anything, it comes with challenges.
This time last year, I shared some helpful tips to be a successful work at home mom. I still use them every day, though today, life looks totally different.
We have three kids now, almost 12, 9, and … 2 months. Our days are nuts, and the "balance" is getting more and more difficult. I can get easily overwhelmed by how much work I have to get done every day. I often feel like I am in a deficit before the sun rises.
Working from home with a bunch of kids is not for the faint of heart.
Despite feeling like I am floundering, I'm somehow getting more done professionally than ever before.
Today I'm sharing an update on how I'm staying productive while working from home.
I'd love to hear your tips in the comments below too!
How to Be Productive as a Work from Home Mom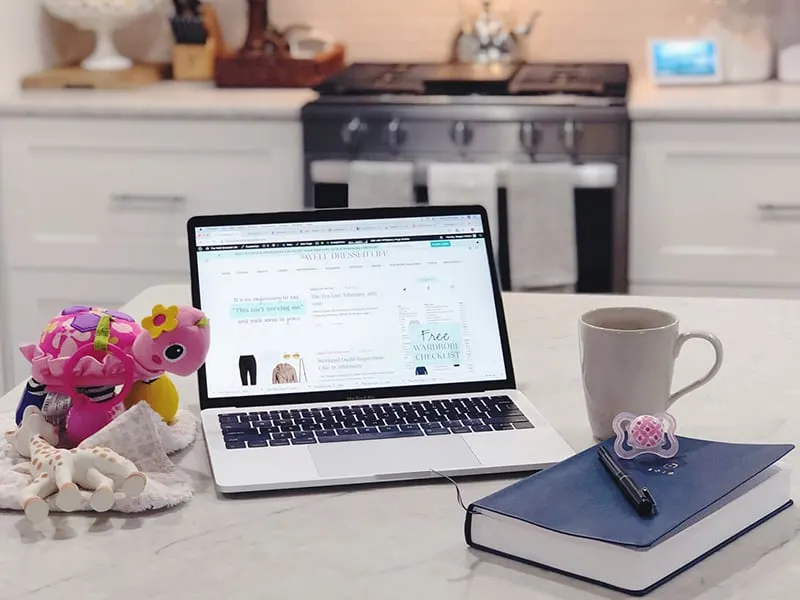 It's Not Like What You See on Instagram
A few days ago I read a "morning routine" post by a popular blogger. She meditates, makes a matcha latte, lights a candle, spends an astonishing 45 minutes writing in her journal then shows up to her office around 10am.
That is not the real world. I doubt it's even her world.
Admittedly, I get a lot done during the day. Part of that is my nature, most of it is because I don't have another option. While I'm so grateful for my work set up, my days and nights are really long and not at all glamorous.
No one is journaling by candlelight around here.
You can see what one of my recent mornings looked like here.
Let Go of Perfectionism
I'm learning to let go of my need for everything to be "perfect." I think I use it as an excuse to redirect my attention when I'm overwhelmed or stressed out. Now, if the kids rooms are a mess instead of interrupting my day to clean it up, I close the door and walk away.
That sound so simple, I know, but in the past it would bother me so much I wouldn't be able to focus. I'm still a work in progress but I'm giving myself some much need time back in my day by managing my expectations.
Create a Morning Routine
My mornings start early, around 4 or 5 am when the baby wakes up. Once I get her settled, I stay up and get work done. I like the quiet and stillness that comes with the morning.
I'll have a coffee, throw in some laundry, and spend a few hours working on my laptop before my older girls get up for school around 7. When my mornings start on the right foot, the whole day is better and I waste less time.
Take Care of Yourself First
When you work from home, you're often moving so fast that you forget to take care of your basic needs. We've all been there, it's noon, and you're still in your pajama bottoms. You've skipped one or two meals. Maybe you can't remember the last time you had water.
You would think being at home would make taking care of yourself easier. But I've found that I tend to put myself on the back burner because I'm trying to fit in as much as I can while I have some quiet pockets of time.
I use the morning to get set up for the day. Simple things like making your bed first thing in the morning, and getting dressed, even if it's just a pair of leggings, helps get you in the mindset to work.
I also make sure I sneak in as much nutrition as possible before the kids get up. I take several vitamins and supplements, add collagen peptides to my coffee, make a quick and filling smoothie and fill up my water bottle. Doing so gives me the energy I need to get more done in less time.
Three Things
Write down the three things you need to do either the night before or in the morning. Then do the most difficult or the one you're least excited about first. The sense of accomplishment will motivate you to cross off the next and then the next.
Add One Long Term Item
This is a big one. My overwhelm comes from seeing all the projects I should be doing to propel us forward, but feeling like all I do is the work that gets me through each day, sometimes barely.
So in addition to three things I must do, I add one "forward motion" item. That might be setting up a Facebook Ad, learning something new, or organizing a new series for the site. Slowly, things start to move forward, and I'm accomplishing bigger goals quickly.
Load Up Your Phone
Most entrepreneurs and home-based business owners can run their business on their phones. Load up yours with whatever you need so you can work on the go. Then maximize otherwise lost time.
Now, next time you're in carline, you can send a few emails, check analytics, process a sale, set up a meeting or draft and sign documents in a single click.
This article has a helpful round up of the 8 Best Apps for Working from home. I'm trying out a few of them, starting with Trello, a virtual "pinboard" to keep your thoughts and projects organized and flowing.
Work Unconventional Hours
There are only so many hours in the day. To accomplish everything on your to-do list, you'll have to work odd hours.
Review your schedule and look for a few pockets of time. Right now, for me, it's early morning and after 10pm at night. I use those hours to do tasks that require more concentration and save simpler administrative tasks for those stolen moments on my phone.
You do what you have to do knowing that it's a season. The schedule is ever changing, it's never permanent.
For more tips check out our post: How to Be a Successful Work from Home Mom