In 2014, I spent an obscene amount of time on the road traveling for work. My December schedule, in particular, was insane.
I was flying every single week. I missed all the holiday activities, my kids' school Christmas concert (they go to Catholic school); I don't think they even saw Santa that year.
My last trip had me landing just a few days before Christmas. I was exhausted, missed my kids, and despite looking like I had it all together, I felt like an utter failure. I cried the entire drive from the airport back home.
That year made me reexamine my priorities like never before. I had to make some big decisions about the kind of life I wanted, for myself and my family.
Was the money I was making worth missing out on so many memories?
Surely there had to be a way to make a living without compromising everything I hold dear.
Thankfully, the story has a happy ending, and I have lived by the lessons I learned that year every day since.
One of the more practical lessons was how important being organized and prepared for the holiday season is when you are the one running the show. What's the point of creating memories for your loved ones if you're fried and frazzled?
So, I thought this week would be the perfect time to share some of the strategies I put into place so I can be present in December and focus on the things that matter most to me — like, spending time with friends and family, reflecting on the year, and giving my kids traditions and memories to last their lifetime.
How I Get Organized for a Busy Holiday Season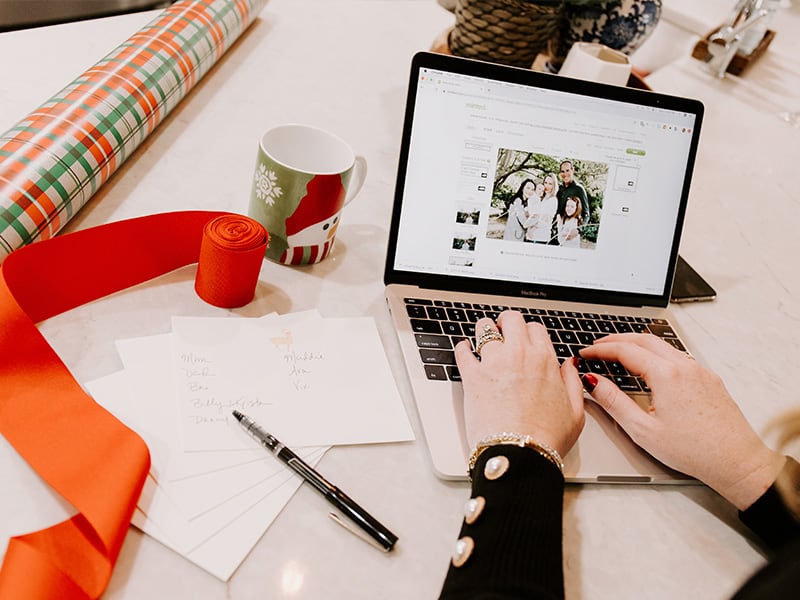 Here's the thing: being organized doesn't have to be complicated or take up too much time, but it's necessary so you the (insert mom, boss, heart of the home) can also enjoy the season.
Update Your Calendar
With so many moving parts, Bri and I keep it simple with a shared Google calendar. Every Monday, we go over it and make updates, so we always know what is going on.
This morning we sat down for five minutes with our coffee right after the girls got on the bus and mapped out December. I note everything, from school events, parties with friends, and we schedule our holiday bucket list: like when we get the tree, drive around and see the lights, and any other activity we want to prioritize.
Once it's figured out, I go back in making notes about what we need for each event: Hostess gift? Ugly sweater? Babysitter? Etc.
Organize Your Wardrobe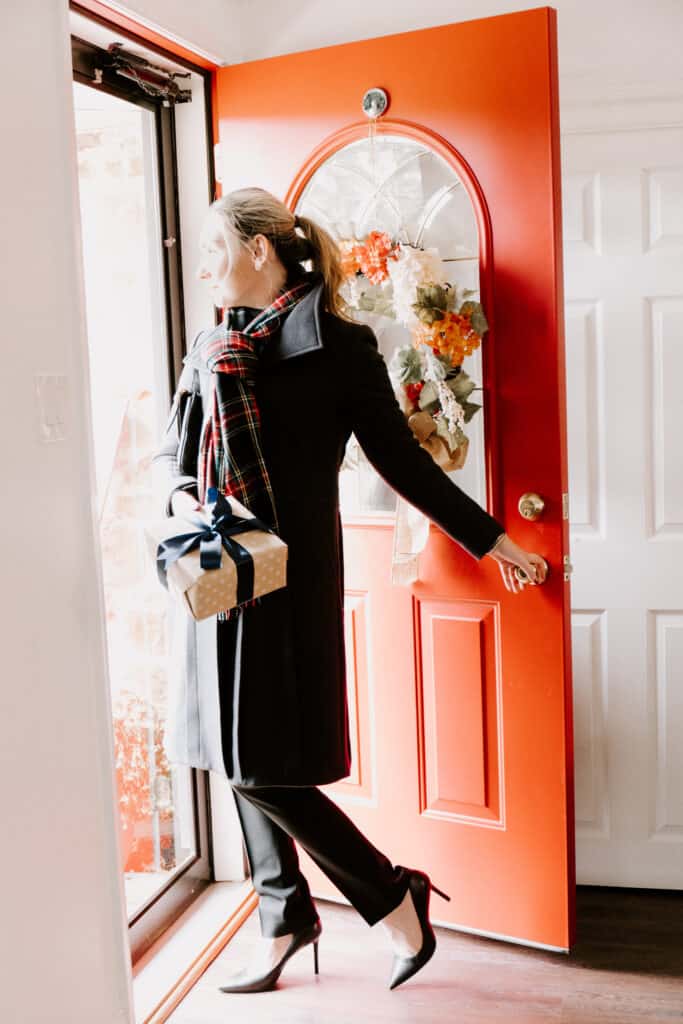 Once you know what you are doing, figure out what you are wearing. I know all to well what a time killer it is to have to run to Target and grab tights for one of the girls on our way to a party.
Spend just a few minutes deciding who is wearing what and making sure you have all the pieces. Order or pick up what you need as soon as possible so you have it at the ready.
I start with Thanksgiving outfits and go all the way to New Years Day. Be sure to check if you need new coats, hats and scarves as well. There's nothing like walking out the door on the first truly cold day and realize last years coat doesn't fit.
Order Your Holiday Cards
If sending out cards is your thing place your order this week. The key here is to make a decision quickly, and don't worry so much about the photo. Of course, if you have a professional family picture, go with that, but sometimes the candids you have on your phone are more charming.
I use Minted because (1) their designs are beautiful, (2) it's user-friendly (3) you can store all of your addresses in their system, and they will print the envelopes for you.
Periodically, I update the addresses in my file, so it's always ready to go. It's a huge time saver.
Set Up a Gift Spreadsheet
The holidays are the most expensive time of year, but the more organized you are, the less you will spend. I find my biggest weakness is when I wait until the last minute and then throw money out the window.
Since 2015 I've kept an excel spreadsheet of my holiday spending. I include a column for gifts, including everyone from the kids and family, to teachers and coaches. I also include a line item for everything else: cards, decorations, wrap, tips, outings, parties, etc.
It's the most helpful thing I've done because it gives me a comprehensive snapshot of where we are and what we have to do. I can also look back at the previous year and see what I missed or spent too much on.
The most important part of this spreadsheet is the deadline. Decide when you want everything purchased and work backwards. Currently I have dozens of items in online shopping carts waiting for Black Friday/Cyber Monday. Whatever the price is then is what I order it at. My deadline this year is to have my shopping done by December 8th.
Outsource
I learned the hard way that you cannot do everything yourself. For example, as much as I love to cook, Christmas Eve is busy and not the day I want to be stuck in the kitchen, so I happily have it catered by one of our favorite local restaurants.
Look at your agenda and commitments and see where you can have someone else help. You can find affordable help everywhere (especially on your local community Facebook groups). From someone to help hang your lights, to a neighborhood mom who loves to wrap presents as a side gig, you'd be amazed how affordable it is to hire a few extra hands.
Learn to Say No and Yes
I don't say no to much, but sometimes you have to. Since I'm hosting my immediate family for Christmas Eve, I said no to hosting my entire extended family on Christmas Day. I dreaded it at first but once I confirmed I was not up for it this year, I felt a weight off of me.
I've learned that it's important to say no to the things you don't want to do so you have capacity to say yes to everything else.
Make it Special
It doesn't take a lot for the holidays to feel magical, just some small touches. I buy inexpensive seasonal candles at places like Target or Homegoods, start playing our holiday playlist, stock our bar cart so we're ready for friends to stop by and make sure the pantry has things like hot chocolate and marshmallows – which makes everything feel more special.
When you're organized you have so much more bandwidth to enjoy the little moments and make them special because you see them come and have time to get ready.
Now, I want to hear from you. Tell us in the comments below, what do you do to stay organized and enjoy this time of year?