Yesterday, we featured five chic and affordable sweaters to wear while we celebrate the holidays at home. Today, we're talking pants, not just any old pair of pants, but fun, festive, and slightly over-the-top.
After a year of sweatpants, leggings, and joggers, I'm ready for the opposite, like silk drawstring, velvet pull-on, and sequin-covered bottoms.
I know many readers plan on going all-out with their looks this holiday, despite the fact (or because of the fact) that this year was the worst and our gatherings might be smaller than usual.
I plan to do the same, but I want it to be easy.
A great tip is to pull your family's outfits together now, so you can avoid the last minute trip to Target for tights, shoes, etc. And don't forget about yourself! In years past, I stopped short of my own outfit, and, of course, I ended up scrambling at the last minute.
Holidays at Home: Fun and Festive Pants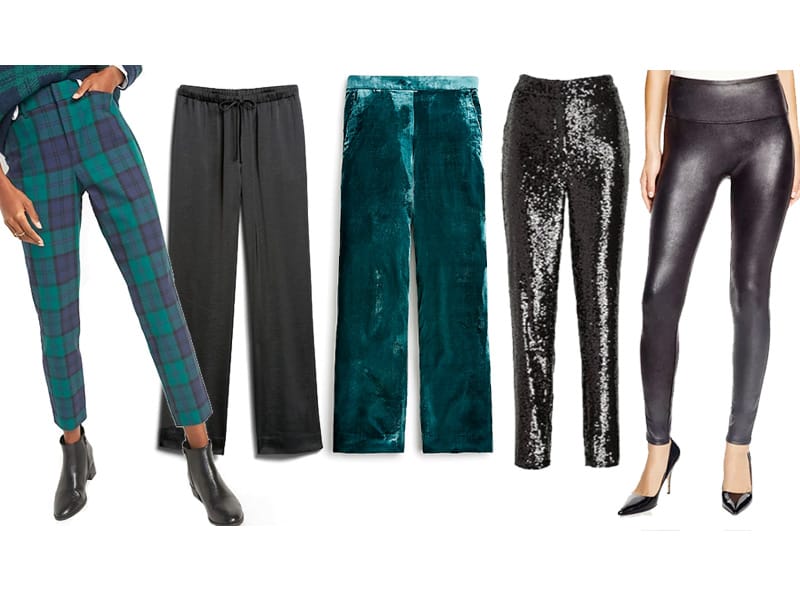 Prices are subject to change, so please keep that in mind, and inventory across the board is limited and selling out quickly. As always, there are plus, petite and tall sizes available in several of these options. All of the featured retailers have holiday delivery.
Velvet Pants
Velvet, $118 (ON SALE $59)
A pair of velvet pull-on pants may be the definition of glamorous comfort. They make pulling together a holiday look so easy, and they feel like sweatpants. Pair with a tonal sweater for an elevated monochromatic look.
Available in Regular, Petite and Tall up to a size 24, in colors dark spruce (above), navy and black.
Satin Drawstring
Satin, $89.50 (ON SALE $45)
Personally, I think I am going to host Christmas Eve in these satin drawstring pants and a black sweater, then glam it up with accessories (Thursday's post!). Like wearing pajamas but better.
Available in XXS – XXL on sale for under $50.
Plaid High Waisted Ankle Pants
Plaid, $25
While I would NEVER wear these in public, there is something so fun about them. If you're hosting a small gathering why not wear something way out of your comfort zone.
These plaid bottoms from Old Navy are only $25, available in all sizes including regular, petite, and tall up to a size 20.
You can keep the look simple with a basic black sweater, or go all out and pick up the coordinating plaid sweater! Just ditch the ankle boots and, instead, wear a simple flat like the Birdie velvet loafers.
Sequin-Covered Trousers
Sequin, $54
Express has some fun dress up pieces right now. So many I had a hard time picking just one. But these sequin covered trousers are the perfect way to send 2020 packing. They have a relaxed fit and are ankle length, so you can wear them with a flat or a heel.
I would wear these with a grey slouchy sweatshirt to balance and black heels for New Years Eve in front of the TV or, pair them with this $25 fuzzy white sweater featured in yesterday's post.
Available in Regular and Petite in XS – XL.
Faux Leather Leggings
Leather, $98
Finally, these Spanx Faux Leather Leggings are a long time reader favorite. If you already have them, wear them with a basic or sequin-covered tunic, depending on your tolerance for bling. Find more styling options in our post How to Wear Faux Leather Leggings.
Available in XS – XL here and plus size here. Buy one size up.
---
Our Style Content is Inspired by Our Readers
Our readership inspires all of our posts and is not sponsored or paid for by brands or retailers.
Recommendations are based on my experience as a personal stylist and wardrobe consultant for over a decade. I worked with busy, down-to-earth women who wanted to look chic and feel confident but were often confused by so much of retail.
Some links are affiliate links, which means if you purchase via our site, we receive a small commission.
If you enjoy our content and would like to help us grow, please consider following on Instagram and join our Private Facebook Group to access more advice and exclusive in-depth conversations with other like-minded women.