One category I barely touched on this year is special occasion pieces. It's crazy to think that we've gone almost 12 months without a wedding, a girls' trip someplace fun, a Broadway show, or a fancy dinner out.
Not that I ever needed a closet full of cocktail dresses, but now, my kids ask me why I'm "dressed up" when I put on a pair of jeans.
The last time I got even close to dolled up was my 40th Birthday party last November. Just thinking about it makes me realize how much we all need a fun night out to blow off some steam.
Hopefully, that night is coming sooner rather than later.
For now, consider wearing something glam for the holidays, whether it's Christmas cocktails with a small group or New Year's Eve on the couch with Netflix.
Before you buy anything new, go in your closet, all the way in the back, and pull out something you saved for a special occasion. Throw that on instead of your leggings, pour yourself a glass of champagne, and toast to the fact that we survived this miserable year.
If you need some inspiration or want to pick up something new, scroll down to see some easy ideas in all sizes that will arrive just in time to celebrate.
Holidays at Home: Dresses and Jumpsuits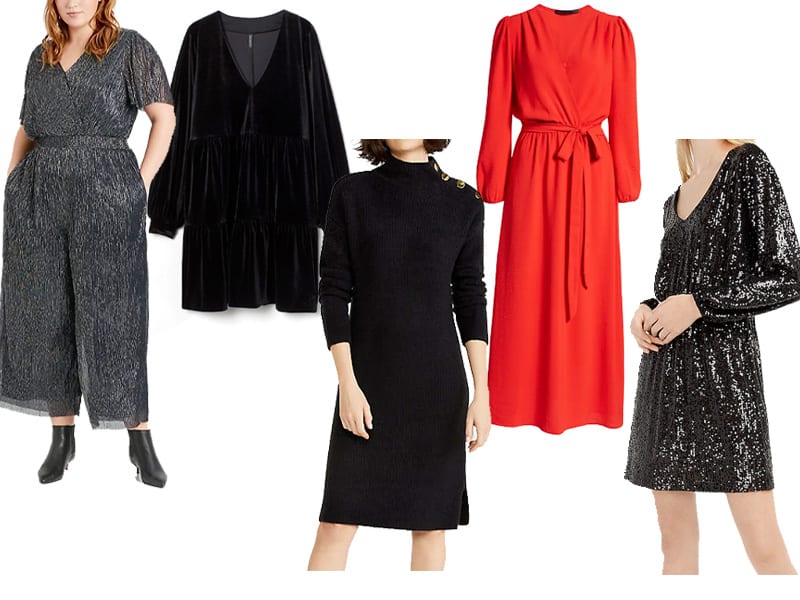 Velour Dress
Velour Dress, $25
Eat and drink all you want in this loose $25 velour dress. Just slip it over your head for an instantly elevated look as comfortable as wearing your favorite nightgown. To make it EXTRA extra, where you best jewelry and a bold red lip.
Long Wrap Dress
I got really into long wrap dresses over the summer. They were a fantastic alternative shorts but felt infinitely more polished. See what you already have and consider wearing it around the house next week. Maybe add a gold flat or slipper. You'll instantly feel the power of getting dressed and how it sets the mood for you and everyone in your home.
This one from Nordstrom is available in red and black, and can be worn year round.
Sweater Dress
Sweater Dress, $149
You likely have at least one sweater dress in your wardrobe, and maybe it's not getting the wear you thought it would when you bought it. Go put it on! It's the definition of one-step dressing. If you want to get dressed this holiday season without overcomplicating things, the sweater dress is your best bet.
If you need one, I love this option from Ann Taylor, with the one-shoulder buttons. You can wear it now, at home, and then take it to the office with tights and boots. Available in sizes XXS – XXL.
Jumpsuit
Metallic Jumpsuit, $149 (ON SALE $75)
I adore this metallic jumpsuit from Banana Republic available in all sizes including petite and tall. It's super flattering on, defining your waist and pulling the eye in with the faux wrap style top. Do me a favor and never ever wear it with the ankle boots shown above. Opt instead for a strappy heel if you need some extra height or a simple pair of flats.
Sequin Dress
Sequin Mini Dress, $54
When I was in my early 20s, my friends and I threw a New Years Eve party (these days I'm lucky if I'm awake when the ball drops). For fun, my girlfriends and I bought ridiculous, cheap cocktail dresses. They were gaudy, but also kind of fabulous.
This season, Express is killing it with affordable holiday options that remind me of that night. Why not wear something you otherwise would never wear, like a sequin covered dress.
But, I'm thinking this sequin sweatsuit is the PERFECT outfit to wear to kick 2020 to the curb. Gaudy, but also kind of fabulous 😉
---
Our Style Content is Inspired by Our Readers
Our readership inspires all of our posts and is not sponsored or paid for by brands or retailers.
Recommendations are based on my experience as a personal stylist and wardrobe consultant for over a decade. I worked with busy, down-to-earth women who wanted to look chic and feel confident but were often confused by so much of retail.
Some links are affiliate links, which means if you purchase via our site, we receive a small commission.
If you enjoy our content and would like to help us grow, please consider following on Instagram and join our Private Facebook Group to access more advice and exclusive in-depth conversations with other like-minded women.