Are you planning on staying in your pajamas this holiday? Go for it! I plan on wearing mine the entire day after Christmas, and the day after, and the day after that.
For the week between Christmas and New Years, I'm going to jazz them up a bit, so it doesn't feel like just any other day in 2020.
Today, I'm wrapping up our Holidays at Home series with some ideas to make even a jammie day feel a little more special, and you probably have many of these ideas already in your closet.
Holidays at Home: Accessories to Make it Extra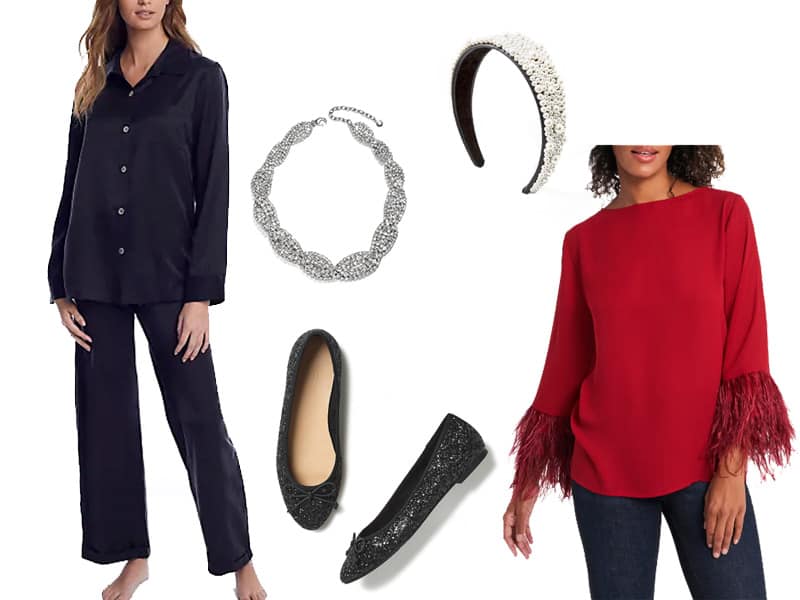 This short series is all about giving you inspiration. I always recommend seeing what you have first before you bring anything new into your wardrobe. This week we featured cozy sweaters, festive pants, and at-home party dresses.
As always, inventory is limited and prices are subject to change.
Crystal Necklace
Necklace, $68
Take inspiration from our favorite TV Mom of 2020, Moria Rose, known for pairing her pajamas with silk vests and diamond brooches. Pull out some of your old costume jewelry pieces and layer them on. More, is more here.
Want something new? This crystal necklace from Baublebar is a fun option to wear under your collar.
Sequin Flats
Sequin Flats, $18
Swap out your beat up old slippers for a pair of blinged-out flats, like this sequin covered pair from LOFT that are only $18.
Headband
Pearl Headband, $20
Headbands are the secret to turning a bad hair day around. Pull your hair into a big messy bun, add an embellished headband, and poof, you have yourself a chic up do. Give it a try over these next few weeks and see how pulled together you feel with zero effort. I love this faux pearl encrusted headband at WHBM for $20.
Feather Sleeve Blouse
Looking for some drama? This feather sleeve blouse from Nordstrom is so fun. You can wear it with dark jeans, simple black trousers or velvet pull-on pants. Or, pair it with your favorite pair of cozy joggers and slippers.
Silk Pajamas
Silk Pajama Set, $110
A holiday pajama day may call for a new pair, like this WASHABLE silk set from Bare Necessities. Order today, and you'll get FREE two-day shipping. Then, layer on your accessories, pour yourself some hot cocoa or a glass of wine, and veg in front of the T.V. all day long.
These are also a lovely last-minute gift. 😉
---
Our Style Content is Inspired by Our Readers
Our readership inspires all of our posts and is not sponsored or paid for by brands or retailers.
Recommendations are based on my experience as a personal stylist and wardrobe consultant for over a decade. I worked with busy, down-to-earth women who wanted to look chic and feel confident but were often confused by so much of retail.
Some links are affiliate links, which means if you purchase via our site, we receive a small commission.
If you enjoy our content and would like to help us grow, please consider following on Instagram and join our Private Facebook Group to access more advice and exclusive in-depth conversations with other like-minded women.
---