Dear Friends,
This month marks the 14th anniversary of the beginning of my life as an entrepreneur and business owner and four years since The Well Dressed Life became my full time job.
I was 26 when I walked out of my corporate job and I started my first business, Kristel Closets. It was, hands down, the best decision I ever made.
Of course, at the time, everyone thought I was insane, rightfully so, since I had no idea what I was doing and was pregnant with our oldest. But sometimes you have to follow your gut, and trust your instincts.
Now, I'm 40, with three kids, and feel confident in my work and convictions. But it's been a crazy, exhausting, overwhelming, and ultimately wonderful experience to get here.
So many of you have followed along since the beginning. I hear from countless readers who met me when I started the business while expecting my first baby – who is now 13! And nothing makes me happier than getting a note from a past client – it's like hearing from an old friend.
I'm so grateful you've been with me since the early years – and stuck around as I figured out how to do this.
More recently, you may have discovered this site on Instagram or Pinterest and don't have much context about what it's all about.
Since we also have so many new readers, I thought I would say, "Hi!" (re)introduce myself and answer some of the most popular questions I regularly receive.
Cheers to 14 Years!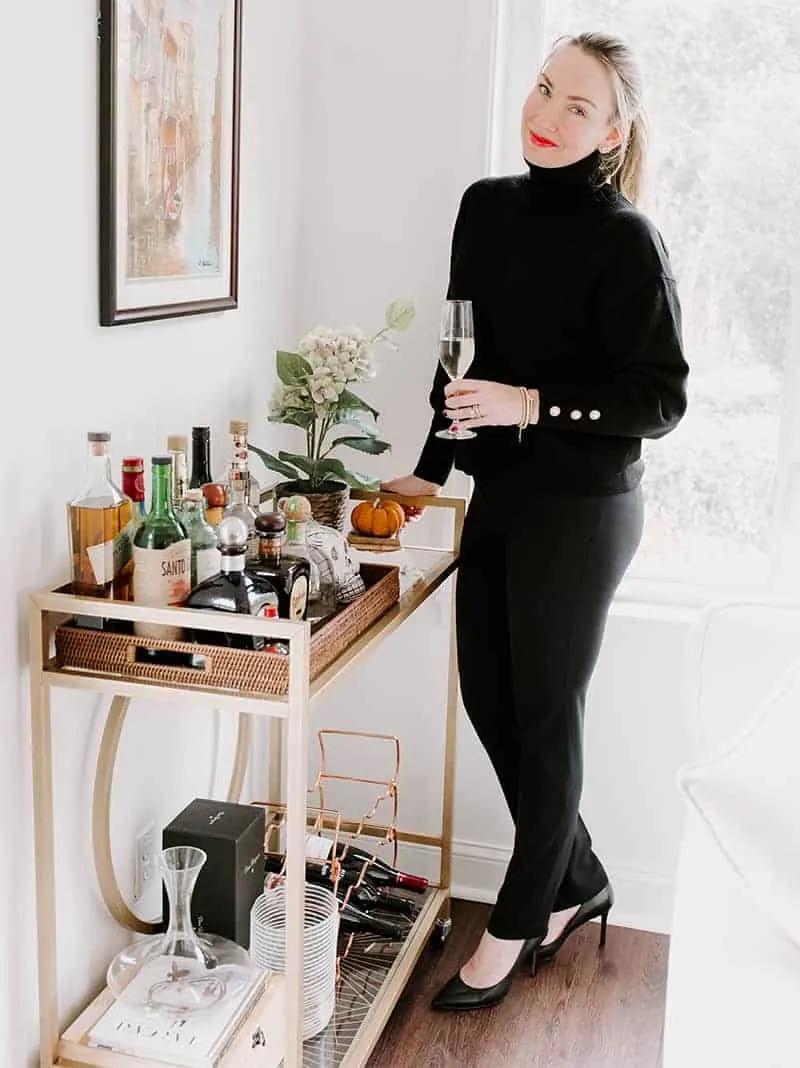 HI! This is me.
The first thing you need to know is that I hate, HATE putting my picture on the internet for all to see. It feels ridiculous and embarrassing.
I know it's helpful to see the pieces I recommend on a real body. So thank you for being kind and supportive as I stepped WAY outside my comfort zone this past year.
First, Things First …
I live in the suburbs of Philadelphia with my husband, Brian, and our three girls Maddie (13), Ava (10), and Vivian (almost 2). Bri and I met in college, and we've been together for 21 years, married for 17. It sounds cliche, but they are my everything.
Life is full, busy, and blessed with two careers and a calendar packed with sports and activities. I'm currently trying to "balance" having a teenager who is slowly gaining more and more independence and a toddler who demands my attention all day long. Needless to say, I hit the pillow really hard at night.
I've always loved fashion and style. In and right after college, I worked as a retail buyer, starting at a private, high-end store, and ending up at QVC, where I bought items and created programming for the home-shopping network.
I left to start my first business, Kristel Closets (a personal styling and shopping company), when I was expecting Maddie. I intended to create a career that would allow me to be the kind of mother I wanted to be and have a fulfilling professional life.
After ten years of working with clients up and down the east coast and extensively traveling the country working with our corporate clients, I decided to turn all of my attention to this site. I was burning out, traveling so much I barely saw my kids and felt like I was moving away from my original goal of having a career and personal life I found equally satisfying.
It's been a tremendous amount of work, with a long list of failures along the way. Even though it hasn't always been easy, there's not a day that goes by that I'm not grateful for the opportunities and life I have. I feel really fortunate that I have a career I'm passionate about and one that has brought so much goodness into my life.
Being a working mom is a big part of who I am, which means our content comes from that perspective. That said, our readers are remarkably diverse and range from stay at home moms to recently retired women and grandmothers; I'm always thrilled to hear that our content resonates with women in all seasons of life.
What I want you to know …
I absolutely love the community that has been built around this site. I pour my heart and soul into my work every day and think deeply about how we can create content that helps, inspires, or gives you a little break amid your busy day.
Posts can take anywhere from 4 – 6 hours to produce, and we post content five days a week.
I promise not to fill your inbox with junk and I never create a post as a money grab. On the rare occasion that I miss a day publishing, it's because I couldn't get a post together that I found valuable or relevant.
There's so much that goes into a site like this that you don't see. Even I'm surprised by it.
I so appreciate it when you comment and share our work. It's the lifeline of our business.
And here are the questions I regularly receive …
How did you get started?
I studied business at Temple University Fox School of Business and worked in high-end retail while still in school. After graduating, I spent many years as a women's clothing buyer for a small boutique and a major retailer. Before starting my business, I was a buyer for QVC, procuring products and developing programs in their Home Decor, Candle, and Christmas department.
In 2006 I started my first company, Kristel Closets, Inc. (KCI), a full-service personal shopping and styling firm. I wanted to take my experience and love of style and help women navigate the often overwhelming retail world.
I ran that company for ten years. At our peak, I had an incredible team of personal stylists who worked with our clients in Northern New Jersey, Philadelphia, and Washington, D.C., and all their surrounding areas.
This blog was initially designed to be a marketing tool attached to our business website, as a way to connect with potential clients. But quickly, I realized I could expand our audience and work with women all over the country and now the world.
After a decade, I officially closed KCI to focus all of my energy on building The Well Dressed Life.
Do you have a team? (and) Are you hiring?
Lauren, my dearest friend, creates all of our graphics and designs and helps maintain the backend of our site. Which means when I break the backend, she fixes it.
I work with a fantastic local photographer, Ashley Griffin. She's made all the difference in the look of the site, and my marriage since trying to force my husband to take suitable pictures of me was a losing battle.
At the end of 2019, I was planning on building out a team because other than Lauren and Ashely, I am running this operation solo. Of course, 2020 is a dumpster fire, so hopefully, I'll feel more confident bringing in more help early next year.
Typos and Spelling Errors
The grammar police are not my biggest fans.
If you see an error, it's not because I'm an idiot; it's a typo my tired eyes missed. All posts are run through the premium version of Grammarly multiple times before going live, but sometimes there are errors. Everything gets fixed eventually. So, give a girl some grace; I'm doing my best.
Are your posts sponsored?
No, they are not.
When I worked with personal clients, I refused a commission from retailers and never sold a brand of clothes, make-up, or jewelry because I wanted to be independent.
Today, I take that same philosophy.
While most bloggers' revenue comes from sponsored posts, I'm not comfortable with it. Over the years, people have said I was crazy for leaving that kind of money on the table, but the longer I stay away from it, the happier I am with the decision. It's a slippery slope.
It took me years to build a loyal following; I'm not going to chip away at that by filling your news feed and emails with ads disguised as content.
You need to know when I make a recommendation, it's a sincere one.
How do you make money?
Our blog revenue comes from on site ads, affiliate links, and our Insider program.
Affiliate links mean that when you click one of our product links and make a purchase, we make a very small (very, very small) commission. I'm a part of Shopstyle Collective and rewardStyle networks which helps me connect with retailers.
I am also part of the Mediavine Ad Network. Mediavine works as a liaison and sells space on my site to advertisers. These ads do not influence the content in any way.
Finally, over the summer, I launched our WDL Insider as a way to work with readers more personally at scale. It was a great success, so I'm launching our Fall Insider this Friday.
How do you balance work and kids? Do you have childcare?
Typically, Bri and I feel like we are hanging on by a thread all day, every day.
Thankfully, the big girls are back in school after being home for almost seven months. Like everyone who lived through various lockdown levels and managing schooling at home, we were an absolute mess.
We do have a wonderful babysitter for Vivi, who comes over three days a week from 9 – 3. So I have a chance to work while all the kids are occupied during the school day.
My parents are also a huge help and take care of Viv the other two days.
Weekends are insane because our big girls play sports, including travel softball, so it's hours and hours of practice and games.
During the week, I usually work between 9 am – 3 pm, then get back online from 7 pm – 11 pm, and try to squeeze in some hours over the weekend, but lately, that hasn't been possible.
Honestly, given how bad this year is, we're blessed to have good health and thriving kids.
Any advice for starting a business?
I have two very simple pieces of advice. First, you won't love every aspect of running a business so you have to love your mission and keep that top of mind.
Second, I really believe a good part of my success is thanks to my pure stubbornness. So just don't stop moving forward, even and especially when you fail epically. I'm not the smartest, or most skilled, but I will out work everyone.
How tall are you?
I'm 5'10 in bare feet.
What size do you wear?
I'm a solid medium or size 8.
How would you describe your style?
Casual, modern, classic, and feminine. Our style posts are heavily influenced by what I like, but I also appreciate all kinds of styles.
Do you follow a budget when you shop?
Not in the sense that I sit down and figure out a number I can spend each season or year. But that doesn't mean I have an unlimited budget. I know what I can afford and try my best to be prudent with my purchases; remember, I still have three kids to put through school.
Do you buy what you say you do?
Absolutely. If I say I bought it, I bought it, but I don't purchase everything we feature. Often, our outfit posts are inspired by either questions you post or my experience dressing clients.
Is that really your skincare routine? (and) Why do you spend so much on skincare products?
Yes, that's what I use every night. As I said in the post, my skin was a problem for a long time and crushed my confidence, so I will spend time and money to keep it clear and healthy. One of the reasons I didn't initially post pictures of myself on this site was because I was dealing with terrible skin.
That said, I don't spend in lots of areas, so it all works out in my book. Many of the products I featured are expensive, but they last a long time. The main point of that post was to talk about applying your products to get the best results.
Can you please feature petite and plus sizes?
I think people skim through the posts and assume we are only featuring "regular" or "missy" sizes. We include petite and plus sizes in almost every single outfit post if there is an option. We also prioritize retailers that are size inclusive and call out their size offerings in the text.
By the time I read your post, items are sold out. Can you check inventory before posting?
Unfortunately, I do not have access to the retailers' inventory levels. I do make every effort to make sure sizing isn't limited or already sold out before posting. When something does sell out before a post goes live, we quickly change out the item.
Why don't you feature more discount retailers?
I'm not a great sale shopper. I don't make good decisions in discount stores, and what I buy almost always turns into closet clutter. That doesn't mean I don't love a good deal, but I don't go looking for them.
Additionally, inventory levels at discounters are notoriously low. There is usually no inclusive size scale, limiting me in terms of giving plus and petite options.
My focus is to help you build a wardrobe, share inspiration, and, most important, I want you to understand why certain pieces go together so you can dress confidently.
Of course, when something great goes on sale, I'm the first to share it.
Can you feature UK based retailers?
I'm shocked at how international our reach has become, especially since I don't think my next-door neighbor knows what I do for a living. I wish I knew more UK based retailers but being US based I don't have much exposure to them. As we grow, I'm trying to figure out how to make recommendations to readers outside the US, so please stay tuned.