It is notoriously difficult to shop for men. But I've found after shopping for my dad, husband and two brothers for most of my life, with a little thought and creativity there are actually a lot of options. That's why we carve out space in our Gift Guides twice a year to highlight thoughtful, useful and sometimes indulgent gifts for the guys in your life.
Father's Day is right around the corner, but there is still plenty of time to order something special. To get started, think about the things he likes, his hobbies, the sports he follows, the items he collects. What gets him excited?
My husband, for example, loves good tequila and becomes almost giddy when he can share it with friends. He's also an avid runner, and sports fan so it's easy to pull from any of these categories and find something he would enjoy but would never buy himself. It takes some thought, but it's worth it to say thanks for all they do for us.
Let's Hear It for Dads
Men aren't exactly having their greatest moment in history. So while the bad guys are taking up all the air time, and change is starting to happen because of it, we hear very little about everyday men doing wonderful things. So if you'll indulge me for a minute, let me tell you about the two incredible men in my life.
"Pop"
Whenever I mention my dad to friends, their immediate response is, "I love your dad."
He's a charming, and funny (so, so funny) guy, who is down to earth and has a big, generous spirit.
Growing up he taught my brothers and me all the big life lessons, set the stage for us to navigate adulthood with a strong sense of right and wrong, and showed us firsthand that family isn't just the most important thing, it is everything.
For me, he was and is my first great love. It may sound cliche, but I don't believe I would have ended up with such an amazing husband if I didn't have my dad. Even as an awkward, insecure teenager with a limited world view, I had high expectations on how a man should treat a woman. My dad's influence shaped much of that.
I realized as I've grown and begun raising a family of my own, what made my dad different and extra special in my eyes, was that he was flawed. There was something about knowing that he wasn't perfect that made him relatable. I was somehow able to see him as a real person and hold him with the highest regard at the same time. I don't think he did it on purpose, but it was his unintentional vulnerability that made it so easy for me to get along with him.
I hope I can figure out how he did that so I can do the same with my kids. And speaking of my kids, if I thought he was a great dad, it's kinda killing it in the "Pop-Pop" category too.
"BK"
Luckily, I eventually crossed paths with an equally great guy, and we built a life together. Bri (or BK as I call him) shares many of my dad's qualities but with a modern twist. He's set his life and career up so that our kids are a priority.
He goes above and beyond all the time. Like the time he took a red-eye home from South America, landed and drove right from the airport to coach a softball game on a Saturday morning while his colleagues stayed the extra night for a more comfortable flight option.
His priorities are always crystal clear, from volunteering in the community because it's the right thing to do, to spending hours practicing various sports with the girls, to planning "dates" to get 1:1 time with each of them. It's pretty special to watch. I hope the girls grow up to realize, like me, just how lucky they are.
Good guys do exist; they just don't get tons of attention. So if you've been fortunate to have a great dad in your life, I'd love to hear about him in the comments below.
But first, some gift ideas.
Great Gifts for Father's Day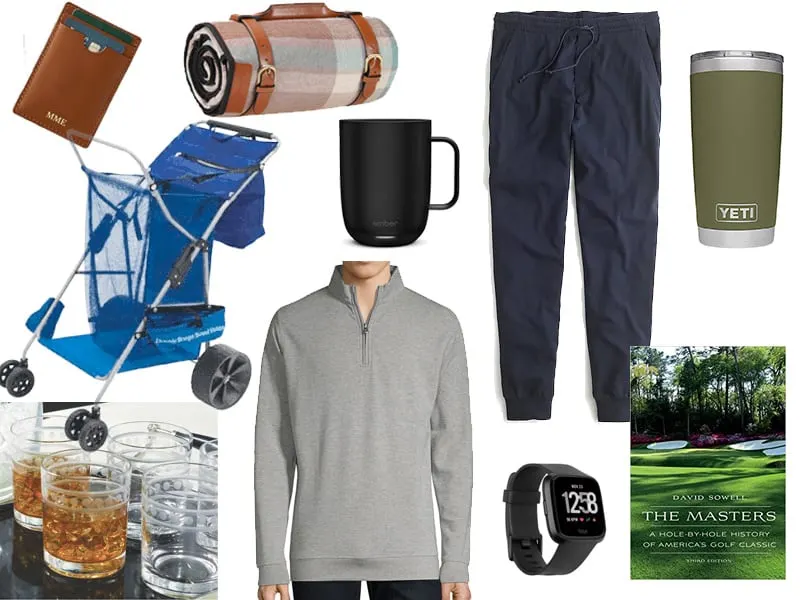 Blanket, $29 | Ember Mug, $130 | Fitbit Versa, $199 | Pajama Pant, $50 | Beach Caddy, $70 | Old Fashioned Glasses, $114 | Yeti Tumbler. $30 | Golf Book, $20 | Pullover, $125 | Wallet, $59
I tried to curate a selection of gifts at a range of prices. Maybe these will work for you or will inspire another idea. As always, my first recommendation is the gift of time. If your dad is close by or you can get to him, take him to dinner, go see a show, do something together while you can.
Gifts for Dad
Blanket, $29: A cozy blanket for tailgating or camping. Give it as its own gift, our use it as part of something bigger, like tickets to a game, or a weekend away.
Ember Mug, $130: Keeps his beverage the perfect temp for up to two hours. This is my favorite purchase so far this year.
Fitbit Versa, $199: We gave this to my dad last Christmas and he loves it.
Pajama Pant, $50: Men don't usually buy pajamas for themselves but always seem happy to have them. Add a pack of underwear and socks, and every guy I know would be delighted.
Beach Caddy, $70: Make their life a little easier with the Cadillac of beach caddys. After watching my husband lug our gear down to the beach for years, and now with a new round of baby gear, this is currently sitting in my Amazon cart.
Old Fashioned Glasses, $114: Help him create a gentlemen's bar with a gorgeous set of glasses and his favorite liquor.
Yeti Tumbler. $30: These tumblers are my go-to under $30 gift. They are extra nice if your dad is outdoorsy.
Golf Book, $20: Coffee table books showcasing his favorite sport or area of interest is a nice way to add his personality to your home because, let's face it, I doubt they picked out the curtains.
Pullover, $125: This tailored pull over works with jeans and twill pants, or shorts on a cool summer night.
Wallet, $59: A money-clip-wallet, monogrammed with his initials is a nice way to update what he's carrying around in his pocket, especially on nights out with friends when he's not in "dad mode."
Now, share some positivity and tell us about your dad below.