It's Giveaway Time!
Once a month, for all of 2018, we are giving away one of my favorite products. It could be a bag, a book, a beauty product, an accessory – pretty much anything I use and love. We kicked off last month with the Lo & Sons OG bag. As long-time readers know, I have been a fan of these durable travel bags for years. Today, we are giving away Vintner's Daughter Botanical Face Serum; my stranded-on-a-desert-island must have face oil that transformed my skin. With a cult-like following and crazy price tag, it's a pretty fantastic prize.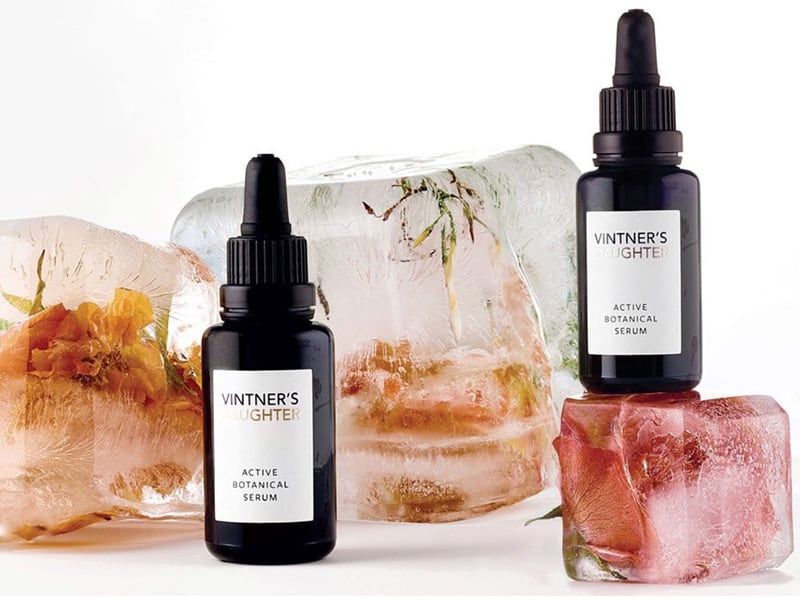 The Serum
I discovered Vintner's Daughter about a year and a half ago. Knowing it was time to upgrade my skincare routine I went off to look for a serum that would help revitalize my aging skin that is prone to breakouts and redness. Over the years I've been incorporating more natural beauty products into my skin care regiment. Knowing how much better I feel with a clean and organic diet, I figured mimicking that in my beauty products couldn't hurt. Some products fell flat, showed little to no results and were not worth the price tag.
Vintner's Daughter boasts a magical combination of botanicals and essential oils. In the spirit of "research," after reading dozens of too-good-to-be-true reviews online, I skeptically ordered one 30ml bottle for $185.
Pause for reaction.
Admittedly, I spend an obscene amount of money on skincare. I justify the price by thinking that I'll age gracefully and my older self will be grateful for the healthy, well cared for skin. I hope. We'll see.
But $185 for a bottle of serum seemed crazy even for me. I was Christmas morning excited when it arrived in the mail and placed it in my medicine cabinet like it was the Grail in Indian Jones and the Last Crusade. Don't drop it, don't spill it, don't let anyone touch it.
How to Apply
It's important to follow the application process. I started using it at night after I wash my face with either Eve Lom (if I'm wearing make up) or Tata Harper (for little to no make up), and use a gentle toner. Then, you take six drops of the oil and rub it between your hands. Gently place both hands on your face a push and press the oil into your skin. You don't want to douse your skin with oil; a little goes a long way. Continue to push and press the oil all over your face, neck and decollete. Let it sit for about 30 seconds.
Then I follow up with eye cream, neck cream and night cream. It's not as involved as it sounds. My night time routine takes less than 5 minutes.
The Results
I was floored with how much better my skin looked when I woke up the next morning. It had a noticeable glow, and the redness that lives on my checks was gone entirely. Over the next few weeks, my skin was transformed.
The hormonal acne on my cheeks – gone.
The acne scarring on my cheeks – gone.
The redness on my t-zone – gone.
The general dullness that comes with over 35-year-old skin – gone.
Is it expensive? Yes.
Worth it? Also yes.
My skin has a youthful glow that looks rested (haha!) and healthy.
I was sold, and have been using the serum religiously ever since. Now I get panicky when the bottle gets low.
How to Win
Like the page.
Find this post pinned at the top of the page.
Like this post on Facebook.
In the comments of this post, on Facebook, tag two of your friends you think would enjoy our blog.
Remember – ALL OF THIS HAPPENS ON FACEBOOK.
If you already like us on Facebook, you can still enter by liking the post and tagging two friends.
A winner will be announce on Friday, March 2nd.
This is not a sponsored post. You prize is paid for by The Well Dressed Life.
Only 1 winner will be announced. Prize is non transferable and will be mailed directly to the winner. US Residence only. Must be 18 years old to enter.