This content has been archived. It may no longer be relevant
Mother's Day is right around the corner, but there is still plenty of time to order something extra special for mom this year. So many gift guides are filled with ridiculous, overpriced, knick-knacky ideas. I think, if you are going to spend any amount of money on a gift, it should be thoughtful, a little indulgent and also highly usable.
If you are fortunate to have your mom in your life, my first suggestion is to take her somewhere. Whether it's brunch, a day at the spa or a weekend away, time together is always the best.
I've been able to take my mom on a couple long weekends away, just the two of us. Spending time with your mom as an adult, outside your busy lives, is a real gift for you both.
Of course, we can't always get away, so consider gifting her something she wouldn't buy herself. This year's gift guide is filled with ideas that I personally use and love and a few readers favorites at a range of price points.
The Best Mother's Day Gift Ideas for 2019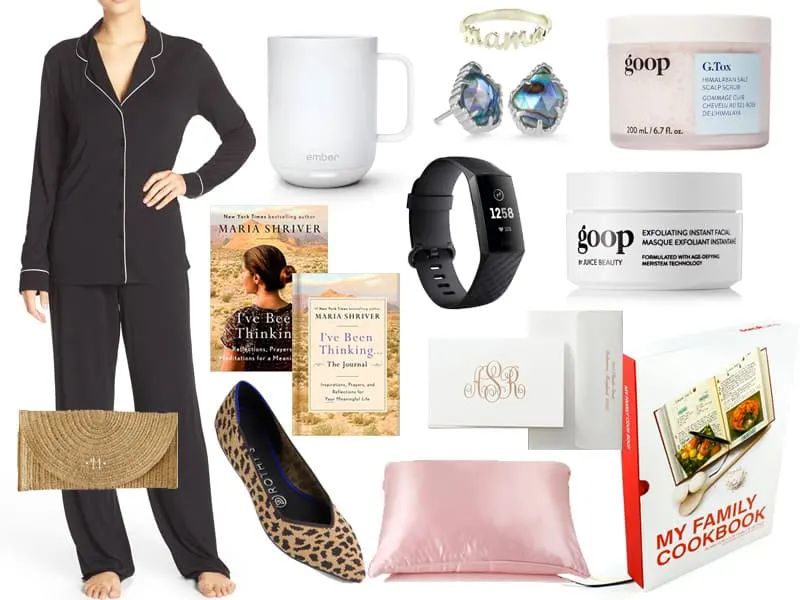 Ember Mug, $80 | Rothy's, $145 | Fitbit, $120 | Kendra Scott Earrings, $60 | Instant Facial, $125 | Scrub Shampoo, $42 | Mama Ring, $50 | Pajamas, $65 | My Family Cookbook, $30 | I've Been Thinking, $12 | Journal, $12 | Clutch, $52 | Notecards, $38 | Pillowcase, $85
Gift Guide 2019: Thoughtful Mother's Day Gifts
Busy, tired moms know how it goes. You're up at the crack of dawn, you pour your first cup of coffee and then the morning routine takes over. By the time you go for your second sip, it's cold.
I bought The Ember Mug for myself a few months ago and it's one of my most favorite purchases ever. It's more than a thermal cup, it actually keeps your coffee (or any other hot beverage) at your preferred temperature for about 90 minutes.
I'm the kind of person that looks forward to my morning coffee as I fall asleep at night, and this just makes it even more delightful.
Comfortable, stylish, WASHABLE flats – Rothy's should be filed under "why didn't I think of that!" These are great for any season of life. Whether mom works, volunteers or is living her best life and traveling the world, a pair of these will fit in any kind of style, for women of all ages.
Use this link and get $20 off your first order.
Give your mom the gift of health and fitness motivation with a Fitbit. We gave my dad one for Christmas this year, and he wears it every day. The new Fitbits are loaded with helpful features. Aside from your standard step tracker, it monitors your sleep, your resting heart rate and your calories in and out.
The most helpful feature, though, is the goal tracking. Want to work out three days a week? Need to increase your water consumption? Set a goal within the app and get that feeling of accomplishment as you move closer to the end of each week.
Who doesn't love a small and sparkly gift? These earring by Kendra Scott have been a reader favorite for several weeks now. They work like a stud but feel a bit different. For under $100 they are a sweet gift for mom that she'll happily wear throughout the seasons.
Goop Beauty
I'm a big fan of Goop's Instant Facial and their Sea Salt Scalp Scrub. Both are luxurious and highly impactful products that mom might not buy for herself. The facial is part of my nightly skincare routine and the scalp scrub is makes your shower feel like a spa – for a minute.
This sweet ring is perfect for someones first Mother's Day as a lovely way to welcome her into the club. It's available in gold or silver, is under $50 and comes in the most adorable packaging.
Most women don't invest in pajamas for themselves. There is simply too much on our list of needs to make them a priority. But I've never met a woman who doesn't LOVE a cozy set of jammies.
I usually pick up a few pairs over the course of the year, usually around the holidays and then leading into the summer. So, I'd be very happy to open up these on Mother's Day morning.
We're spending some time at the beach with friends this summer, and I love the idea of a crisp pair of menswear inspired PJs with my coffee on the deck before the day gets started.
If your mom is a fantastic cook, give her this cookbook journal to log her best and favorite recipes. It's sort of a gift for her, and a gift for you as this becomes something she can pass down through generations. It becomes a beautiful keepsake that ultimately shares more than recipes, but family stories and memories too.
I've Been Thinking, $12 and Journal, $12
Maria Shriver's I've Been Thinking is an easy to digest book of inspiration. "Chapters" are short and sweet, with enough substance to give you something to think about, covering topics like aging, gratitude, overwhelm, etc.
I like the idea of giving it to your mom, along with the corresponding journal, for her to keep by her bedside. She can use it before bed or start a new morning routine that helps her start her day with positivity and hope.
This straw clutch was a reader favorite last week. It's perfect for the summer, especially if mom is headed on vacation. You can buy it plain, or have her initial monogrammed. Either way, it's chic and useful for only $52.
I'm always happy to see how many of my friends still use personalized stationery. In just the last week I've received a few notes in the mail all on actual card stock.
It's comforting to know that manners aren't entirely lost. I have my own stationery I use, and I've had custom notecards made for my girls (on Etsy) so they can learn the importance of taking the time to say "thank you."
This set is under $40, comes beautifully boxed, and is one of those gifts your mom might not think to buy for herself, but will use time and again.
Who needs beauty sleep more than mom? This silk pillowcase lives on my bed. After a long day, falling into bed exhausted and landing on a cool and comfortable pillow is the best.
There are a ton of benefits to sleeping on silk, like helping to prevent wrinkles and minimizing damage to hair. That's all great, but I just like the idea of maintaining some kind of self-care even though I'm covered in spit up and mentally fatigued.
I've given this to several girlfriends as a gift, and they all tell me months later how much they love it. It's a luxury for sure, but mom deserves it.