Thank you to Gap Factory and Collective Voice for sponsoring the post.
Over the last few seasons, Gap Factory has become one of our Reader Favorite resources for affordable wardrobe builders in a wide range of sizes.
If you are like me and reluctantly getting ready for early fall and back to school, take advantage of Gap Factory's Friends and Family sale with 50% off savings site wide + an extra 10% off your purchase!
Including the BEST fitting pair of jeans, I've put on my body in a long time.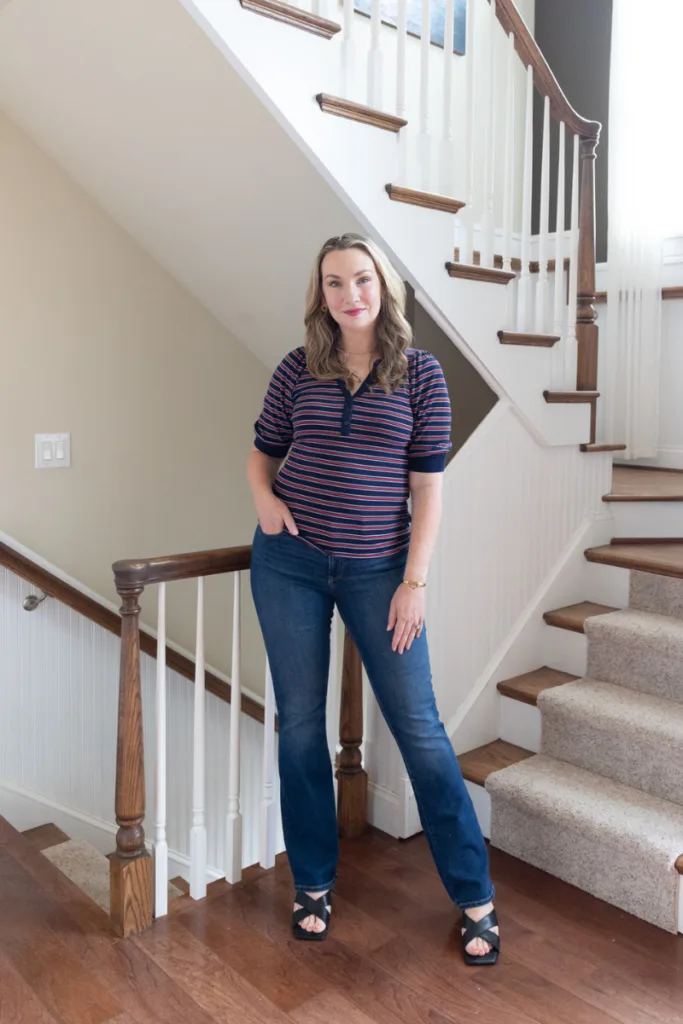 I'm wearing the Mid Rise Baby Boot Jeans in Washwell in size 10 Long (for reference, I am 5'10), and they fit like a dream, with just enough stretch for comfort.
Available in sizes 24 – 35 with short, regular, and long-length options.
I paired it with a few cute tops, ideal for all the September things, like morning drop-offs, back-to-school nights, and PTA meetings.
Above, I'm wearing their Fitted Stripe Henley Puff Sleeve Top (in medium) available in navy (featured) and off-white stripe. It's described as a "puff" sleeve, but as you can see, it has a subtle shape that hits above the elbow.
If you are curvy on the bottom like me, a sleeve with some volume helps balance your hips and makes your waist look smaller.
I also found this adorable Crochet Collared Sweater in navy stripe; below, I'm wearing the medium.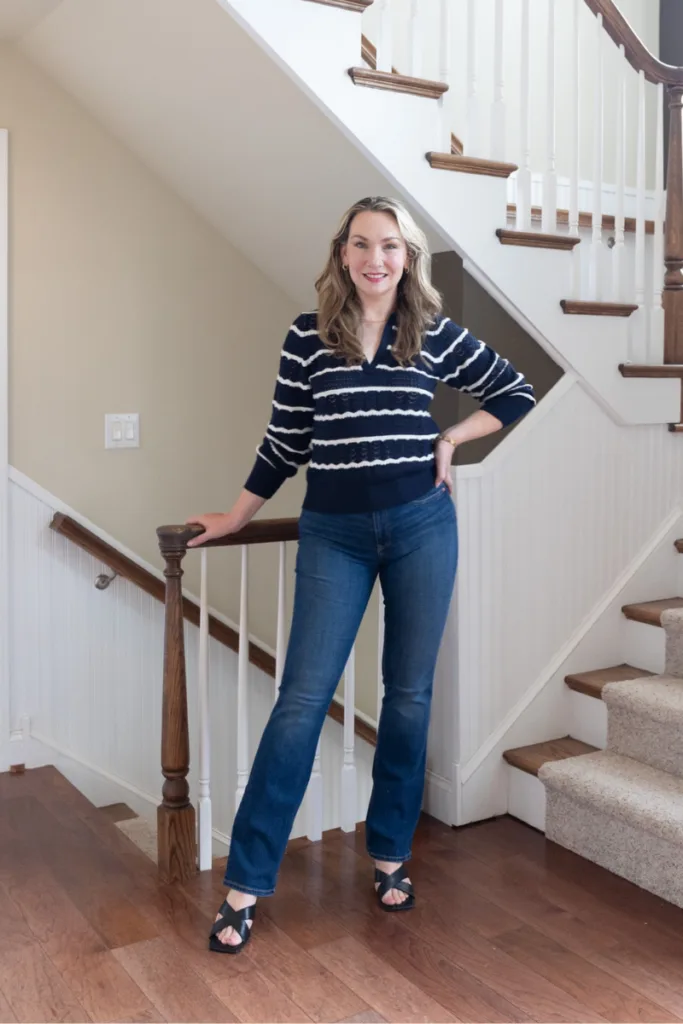 It's an open weave, so it's light. And I'm wearing an everyday bra in a neutral-to-me tone, and it's fine; no need for a cami underneath.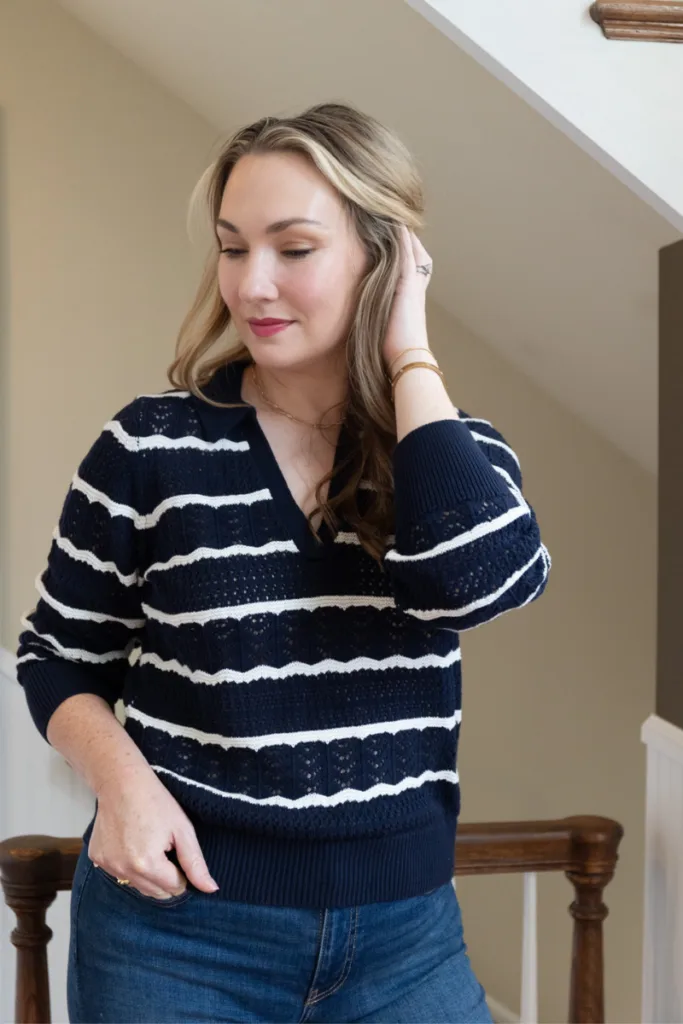 And for some fun, I also picked up this Crochet Crewneck Sweater in a cheerful stripe. You can also pick it up in birch, a versatile neutral, in sizes XS-XL; I took the medium here too.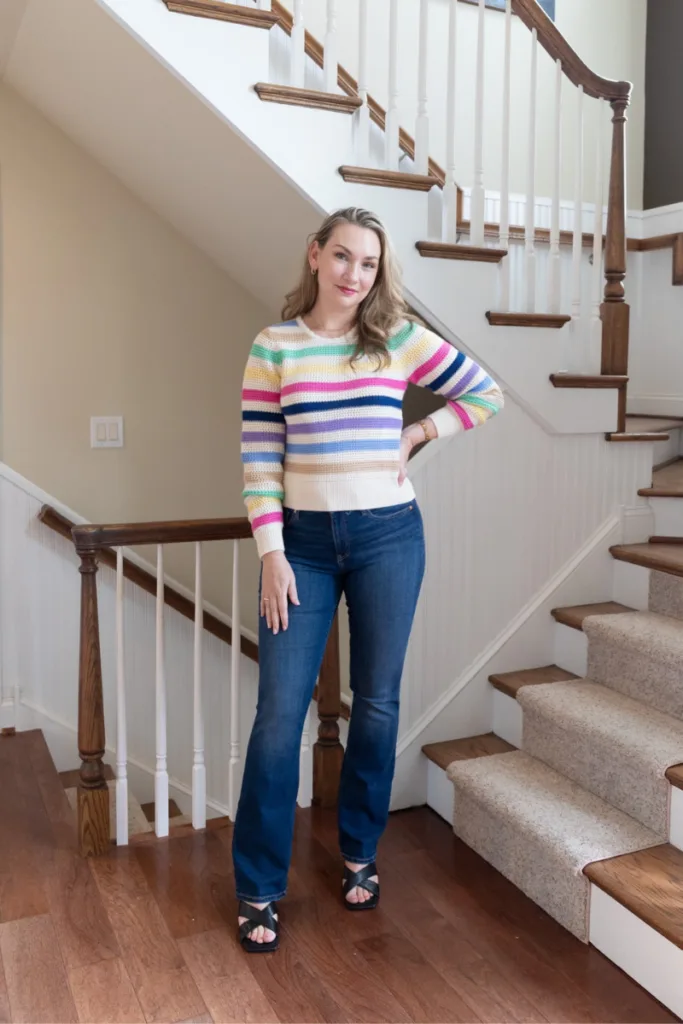 I love the scalloped detail at the neckline and how the navy stripe works so well with the wash of the jeans.
Finally, I grabbed a new pair of their High Rise Straight Jeans with Washwell and their Oversized Poplin Tunic Shirt in blue stripe.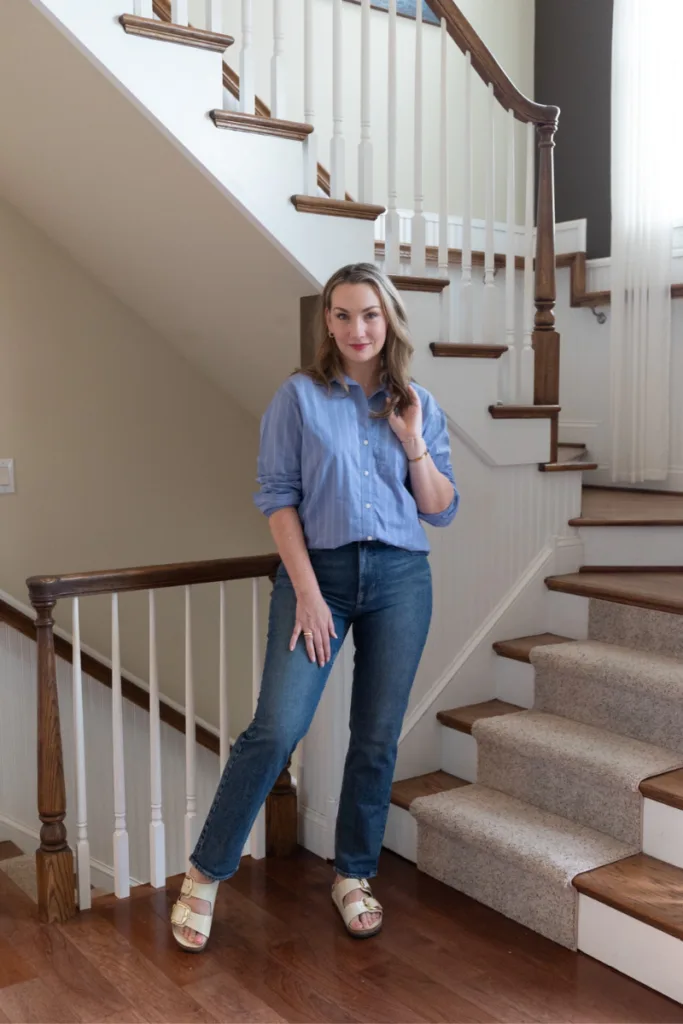 The High Rise Straight Jeans have less stretch than the bootcut style. I took a size 30 in regular length instead of the long option, and they hit right where I wanted them, at my ankles.
The shirt is designed to be oversized, so size down if you want less fullness. I'm wearing a medium which is my usual size.
For this look, I buttoned the shirt to the hem, folded it under, and tucked it into the bottom of my bra. It's a surprisingly comfortable trick and allows you to customize how it fits.
But it would also look cute open, over a tank with a pair of dark slim jeans.