Think about some of the pieces you already have hanging in your closet. You know the ones, we all have them. The random skirt (dress, pant, or blouse) usually in a print, that we found on sale, or bought on a whim because "this is what everyone is wearing." I do it all the time, and I write about fashion "rules" for a living. It's hard not to be lured by the $24.99 price tag hanging on a sale rack. Sometimes, when paired with better basics, these bargains can be great additions to your wardrobe. So let's try to work with some of those pieces you already own before you put them in the donate pile.
For today's wear to work post, imagine that random piece and start to think about how you can put it into your office outfit rotation. As an example, I'm using this floral pencil skirt from Macy's. It's on sale and available in a variety of prints and patterns. (Also in plus and petite.) The pattern is bold but still chic and sophisticated. It reminds me of all the years when I worked with clients. I would stand in their closet and have them show me an item they like, but couldn't figure out how to wear. Most of the time, the solution was super simple.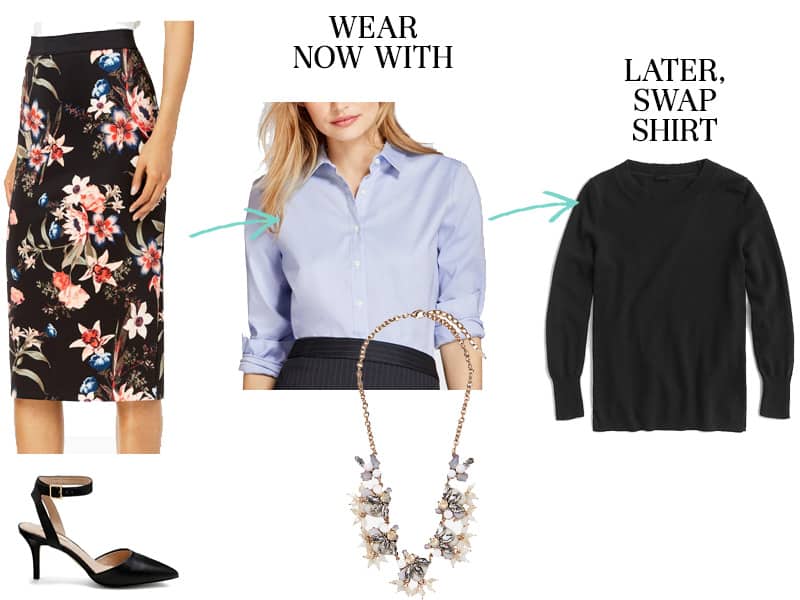 Skirt, $41 | Shoe, $99 | Wear now with: Shirt, $58 | Necklace, $35 | Later swap shirt for: Sweater, $98
When working with a separate in a bold print, you want to balance it with basics. I would call this skirt a novelty piece. It stands out, but when you're creating a look, you don't want one element to walk in before everything else. You want a cohesive, balanced look. Pairing a novelty piece with basics is how you create that balance, but basics don't have to be boring.
The Shirt
My first thought was to pair the skirt with a white button down, my typical go-to. Instead, I went with the light blue option. It's creates a subtle difference. Just by swapping out the color you create a more modern look. Of course, if white shirts are your thing, or that's what you already have, keep it white. Brooks Brothers still makes the most affordable, comfortable, and best quality button down.
Tuck the shirt into the skirt since it has a beautiful waistline. I like a tucked in shirt. So many women think they can't pull it off, but almost everyone can. Why hide your curves?
The Shoe
For shoes, I did an ankle strap pump because they are wear now and later. (If you have a classic black pump, that works too!)
When wearing an ankle strap it's important to understand that the shoe will cut off the line of your leg so be sure that the skirt hits at the proper part of your leg. We're trying to show as much of your leg as possible to create a flattering proportion for your height. Usually, for a shape like this skirt, have the hem stop at the very top of your knee. If you're petite, you can go a little shorter, but not much. Any longer and it will weight you down. Louise et Cie (they are owned by Vince Camuto) makes a gorgeous, well-made shoe. I have a few of their flats and pumps and have been very happy with the comfort level and how nicely they polish up after a quick end of season visit to the shoemaker.
The Necklace
The trend now with jewelry is layers of light and delicate pieces. But it's a trend, so you can still wear some of your statement necklaces. I wouldn't go too oversized, just something that fits into the neckline of the shirt. By incorporating stone and metals, you give life to a look. It' keeps it from feeling too flat, and also works as a layer in the warmer weather. This particular necklace pulls out the neutral colors of the skirt, and that helps the look feel on purpose without being matchy-matchy.
The Sweater
Bringing this outfit into the fall is easy peasy. You have two options, depending on your comfort level. You could layer a simple sweater over the shirt. Maybe it's my 12 years of Catholic school uniforms, but I still love the look. You're creating layers, without having to use a cardigan or blazer. Blazers are awesome, but they can feel redundant after a long winter.
I know though, for as much as I'm down with the combo, some women can't stand the feeling of "all those layers." In that case, wear the sweater on its own and keep the necklace. The combination of the texture of the shirt, with the elements in the necklace and the pattern of the skirt all, work happily together. I could live in this J.Crew sweater (it comes in a rainbow of colors), all fall, and winter. It's that perfect, Jackie O style sweater that you can wear on its own for a simple and chic look or add a necklace or scarf. It's lightweight enough to even wear under a blazer when it's super cold outside.
Shop this Post