Every month, we round up your favorite finds from the previous four weeks. I love seeing the pieces you order from some of our posts. It helps me continue to curate practical pieces specifically for you as I organize content for the coming months.
What's special about this site is that, rather than showcasing expensive designer pieces that only a few people can really afford, we focus on wearable, well-priced items you can buy right now, that work in your "real life." When I review our monthly analytics report, I look for not only the most popular styles, but also the price points and sizes. Many of our outfit inspiration posts take forever to create because we try so hard to find options for as many readers as possible.
Here's what you loved in February: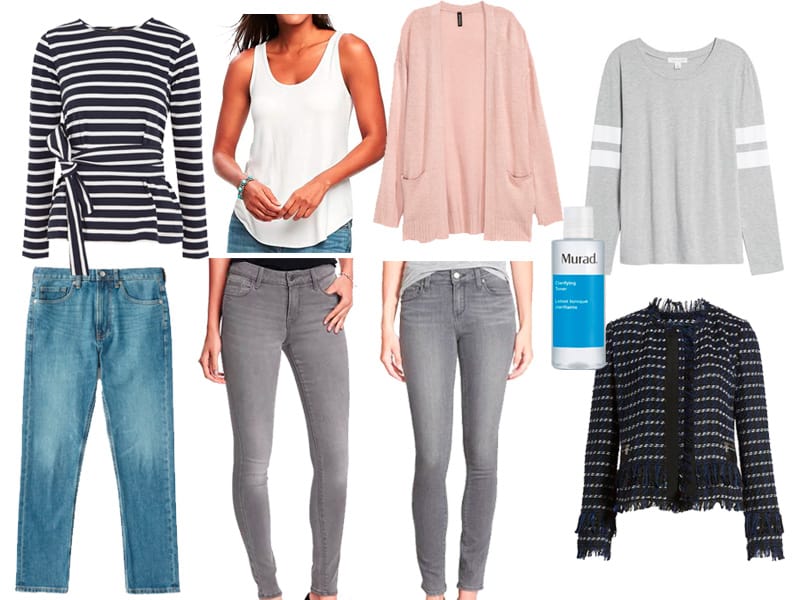 Striped Top, $50 | Tank, $14 | Cardigan, $25 | Varsity Tee, $45 | Boyfriend Jean, $68 | Rockstar Gray Jeans, $32 | Gray Jeans, $189 | Toner, $24 | Tweed Jacket, $129
Striped Top, $50: This striped top gives me so much life. You can wear it with dark jeans, boyfriend jeans (as seen here) and white jeans in the spring and summer.
Tank, $14: This tank was a top seller for good reason. So many of you are looking for that perfect layering piece, that pairs with a long cardigan and jeans. The reason this works so well is because it falls from the body, drapes and has a subtle scoop hem. These bad boys are $14, so stock up.
Cardigan, $25: Speaking of long cardigans and jeans, this H&M option will surprise you. It comes is black, gray and pale pink. We featured it here with gray jeans. But you can pair it with any bottom you like. It's a fantastic transition piece as we move from winter to spring.
Varsity Tee, $45: It was no surprise to see this sporty, casual tee at the top of our list. Wear it on your next family vacation or just a busy weekend with the kids.
Boyfriend Jean, $68: How to Wear Boyfriend Jeans featured these jeans by Everlane, and was one of our most popular posts last month. If you are looking for a relaxed jean, these are the grown up version of this popular style.
Rockstar Gray Jeans, $32 and Gray Jeans, $189: As many of you know, one of my personal "spend" categories is jeans. Paige jeans work for my body type better than any other brand. That said, these Old Navy jeans are a fantastic lower priced alternative.
Toner, $24: Lots of readers picked up this toner by Murad. Adding a gentle toner into my skincare routine has helped reduce the redness on my cheeks.
Tweed Jacket, $129: It doesn't get better than this tweed jacket. Wear it to work with a black skirt or slim lined pants, or layer it over a sheath. Make it work on the weekends with your favorite tee shirt and jeans. It'll be a real workhorse in you wardrobe.
Looking for more inspiration? Be sure to add any questions or requests for future posts in the comment section!
Shop this Post