Maybe this sounds silly, but one of my goals for the year is to have more fun with clothes. I started my career in fashion when I was 19 because everything about clothes and style lit me from within.
Back then, trying out new styles, coming up with different looks, and following trends was like a sport. I loved learning about design and designers, and I have loved the history of fashion since I was a little girl.
But, over the last few years, with the demands of life getting increasingly intense, I found myself not feeling very inspired.
Especially since I had Vivi (amazingly she'll be 14 months in a few days), I started to feel like I was losing myself in motherhood.
So my commitment to tapping into the fashion-loving girl of my past is both practical to keep the business and blog fresh, but also a form of self-care.
The challenge, of course, is how to shake things up while maintaining my classic aesthetic. (And staying in a budget, and keeping my choices practical, and … you get the picture.)
My idea is, once a month, I buy something both outside my comfort zone while still inside my style profile. I'm sharing those finds with you here, to maybe spark some inspiration in your wardrobe.
So my January purchase was this faux leather jacket by Levi's that I found at Nordstrom.
Faux Leather Moto for Under $100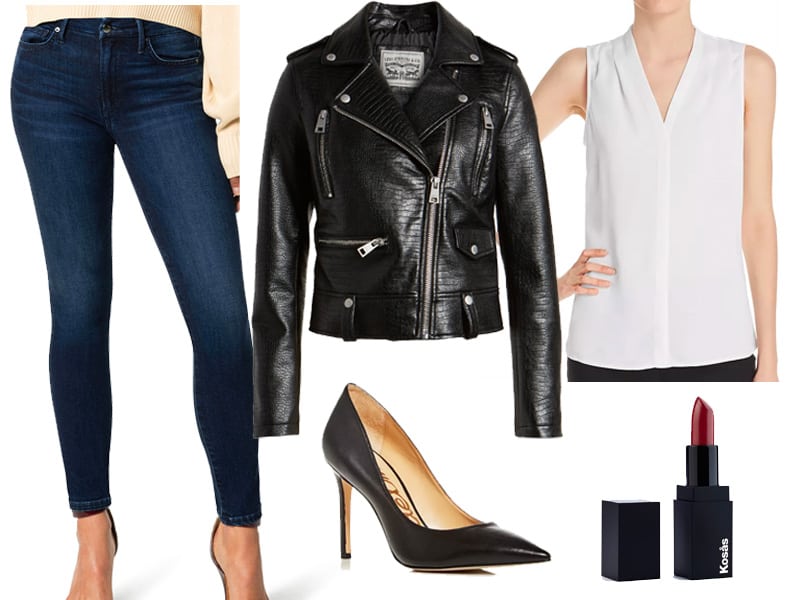 Moto Jacket, $88 | Jeans, $158 | Heels, $130 | Top, $98 | Lipstick, $28
At first I thought this was way outside the scope of my style, but after wearing it for a while, I realized it mixes perfectly with my more classic pieces.
It feels incredible, like real, soft leather. For under $100 – it's a great buy if you want a fun piece with staying power.
I'm wearing my normal size, medium. It fit well with room to layer something heavy underneath. It's also available in plus size up to 3X.
Here, I paired it with some staples I wear all the time. These Joe's Jeans are a go-to pair for me. They are cut for a curvy shape and have perfect pocket placement.
The Best Jeans for Women in Every Style and Shape
This sleeveless v-neck top goes with everything. It's a great option to layer under sweaters and jackets for work, too. Sizes run true from a XS – XXL, also in petite here, and plus here.
I wore it here since I didn't plan on taking my jacket off. To finish the outfit, I grabbed my my favorite high heels.
Recently, a few readers asked for me to share my lip color when I post real life pictures (below). Here, I'm wearing a swipe of red lipstick by Kosas. They make an incredible non-toxic lip color with great pigment.
Here it is in Real Life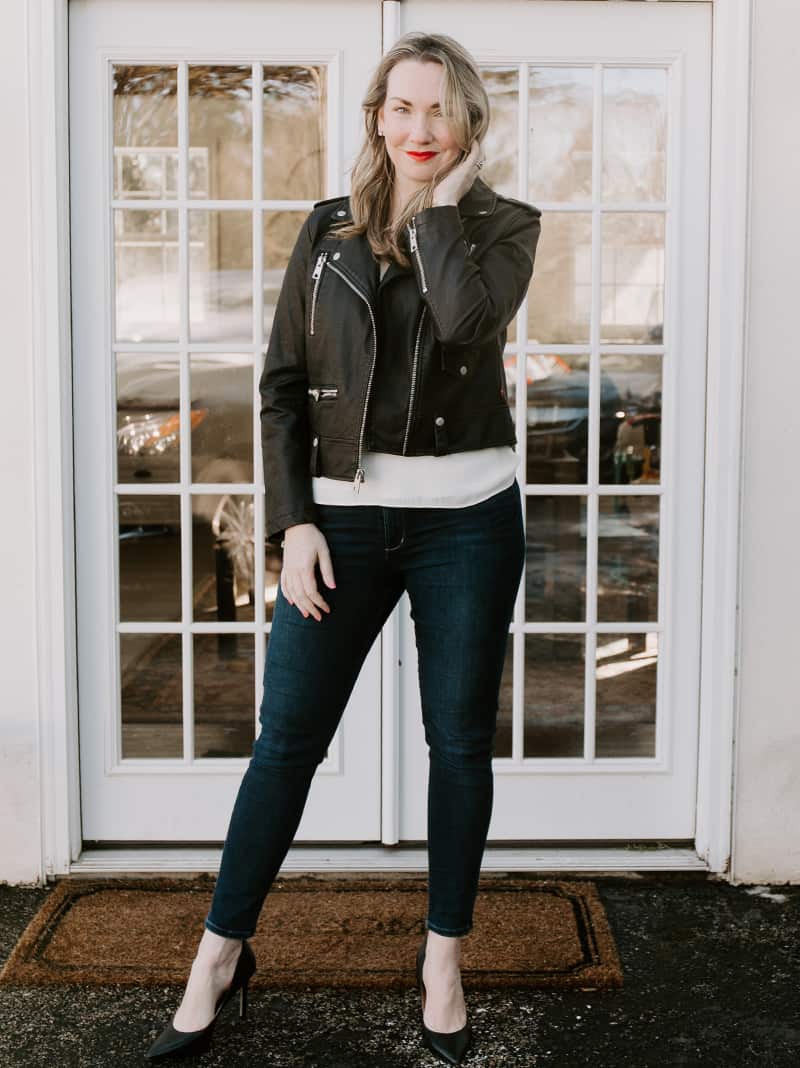 Look at me being a cool mom.
Hahaha, not even close, but trying new things is fun.
________________________________________________________
Our content is not sponsored or paid for by brands or retailers in any way.
Recommendations are based on personal experience and my time working with women as a stylist and wardrobe consultant for over a decade. Some links are affiliate links, which means if you purchase via our site, we receive a small commission.
If you enjoy our content and would like to help us grow, please consider following on Instagram and join our Private Facebook Group to access more advice and exclusive in-depth conversations with other like-minded women.
_________________________________________________________