A popular topic around here is how to update an outfit with accessories. When it's cold out, it's easy to add a scarf, stack some bracelets, even add an interesting blazer. The challenge is when it's hot and humid out, the last thing any of us want to do is add layers. So how do you create visual interest and depth without pilling on extra layers?
One word: Shoes.
On the blog, I have a tendency to show neutral, classic, versatile shoe options because I'd rather you "invest" in a few high-quality shoes you can wear over and again instead of having a pile of disposable, novelty shoes you wear once or twice. But sometimes my practicality is boring, so today we're featuring a few pairs of embellished slides that are perfect for jazzing up your basics this summer.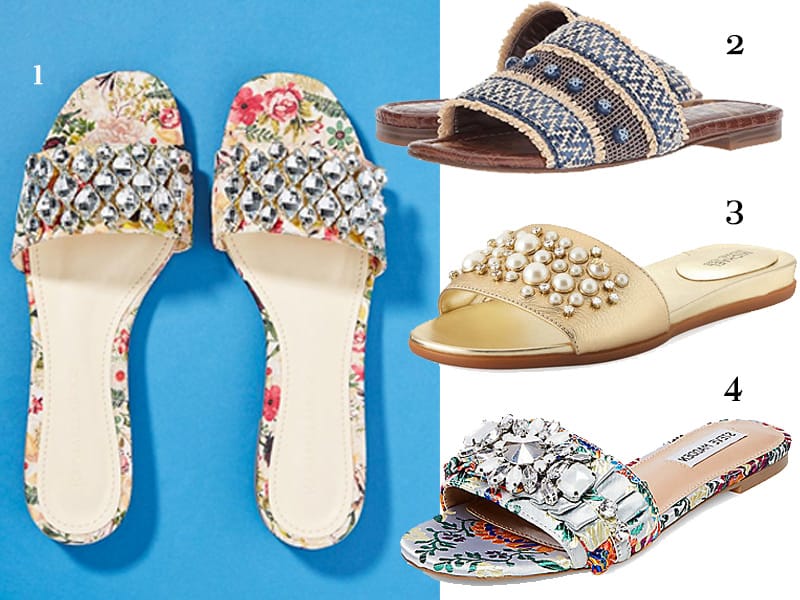 one, $118 | two, $73 | three, $72 | four, $80
Why slides? In the summer, I often feel silly wearing a higher heel. Of course, it all depends on the outfit, but generally, a flat, or a low heel, works best with ankle pants, shorts, and skirts with a higher hemline. They tend to complement the weight of seasonally appropriate clothes and add to the general, casual vibe of the summer.
I was inspired by this first pair I found at Anthropologie. I love the combination of a bold floral pattern with equally bold embellishments. Many of you know I'm not a big fan of prints, but I do like a wink of them in an outfit when temps are high. I would wear these, and this similar pair from Steve Madden with white summer pants or shorts, linen pants, or even a simple, solid cotton tank dress that hits at or around the knee.
If you wear a lot of denim or chambray (raises hand), than these Sam Edelman slides are the perfect pair. I would wear them with my white jeans, relaxed ankle length blue jeans, a box tunic in chambray, or a tank dress in shades of blue or white.
Looking to dress up neutral basics? I can see these gold slides with pearl details at the shore. Going to dinner at the beach is always more laid back than in the city. Wear these with your summer weight "dress" pants and a tunic, or cotton shirt dress or loose fitting sheath.
Shop this Post