Ann Taylor is making all of my dressing for work dreams come true. Yesterday, we talked about all the crazy trends we're seeing, not only on the runway and in street style, but also hanging on the racks of some of our favorite stores. Now and then I need to get things off my chest, and make sure I'm not the only one puzzled but the stuff I see. But I'll never complain without giving a solution, and right now, Ann Taylor seems to be the answer.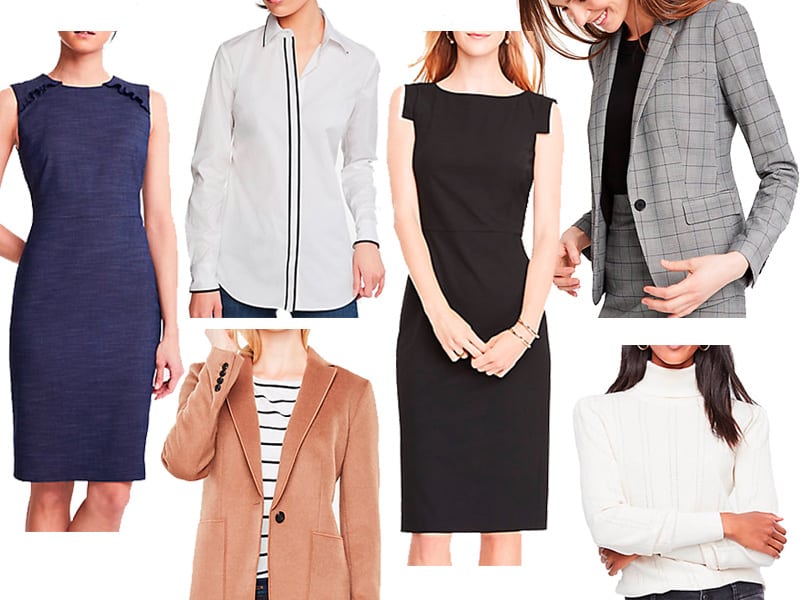 Ruffle Sheath, $149 | Shirt, $70 | Wool Blazer, $159 | Boatneck Sheath, $129 | Plaid Blazer, $179 | Turtleneck, $90
I don't want you to shop exclusively at AT. I have friends who would walk in and "mannequin shop" – meaning, they would buy everything on the mannequin and wear it exactly as displayed. Efficient? Yes, but head to toe Ann Taylor will always look a little uninspired. That said, currently, I could fill my shopping cart with dozens of options from their new arrivals.
Before we dive into the best of, let's talk about sizing. I spend a ridiculous amount of hours writing these posts with the majority of that time focused on finding size options for as broad a range of women as possible. It's not easy and super frustrating. Most of these styles are available in Petite and Regular (I hate the term "regular," but that's what AT calls it) in 00 up to and including a size 18. That's pretty awesome for one store. Because I like so many pieces, I'm breaking down my favorites below and including even more in the links in the Shop this Post section below.
Ruffle Sheath, ($149) I really love a sleeveless sheath. I know they are limited and this one in particular is hard to put a jacket over, so keep that in mind. If you love your arms and don't need to cover up, this dress will take you the office and straight into any dress up weekend event.
Shirt, ($70) A classic with a modern twist is always my jam. Wear this tucked into a straight skirt or black pants, or keep it casual by zhushing the sleeves and wearing your favorite jeans.
Wool Blazer, ($159) There is nothing like a camel blazer. Because the line of the jacket runs a little long, it works best with pants, ankle or full length and any jean under the sun.
Boatneck Sheath, ($129) To get the most out of your wardrobe I recommend looking for better basics in seasonless fabric. This is that kind of piece. The dress is so perfect and I love the interest at the neckline. Need a blazer? This one will layer beautifully on top.
Plaid Blazer, ($179) Looking for something fresh and different? Pick up this blazer and the coordinating pant, wear them together and break up the pieces with basic black staples for true mix and match wardrobing.
Turtleneck, ($90) A simple turtleneck with subtle feminine details makes this an easy piece to wear on its own. And for the readers who asked for non wool/cashmere knit options, this is one is a silk and cotton blend.
For more options, including shoes, take a peek at our additional picks below.
Shop this Post
Have you entered to win our Year of Epic Giveaways for February? This month our contest is on Facebook, and we are giving away a bottle of Vintner's Daughter – the miracle face serum I swear changed my aging skin almost instantly. Head over to our Facebook page to learn more!