If you spend any time on Instagram, you may see some of your favorite influencers singing Everlane's praises. The company is currently on a sponsorship blitz, so most if not all of those stories you are watching are paid ads.
This is fine, but it's important to understand when you see these ads, the influencer has to say exactly what the company wants them to say. It's why content on social media platforms can feel redundant.
And it's why I don't make sponsorships part of my business model.
So I thought it would be helpful to share my unsponsored perspective because since they are not paying me, I can say whatever I want 😉
Personally speaking, simple, classic pieces are the backbone of my wardrobe. I prefer slim-lined cuts and neutral colors. I'm trying to balance my desire to feel pulled together with my need for practicality in my current season of life.
And because I've yet to find a money tree to plant in my backyard, price point is always considered.
The Everlane Cashmere Crew has, in fact, become an absolute staple in my spring and even summer wardrobe.
In Real Life- Everlane Cashmere Crew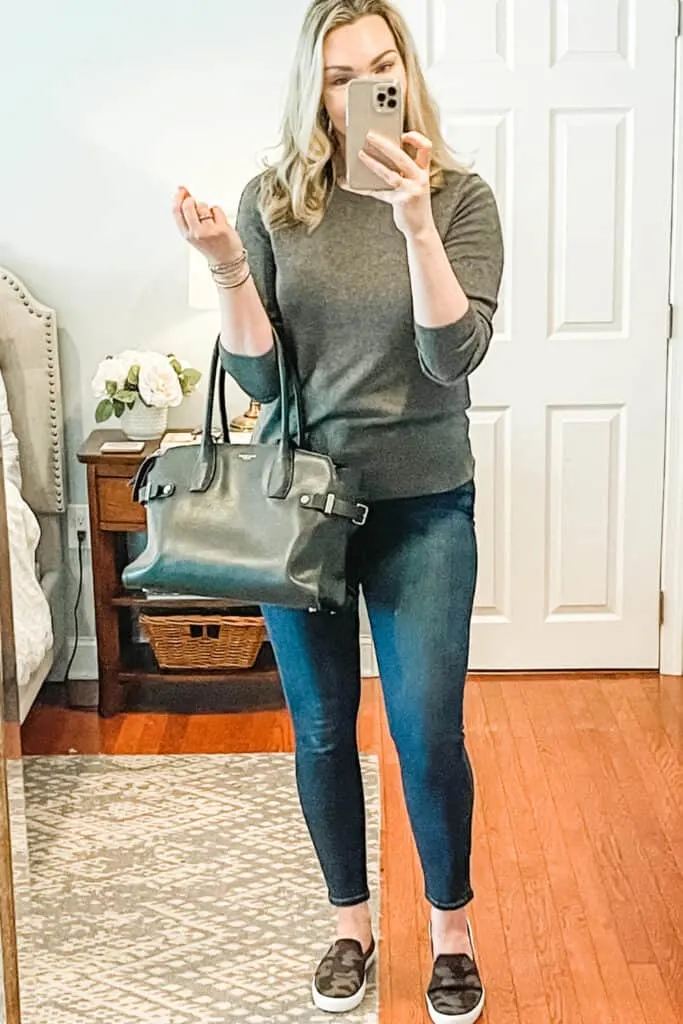 Everlane Cashmere Crew, $100 | Jeans (old Joe's) | Rothy's Sneakers in Grey Camo, $125
On Sunday, I wore it with a stretchy pair of dark jeans and my Rothy's sneakers in grey camo (one of the most comfortable shoes I've ever owned).
For reference, I am 5'10 and typically wear between an 8 – 10. I am wearing the cashmere crew in the large in charcoal. I personally pay for all of my clothing and accessories.
Knits are the best category Everlane offers. I've tried their jeans and am not a fan, and I use to love their white tees, but recently they have become too sheer to wear.
Everlane Cashmere Crew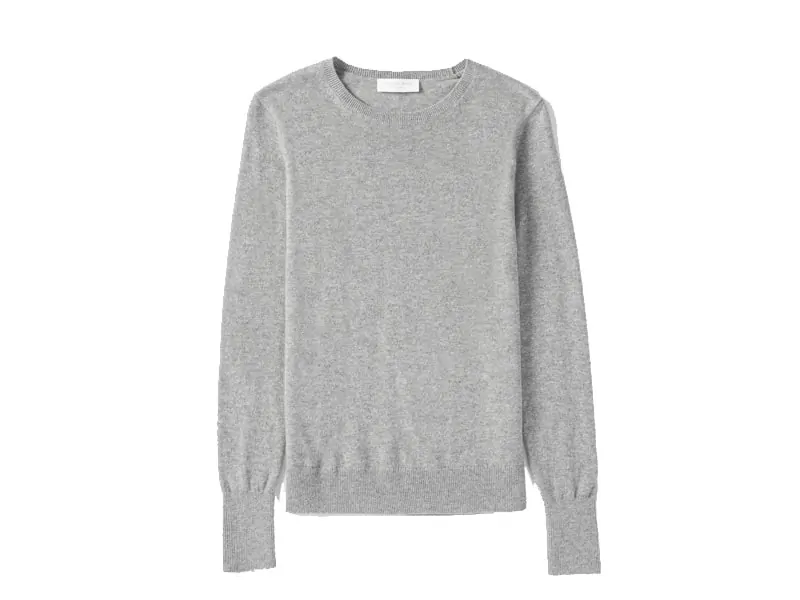 Sweater, $100
Cashmere is one of the best kinds of little luxuries.
You can wear a simple cashmere sweater with your best pair of black pants to the office and with cut-off shorts at the beach. It's the epitome of my own personal style: classic, relaxed, and subtly refined.
But, as with everything, prices can be all over the place. So let me say: you don't have to spend a small fortune to get high quality. Just in organizing this post, I found several cashmere options over $400.
That's bananas.
In all categories of clothing, you reach a point where price has nothing to do with quality. Over the years, brands and retailers have been living on another planet with their prices, especially for basics.
And don't get me started on how their prices skyrocketed as their level of service sunk into the gutter.
Perhaps, I'm getting old and more conservative with my money (these are both true). I am, however, very willing to pay for things that will last and even happier to pay for service and ease of transaction.
Everlane checks all those boxes. What I like the most about them, aside from their clean and modern design, is their prices are what they should be.
High Quality, Fair Price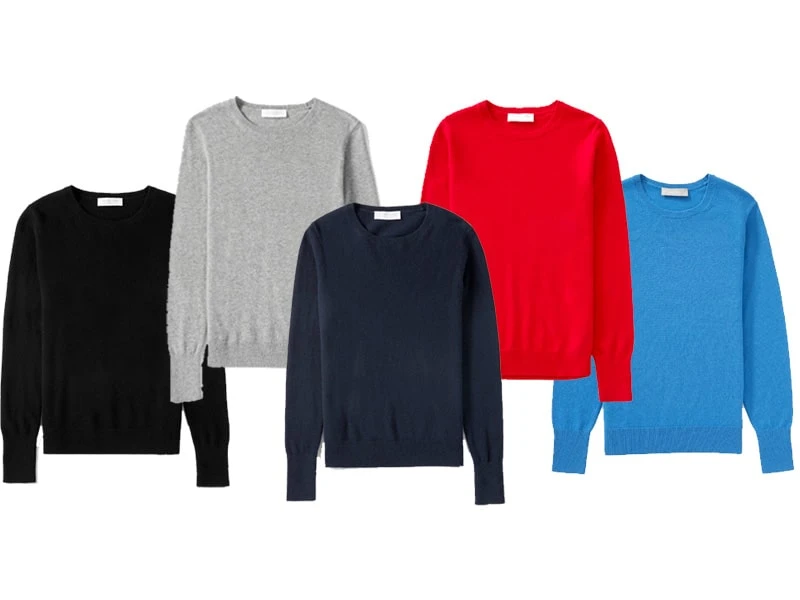 Sweater, $100 Available in 15 colors, in sizes XXS – XXL
The fact that this sweater is $100 is an incredible value.
The cashmere is called "certified grade A" which is the highest quality you can buy. It's often touted as the reason for the high retail costs for other brands.
It's ethically sourced from Mongolia, which is a premier location for cashmere that, again, tends to drive up the base costs.
So what does this mean? Basically, you're getting all the high designer talking points at a fair price.
Size-wise, I find Everlane runs small. Be sure to check your measurements against their size guide.
This specific sweater has a relaxed fit; it shouldn't cling to you or feel oversized in any way. It's not heavy; rather, it's a lightweight, thinner knit that you can wear all year long.
Pros:
High Value | Great Quality | Classic Style | Fast Shipping
Cons:
Sizing is limited.Currently available sizes range from XXS – XXL. I think the XXL is their way of claiming "inclusiveness," but I'd like to see sizing expanded to include a true 2X.
Especially since this sweater runs small, I typically wear a medium (in J.Crew etc.) but sized up to the large. The medium felt snug across my shoulders and the sleeves were a tad too short.
The large fits just right.
For reference I am 5'10 and wear a medium or an 8 -10.
Returns. Everlane is a mid sized company so remember, it's hard for them to compete with Amazon and even Nordstrom when it comes to quick and free returns. That said, it's worth mentioning that the original shipping costs are not refundable and you have 30 days to return from the date of shipment.
Our Style Content is Inspired by Our Readers
Our readership inspires all of our posts and is not sponsored or paid for by brands or retailers.
Recommendations are based on my experience as a personal stylist and wardrobe consultant for over a decade. I worked with busy, down-to-earth women who wanted to look chic and feel confident but were often confused by so much of retail.
Some links are affiliate links, which means if you purchase via our site, we receive a small commission.

If you enjoy our content and would like to help us grow, please follow on Instagram and join our Private Facebook Group to access more advice and exclusive in-depth conversations with other like-minded women.
Learn about our mission to help women look and feel their very best, every day, here.
Get on The INSIDER Waitlist for Spring/Summer 2021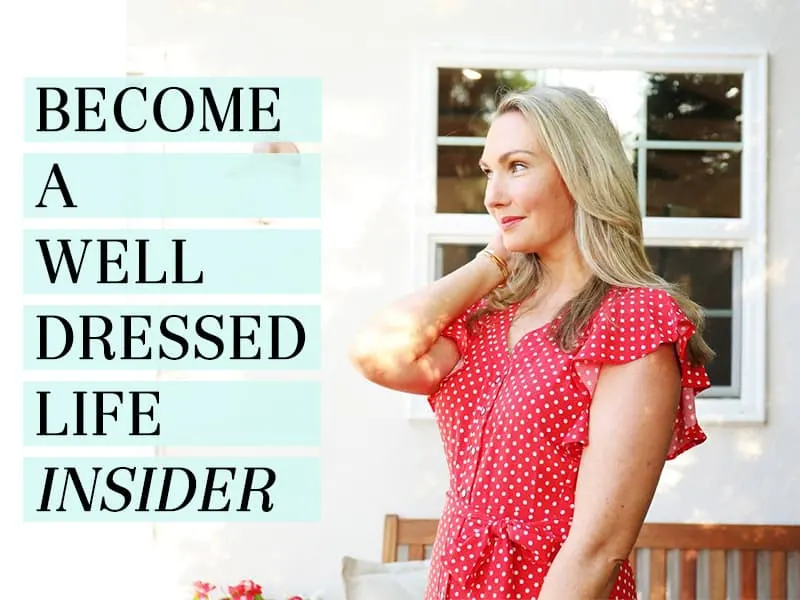 Sign Up for Daily Content and Receive Our Free Classic Wardrobe Checklist