They say one of the keys to success is to have a mentor. Someone to go to for guidance and advice. Preferably, it should be someone who is an expert, who you admire, who's reached a certain level of success and is willing and able to guide you on your journey.
That last piece, "willing and able" has been the most challenging for me. The older I get, the harder it's been to find someone that meets all of those qualifications. I can name a million people I admire, but I don't know any of them. Over the last few years, I've all but given up on the concept.
Instead, I focused on reading books and watching videos of popular influencers in an attempt to stay motivated and inspired.
A few nights ago I was scrolling through Instagram and landed on a post about creating an "Imaginary Advisory Board." (It was on one of my favorite accounts, Grace Bonney's @designsponge c/o @freeperiodpress.) The idea is based on Napoleone Hill's "Invisible Counselors Technique" found in Think and Grow Rich. It is a form of visualization, where you imagine a group of successful leaders (living or dead) sitting around a table, discussing your needs, goals, and challenges.
According to Hill, by doing this, you can tap into the knowledge and skills of some of the greatest minds the world has ever known.
It sounds goofy and oddly intriguing, so it's right up my alley. The modern interpretation of the technique is to create a Vision Board of five people you admire.
When we decided to write a post about this, Lauren and I went back and forth on text about who we would include. It was fascinating and surprising to sort out our top five.
I printed out my image (below) and pinned it on the cork board over my desk at home. My list includes an array of people who cover the scope of everything I love. It serves as a guidepost of my influences and who I aspire to be like.
I'm sharing my Imaginary Advisory Board today and would love to hear who you would include and why.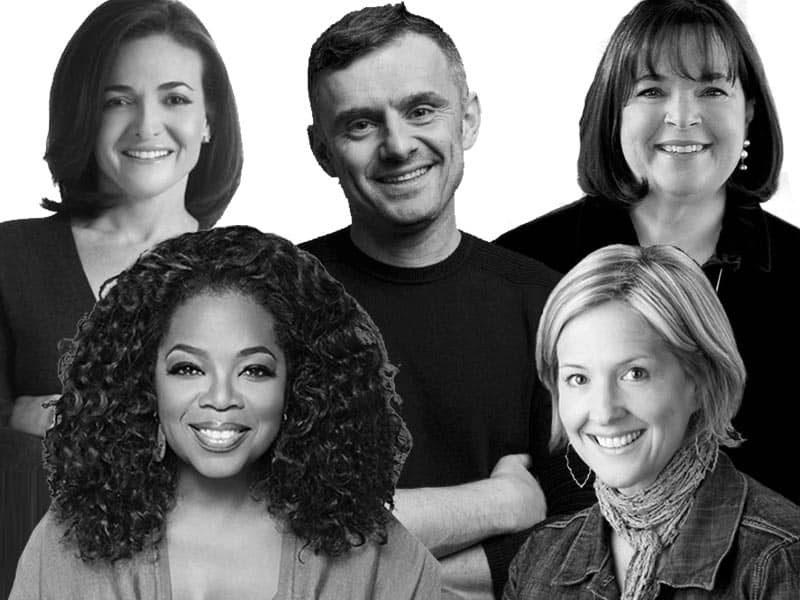 Sheryl Sandberg, Gary Vaynerchuck, Ina Garten, Oprah, Brené Brown
My Imaginary Advisory Board
Brene Brown: The first time I watched her Ted Talk, The Power of Vulnerability , I didn't feel so alone in the world. She's openly messy, impulsive and flawed, yet filled with empathy and compassion. Her message about letting go of perfectionism, embracing your authenticity and that we are all searching for belonging and connection changed how I navigate the world and made me a better wife and mother.
Read: The Gifts of Imperfection, Daring Greatly, Rising Strong, and Braving the Wilderness. They will change your life.
Oprah – No surprise here. Sitting in my living room as a little girl, I grew up with Oprah on my television. She exposed me to stories and ways of thinking I would have never learned otherwise. Her life is a miracle; there's nothing she can't do, and like millions of other women, I idolize her.
Read: The Wisdom of Sundays: Life-Changing Insights from Super Soul Conversations.
Gary Vaynerchuk – Gary V is an intense social media guru who preaches hustle and no excuses. He owns VaynerMedia, a full service digital agency and is prolific with not only his understanding of the social space but his ability to predict the next big thing.
I've followed him for years, watch DailyVee (his daily video blog) religiously, and have read all of his books, multiple times. He has a lot of energy and says some crazy things. I take the bits and pieces of his advice that work for me. Basically, the key to success is to put in the work and quit complaining.
If you are an entrepreneur he's a must follow, especially on days when you are feeling sorry for yourself and want to give up.
Read: Jab, Jab, Jab, Right Hook, #AskGaryVee: One Entrepreneur's Take on Leadership, Social Media, and Self-Awareness, The Thank You Economy, Crushing It!: How Great Entrepreneurs Build Their Business and Influence-and How You Can, Too
Sheryl Sandberg – I read Lean In at a point in my life and career as a young mom when I really needed to hear her message. While the book has its flaws, the foundation of it has influenced my advocacy of women in the workforce more than anything else.
More so, her latest book, Option B, is a heartbreaking and compelling account of the loss of her beloved husband, and the lessons she learned about how to be resilient in your darkest times. She articulates feelings in a way that hit me in my core.
Read: Lean In: Women, Work and the Will to Lead, Option B: Facing Adversity, Building Resilience, and Finding Joy
Ina Garten – The single most influential member of my imaginary council is The Barefoot Contessa. I don't want to say I'm obsessed with her, but I am.
I received her first cookbook when I was 23 years old as a bridal shower. Slowly, I cooked my way through the entire book, then her next, and on and on. A read every word, over and again, sometimes in bed, like it was a novel.
She opened up a world I didn't know existed. She inspired my passion for cooking and showed me how I wanted to live.
More than that, her personal story is so inspirational. Living in D.C., working in the White House, she drives up to the Hamptons, buys a specialty food store with no experience whatsoever and turns it into an empire.
I mean, come on, she's amazing. I love how she cooks, how she lives and her philosophy that things don't have to be complicated to be special and lovely.
Read: The Barefoot Contessa Cookbook, Parties!, At Home, Back to Basics, In Paris, Foolproof, Make it Ahead, Cooking for Jeffrey.
Who would you include in you Imaginary Advisory Board, and Why?