I am 40 years old, and here I am, posing in my jammies. Considering I've only been putting myself in these posts since the Fall, embarrassment has come sooner than I imagined.
But it's for a good reason. Pajamas are essential this time of year!
Whether you wear matching family sets for Christmas morning or, more practically, need a few pairs for visiting and staying with family, or a thoughtful last minute gift, today's post has you covered.
Good Old Fashioned Pajamas
Let's start with practicality.
Pajamas are a wonderful way to help you transition from day to night. What's better than coming home from work, taking off a pair of tights or worse, Spanx, and putting on something soft and warm?
I have always loved sleepwear, but lately, like everything, their prices seem outrageous. I've seen sets for upwards of $400. I think if I had money to burn, I would burn it on so many other things.
This year I did splurge on this bathrobe for myself, and last December, I bought these Ugg slippers that rarely leave my feet. Other than that, I keep an eye out for pretty sets at places like Target, Nordstrom Rack which is a gold mine, and J. Crew Factory always has a small but lovely selection. .
Like this menswear-inspired set which is my current favorite. If I could wear them all the time, I would. I look forward to slipping into them after a long day of work and kids. Frankly, they make me feel like a person.
For today, I found a handful of options perfect if you spend a day over the holidays in your jammies, if you're heading to someone else's home for a few nights, or maybe you still need a gift.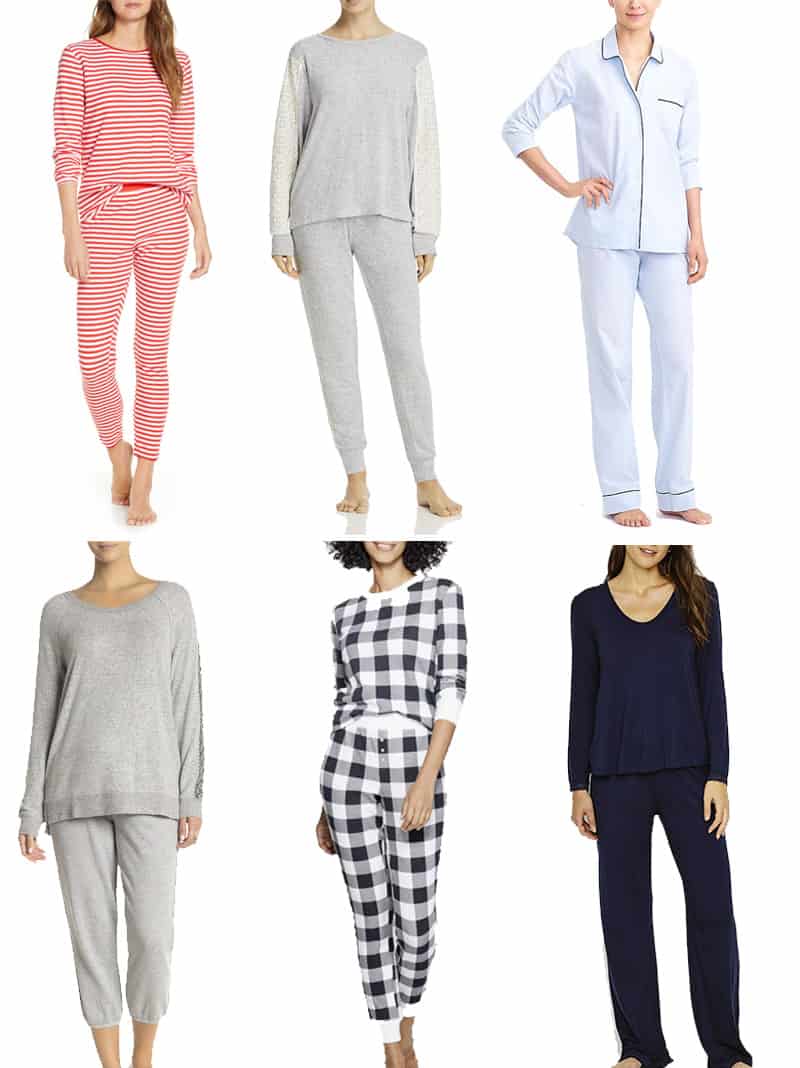 Red Stripe, $40 | Heather Gray, $88 | Light Blue, $45 | Gray Cropped Top and Bottom | Buffalo Check, $20 | Navy, $128
Red Stripe, $40: Featured below! These are my "Christmas Pajamas."
Heather Grey $88: More like a cozy indoor sweatsuit, ideal for movie watching, or to put after a long day outside in the snow.
Light Blue, $45: Crisp, yet soft and perfectly preppy.
Grey Cropped $50: A fantastic sale for a set you can wear all day long. Top, bottom, purchased separately.
Buffalo Check, $20: An adorable and trendy Target find, in missy and plus sizes.
Navy, $128: A splurge worthy set from Barefoot Dreams. It feels like you're wearing clouds, if you're into that kinda thing (raises hand).
Holiday Pajamas
I have so many happy Christmas memories as a kid. One of my most favorites is our "Christmas Eve Pajamas" tradition. Every year, my mom bought my brothers and me pajamas to wear on Christmas Eve – you couldn't wear them before, you had to save them for the big night. They were always soft and cozy and helped make the night magical.
My mom had a way of using clothes to celebrate events and make them even more special. She used them to mark and evoke a memory. I still remember being little, wearing my new pajamas, and feeling special, safe and well loved
Once I had kids of my own, I could not wait to do the same for them. And I have, every year since they were born. One could argue I spend too much time trying to find the perfect ones, pouring over options, looking online AND going into stores, but I enjoy it.
We don't ever "match" as a family. The girls always get matching sets, and I buy Bri and me a new pair of something extra nice that we can wear all winter. It's the only way Bri gets pajamas 😉
But this year, I couldn't pass up this pretty set from Rachel Parcell. So I bought the red strip for Maddie and me and this red Fairisle print for Ava and Vivi.
They are perfect since I have to appease a very cool preteen, and still find something sweet for our almost one year old 😉
Shop: Woman / Kid / Baby All On Sale I'm wearing a Medium.