Over the last few weeks, many readers have requested some recommendations for classic trench coats for spring.
And if we're talking trench coats, that means winter is almost over – hurray! So let's dive in.
As I was organizing this article, I realized there's a lot to unpack.
Over the years, trench coats have been a category former clients and current readers have considered splurging on, while others have wanted something moderately priced and better quality, and then those that want something affordable yet well made.
We frequently talked about how to create a high-end style without breaking the bank. Knowing were to splurge, spend, and save is essential to creating a layered, functional, stylish wardrobe.
In a nutshell, a splurge is a piece you wouldn't typically purchase, with timeless, high-quality elements. Sometimes it's a celebratory self-purchase or a gift, like a handbag, a special piece of jewelry, accessories, and in some cases an iconic piece of clothing.
Classic Trench Coats for Spring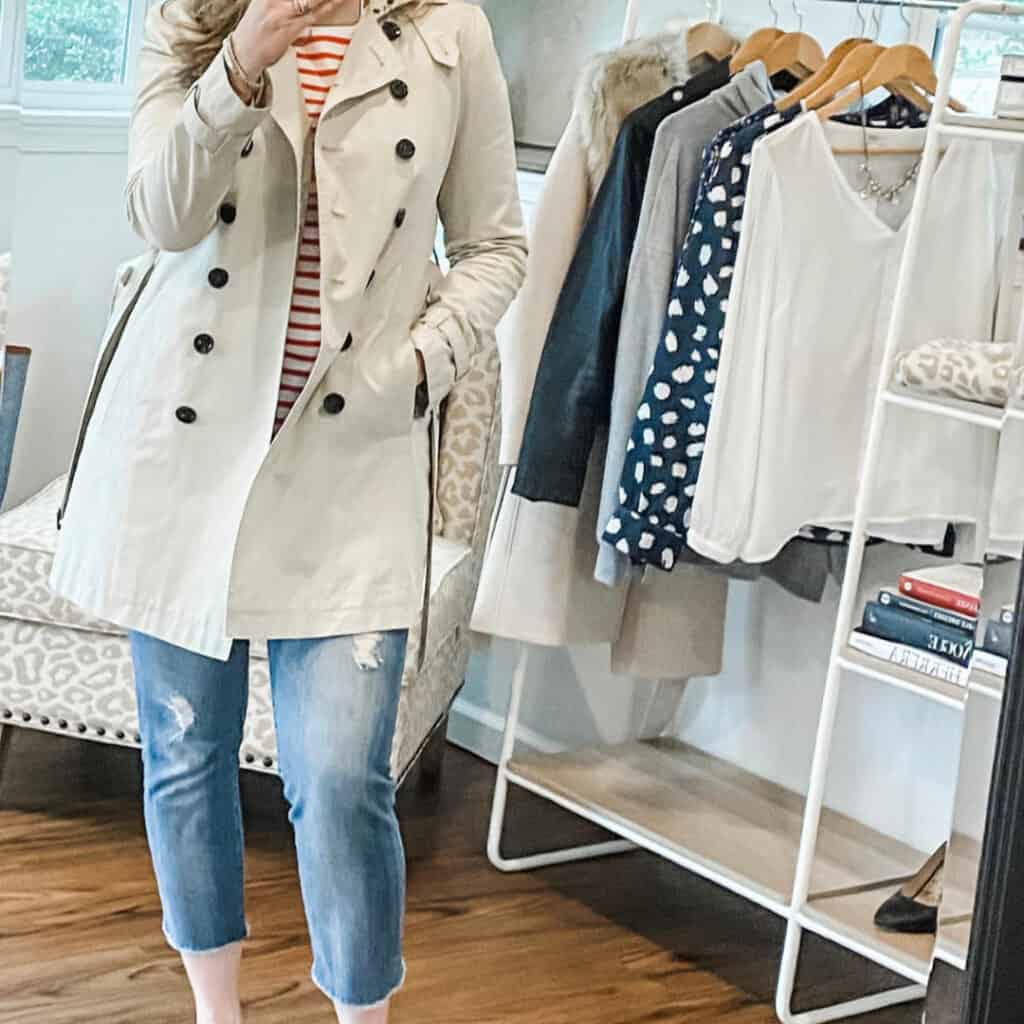 I splurged on a Burberry trench (above) almost a decade ago at a Nordstrom Anniversary Sale. At the time, the coat was about $900 and the most expensive single piece of clothing I have ever bought for myself.
At the time, I had just landed my first big client and decided to treat myself to something I always wanted for my birthday.
I'm thrilled I have it, more so now, because I love the idea of passing it down to one of my girls. (Similar current style here.)
Would I buy it today? Probably not.
Life is much different now; my priorities have changed drastically, and so has my body after having baby number three.
Splurging on fit-based items is tricky because, as women, our bodies are shifting and changing all the time. If your body tends to stay the same over the years, and it's in your budget. Go for it.
Today, Burberry trenches start around $1700. They are truly wonderfully crafted garments. You feel like you're wearing something special without having to be precious with it. The downside is their sizing is incredibly limited and run small.
But if you want the same look, I found a fantastic, high-quality dupe at a much better price point.
Banana Republic Essentials Trench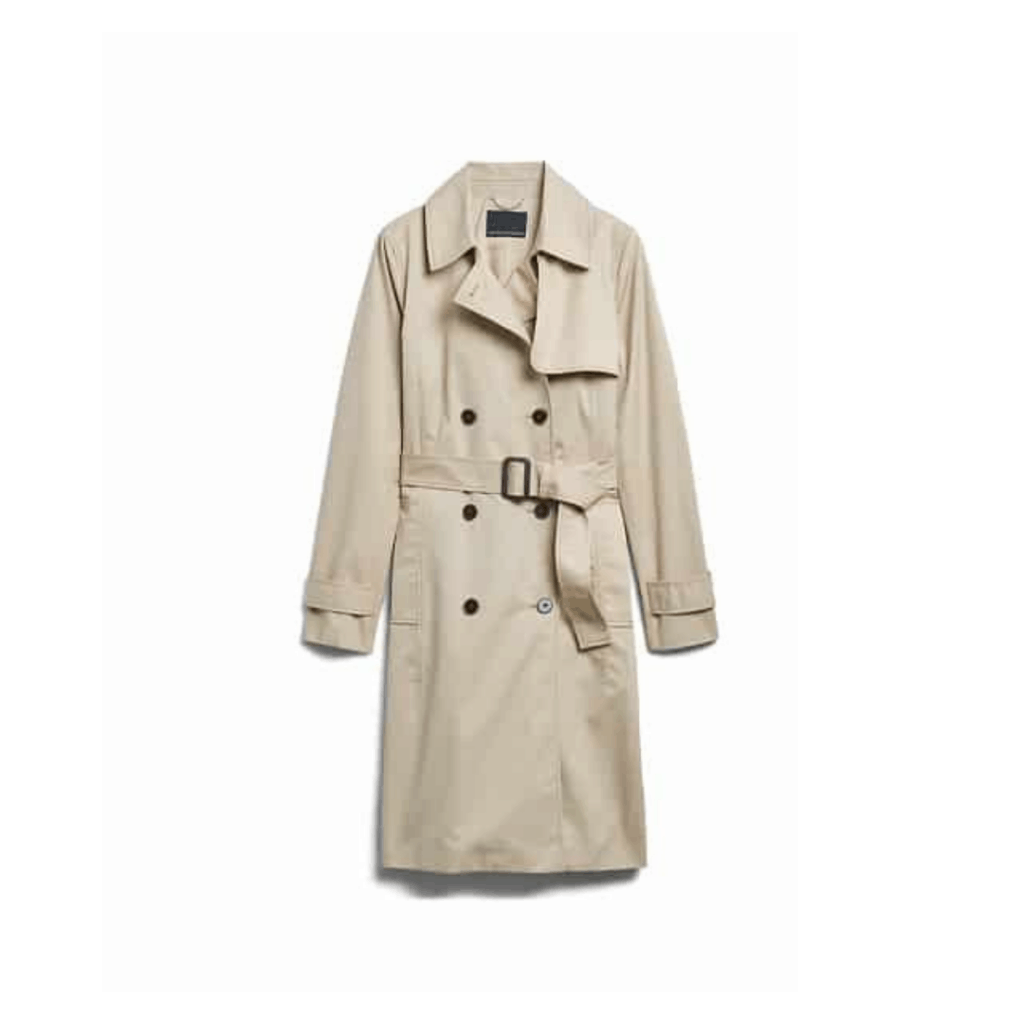 Banana Republic Essentials Trench, $229 (take an additional 40% off)
Admittedly, it's time for me to retire my Burberry. It's a little snug, and starting show its age. I feel good about how long I was able to enjoy it and am happily packing it up for my girls to fight over in the future.
I'm replacing it with this Banana Republic trench I featured yesterday.
I'm always cautious of calling something affordable because that's relative to the individual. I say "spend" when something would be a considered purchase.
With the current 40% off sale, this trench is under $140, and incredible value. From the double-breasted buttons to the side pocket details and cuffs on the sleeves, it share many of the elements of the Burberry – making it a timeless, ageless piece.
And because it's Banana Republic, you get a broader size range, from regular XXS – XXL and petite options here.
What's even better is the functionality. This is water-resistant, so it's functional in addition to being a fashion piece.
Under $100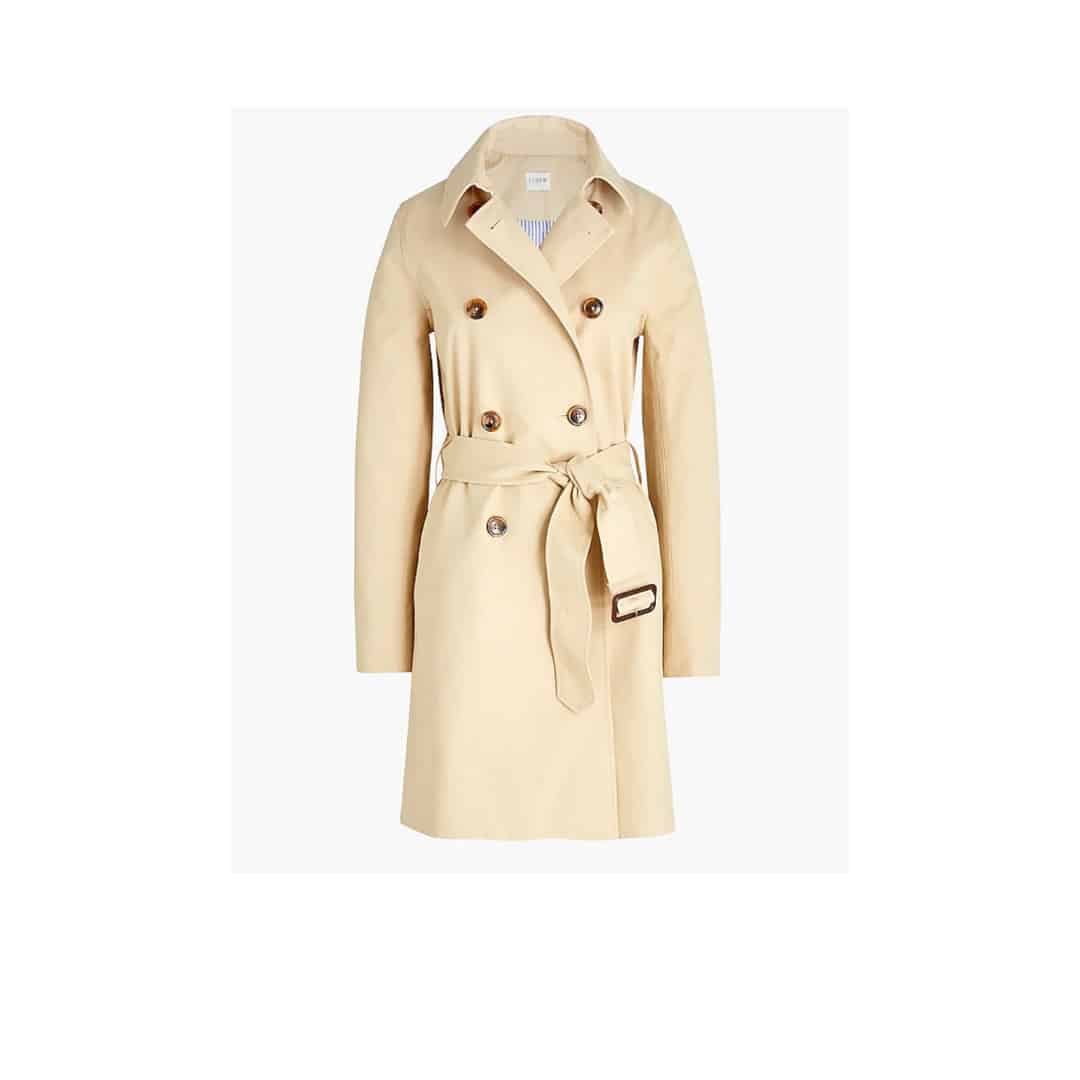 Looking for something under $100? I can't get over this one from J.Crew Factory. It's $85, has similar details, and comes in regular sizes from a 00 – 24 and petite 00 – 16.
Shop Classic Trench Coats for Spring
Our Style Content is Inspired by Our Readers
Our readership inspires all of our posts and is not sponsored or paid for by brands or retailers.
Recommendations are based on my experience as a personal stylist and wardrobe consultant for over a decade. I worked with busy, down-to-earth women who wanted to look chic and feel confident but were often confused by so much of retail.
Some links are affiliate links, which means if you purchase via our site, we receive a small commission.

If you enjoy our content and would like to help us grow, please follow on Instagram and join our Private Facebook Group to access more advice and exclusive in-depth conversations with other like-minded women.
Learn about our mission to help women look and feel their very best, every day, here.
Sign Up for Daily Content and Receive Our Free Classic Wardrobe Checklist