Lilly Pulitzer is a brand that is synonymous with Summer. Have you ever been in one of their stores? I like to step in there in the dead of winter, because for a few minutes I can pretend as though I own a yacht or I am about to embark on a fabulous Caribbean vacation, sans kids. Ahhh. Now the summer is upon us, Lilly seems a bit more "in season." Recently, Megan featured a Lilly tunic dress, and we thought that we would show you some more options that you can wear this Summer.
It took me many years to make my first Lilly purchase because, well, frankly, the pieces were fun to look at but I didn't think that I could pull them off. I doubted that it was for me, and thought that perhaps I should leave it to the young sorority sisters of Southern colleges to rock.
But I did take the plunge and I am now on the Lilly Pulitzer bandwagon. However, I am careful with the brand. I don't want to look like I am wearing a costume, but rather blending these high-quality pieces in with my sober wardrobe mixture of black, gray, navy, and white. I never wear more than one Lilly piece at one time as I find that dips into the costume territory.
Predictably, I started with some solid-colored pieces, and they are some of my very favorites to wear in the summer. Lilly is a bit pricey, but the quality is excellent, so you do feel like your money is going somewhere.
How to Wear Lilly Pulitzer in the Real World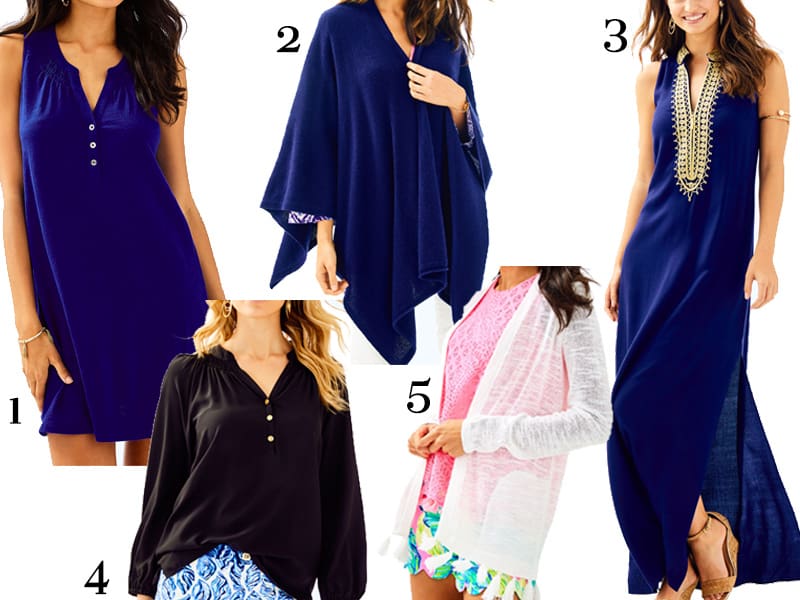 1.
Essie Dress
, $98 – This is such a versatile and easy dress. Pair it with a pair of gold flip flops and you're DONE! You could add a denim jacket if it was chilly. It can be worn for errands, brunch, a casual dinner. I've even worn it as a cover up. This dress does it all.
2.
Terri Cashmere Wrap
, $228 – I have this soft and cozy wrap in black and I wear it year-round. It's awesome for travel. It's currently only available in navy, which is beautiful.
3.
Jane Maxi Dress
, $248 – I don't own this…yet. But I am currently obessesing over it and visit it on the Lilly site almost daily. Isn't it regal? I bet it would make any woman look like a tall drink of water. Though I would wear my cuff on my wrist, not on my arm like shown.
4.
Elsa Silk Top,
$138 – A Lilly fan fave, the Elsa top comes in an array of colors and patterns. Of course I'm thrilled that it comes in black. These tops are easy dressing; just add some gold earrings and some white jeans and you're out the door.
5.
Edita Cardigan
, $138 – In my opinion, it's always a good idea to have a thin white cardigan handy for breezy nights. I don't
always
want to turn to a denim jacket.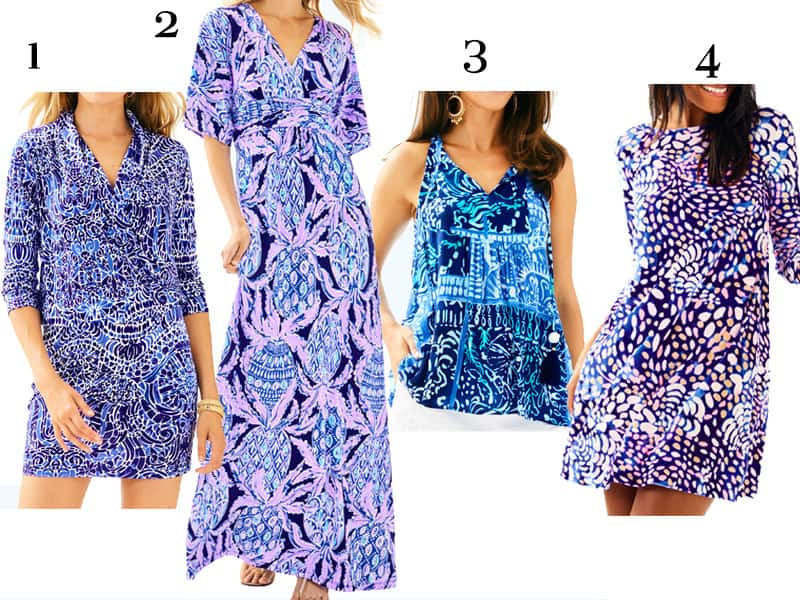 If you're ready to try out their signature prints, I picked out a few suggestions that I find to be cheerful and fun. I gravitate towards the blue prints, obviously, but don't be afraid to try out your favorite color.
1.
Felizia Silk Dress
, $258 – This faux wrap dress with a blouson waist is right up my alley. It would look amazing with a white clutch and simple stud earrings.
2.
Parigi Maxi Dress
, $228 – I feel like you can get away with a bold print in a maxi. This one is so forgiving and comfortable.
3.
Sleeveless Avery Top
, $98 – Pair this cute top with white shorts or white jeans. I love that it doesn't cling to your belly but isn't a tent either.
4.
Olive Swing Dress
, $168 – The background of this print almost has a tie dye feel to it, which I love. And how great is the back detail?
So what do you think? Do you feel inspired to go all-in with your inner prep?