It's events season, which means you probably need some outfits.
So today, let's start with your feet.
I like a fancy, special pair of shoes as much as the next girl, but sometimes, most of the time, I want them to disappear into my outfit.
So these days, after decades of cramming my feet into expensive heels, I instead look for a shoe that acts like an extension of my leg.
Something comfortable, with a little height and clean lines.
I share these sandals yesterday, in our Outfit Formula Series, but I want highlight them today in case you missed them.

They are under $50, available in three colors and get rave reviews for comfort and wearability.
Calina Leather Block Heel Sandals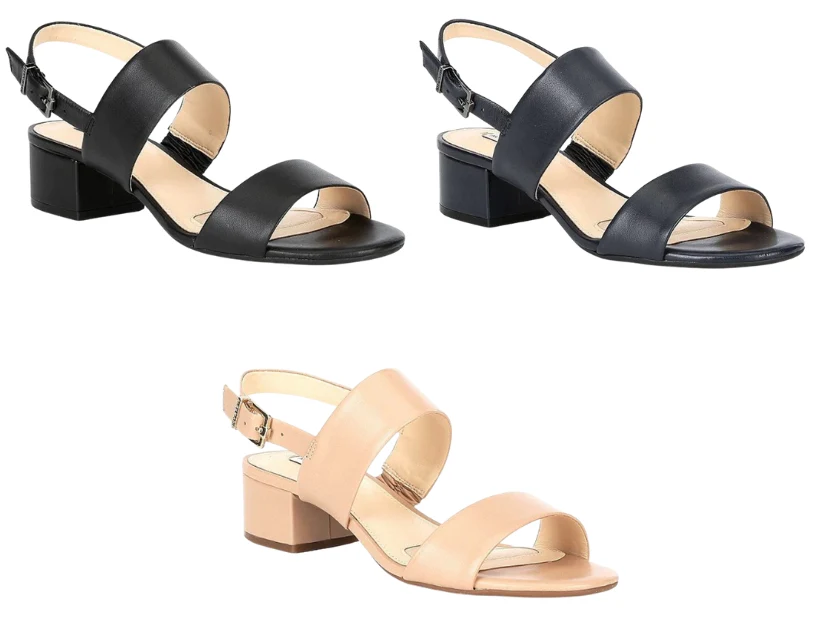 Alex Marie Calina Leather Block Heel Sandals, $47.99
We do not have Dillards on the East Coast, so I can't just pop in and see what's new.
But over the last few weeks, I have seen so many adorable springtimes finds on their website (I have a roundup next week).
From dresses to two-piece outfits, dress shorts and accessories the options are just lovely and affordable.
In the mix, I found these block-heel sandals on sale for just under $50.
The get rave reviews for comfort, like this one:
"Love these shoes!!! I do not wear heels but due to my son's wedding needed something a little nicer than flats. Walked in these for over 6 hours and danced for 2 hours. Really like the simple design and comfortable shoes!!!"
Available in classic black, a light beige "nude" and the always are to find navy, in sizes 5 – 12 with half sizes.
Pair them with a flowy dress like this popular high/low style from Amazon, white pants, jeans, or the wide leg linen bottoms from Old Navy.
Pretty much everything.
I ordered the "nude" since it's very neutral to me and the black.