The real savings you'll find durning Cyber Weekend is in speciality brands.
Brands that focus on one category, do it well and don't over use promotions.
Instead, these brands sell at their retail price 90% of the time, and once a year (give or take) offer savings to their customers.
So their sales are actually special.
Today, I went through our favorite speciality brands, like Julie Vos, Birdies, Spanx etc, and found the best of their inventory on sale, most of these you have already seen and are ranked as long time WDL favorites.
These saving will end on Sunday, some will go through until Monday and then that's it until next year.
And don't forget, this weekend we are rounding up the best sales from all over.
Yesterday we featured Nordstrom, tomorrow we'll highlight from our top mainstream brands like J.Crew, Ann Taylor, etc and for Cyber Monday, it's all about Amazon.
Julie Vos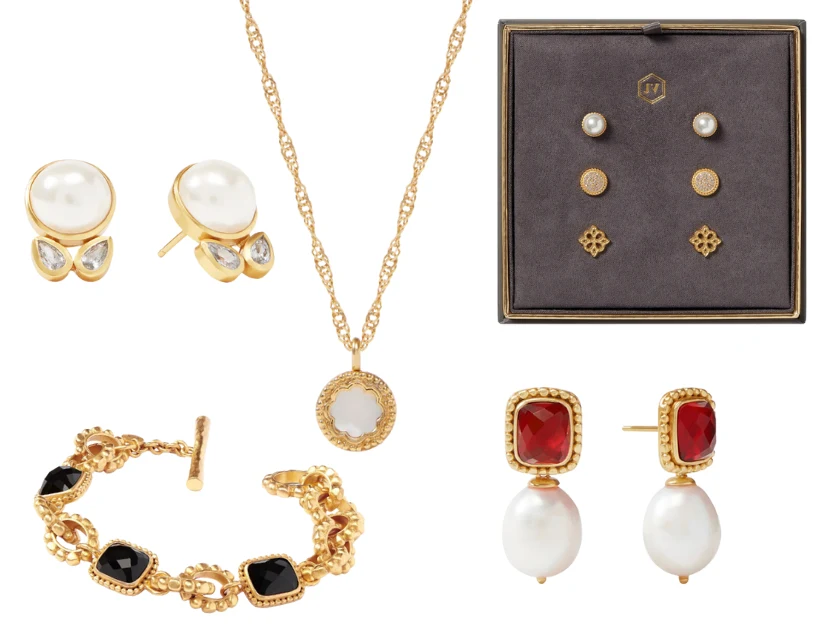 I wait all year for Julie Vos to go on sale, and then I scoop up a few goodies for myself. And because my birthday is at the end of the month, I always make it a gift. 😉
This year, you can take an additional 20% off sale already reduced styles leaving you with can't beat prices.
Remy Pearl Studs: Sale Price, $52 I love how these classic studs with a twist sit on the ear.
Marbella Earring: Sale Price, $88 Available in five stone colors, these timeless statement earrings are on sale for under $100.
Trieste Demi Coin Solitaire Necklace: Sale Price, $68 This is a dainty necklace, that you can wear alone or as part of a layered collection.
Marbella Demi Bracelet: Sale Price, $140 I love a bracelet that packs a lot of punch, and this gold link option is all you'll need to do just that. It lays flat, and is available in four colors.
Marie Triple Stud Gift Set: Sale Price, $76 Finally, this is a SPECTACULAR gift set. Three earrings for $76 is fabulous, a great way to try the brand or give as a special gift.
Spanx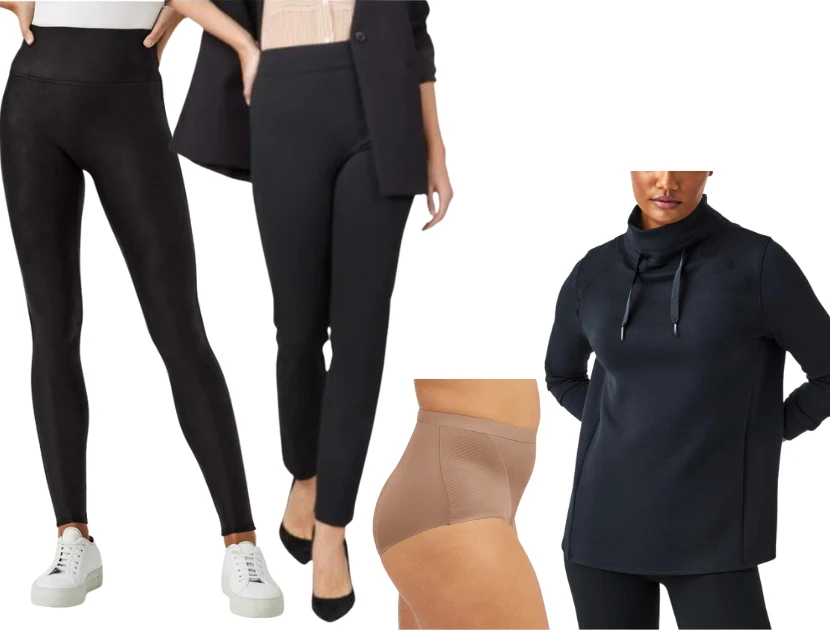 We love Spanx here at The Well Dressed Life. But I'm not so inclined to wear shapewear as I get older.
Don't get me wrong, I need it now more than ever, and I'll throw some on if I'm going to a wedding, but on the daily? No.
What I do wear are Spanx bottoms. They are fantastic and available on a size-inclusive including tall and petite in sizes up to a 3X.
Faux Leather Leggings: Sale Price, $79 The original, the best, worth every penny. I've tried all the other brands and always go back to these. Available in regular, petite, and tall, in XS – 3X.
And let's not forget their new Faux Leather Fleece-Lined Leggings, on sale for $88 – these are selling out fast.
The Perfect Pant Slim Straight: Sale Price, $118 Anything in their "Perfect" collection is, in fact, perfect. But their Slim Straight is the pair I wear the most. You can take them to the office, wear them on the weekend, and pack beautifully. Available in regular, petite, and tall, in XS – 3X in black, navy, or pinstripe.
Thinstincts® 2.0 Brief: Sale Price, $38.40 These best selling briefs are a WDL favorite. Ideal for when you want the benefit of shapewear without the intensity of one.
AirEssentials 'Got-Ya-Covered' Pullover: Sale Price, $95 It makes sense that a brand that perfected the legging made a tunic that fits just right and covers your bum without overwhelming your frame.
Birdies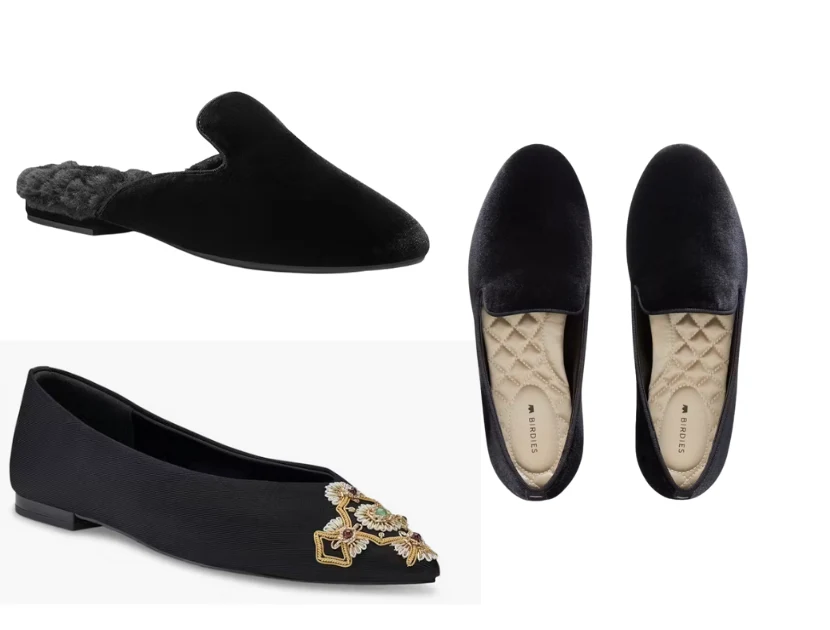 Birdies are incredibly. These are what I wear entertaining at home during the holidays. And their classic Starling Loafer is part of their sale for the first time ever.
The Starling: Sale Price, $68 Again, these NEVER go on sale and they are now $68. Hands-down the best, most comfortable shoes to wear whether you are hosting or guest-ing this season. Run, don't walk. Available in wide range of colors, prints and patterns.
The Goldfinch: Sale Price, Starting at $91 For as simple as my clothing choices are, I love nothing more than an over-the-top shoes. And The Swan takes that idea but makes it a slipper-shoe. With a pair of slim dark jeans and a button-down, these embellished shoes are like jewelry.
The Phoebe: Sale Price: $50. We featured these last week. They are a true slipper that you can leave the house in. I wore them just last weekend to our neighbors for a nightcap after being in heels all night.
Lo & Sons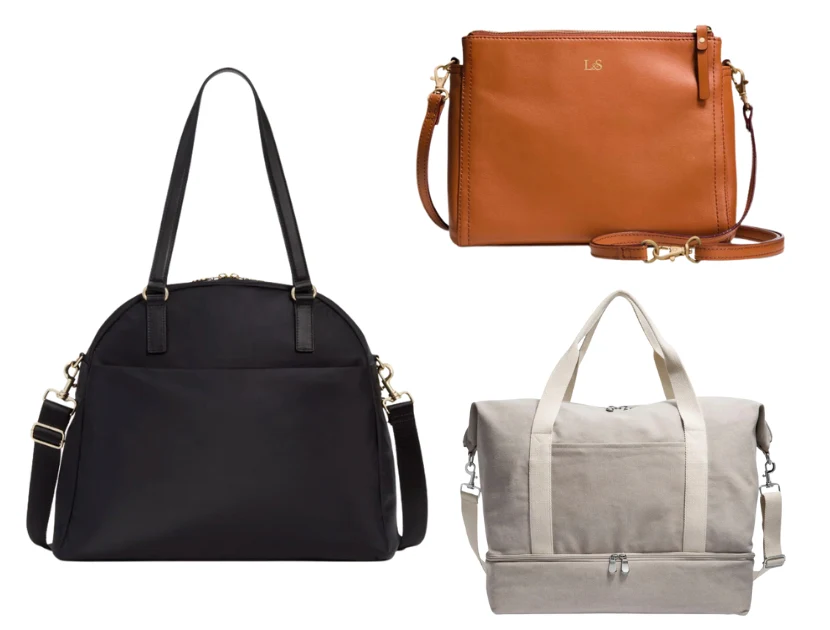 Lo & Sons makes a stylish and dependable bag. I have all three of these and paid retail for each one of them, and I'll tell you, they have been worth every penny. I also track prices over the seasons and this sale is the best one they have every had.
Catalina Delux: Sale Price, $96 A phenomenal weekender bag. Perfect if you need something for holiday travel or would make an excellent gift for the college-age niece or friend on your list.
O.G.2: Sale Price, $189 This is the best work/laptop/travel bag I have ever owned. I don't fly for work anymore (thank goodness), but when I did, the O.G. bag was what I carried. This thing is indestructible, fits everything, slides over the handle of your roller bag, and isn't heavy – until you put your stuff in it.
The Pearl: Sale Price $89We've featured The Pearl dozens of times, but it's always worth mentioning, especially when it's on sale. You can customize your bag and pick out different leather combinations, colors, lining and hardware combinations. I have the tan option above. It's gone everywhere from Whole Foods to Europe with me and never fails to be just what I need.
Rothy's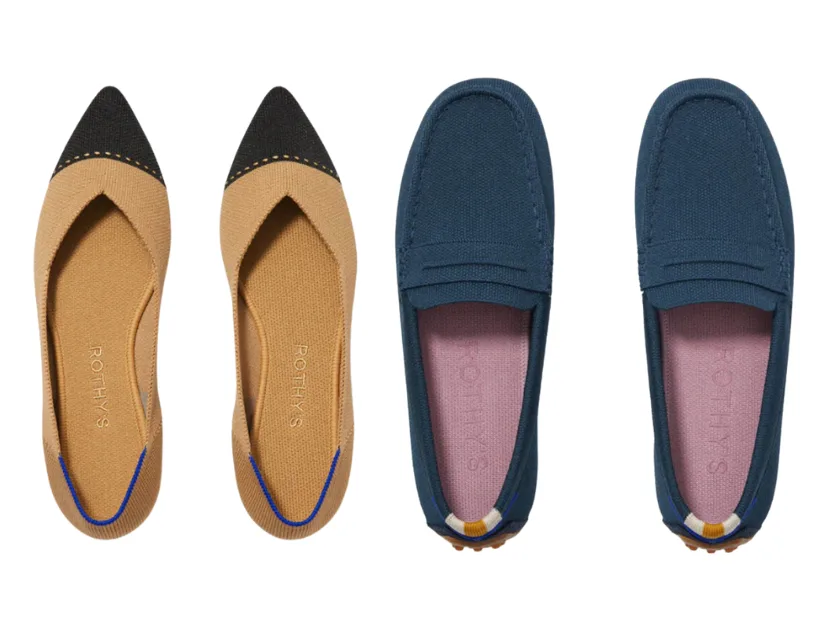 Finally, Rothy's. Long-time readers know I've been singing their praises for years and this weekend's sale is the best awesome.
The Point: Sale Price$99 The Point is my favorite; I have the Camel Cap Toe above and the Big Cat.
The Driver: $150 Styled like a traditional loafer with Rothy's comfort and durability. Looks great with straight leg jeans that skim the bottom of your ankle.
If you'd like something similar to the driver, but lighter, try The Loafer, I have these in Ecru and reach from them frequently, especially in the spring.