Last week I shared an Outfit Formula featuring a monochrome sweatsuit and we received lots of requests for a round-up of options.
Ask and you shall receive!
I love that while the world and our wardrobes are leaning more and more casual, we're also embracing the idea of incorporating, polished, tailored elements.
Throw on a classic trench, your favorite wool top coat, even a simple denim jacket to "finish" the look. And don't forget some jewelry and a structured, elegant bag.
This creates tension between the casualness of the sweatsuit and elegance of the other elements.
Below is a round-up of the basis of the look: a matching sweatsuit.
You have a lot of options here in a range of sizes at various price points.
Our Top 5 Matching Sweatsuits for Women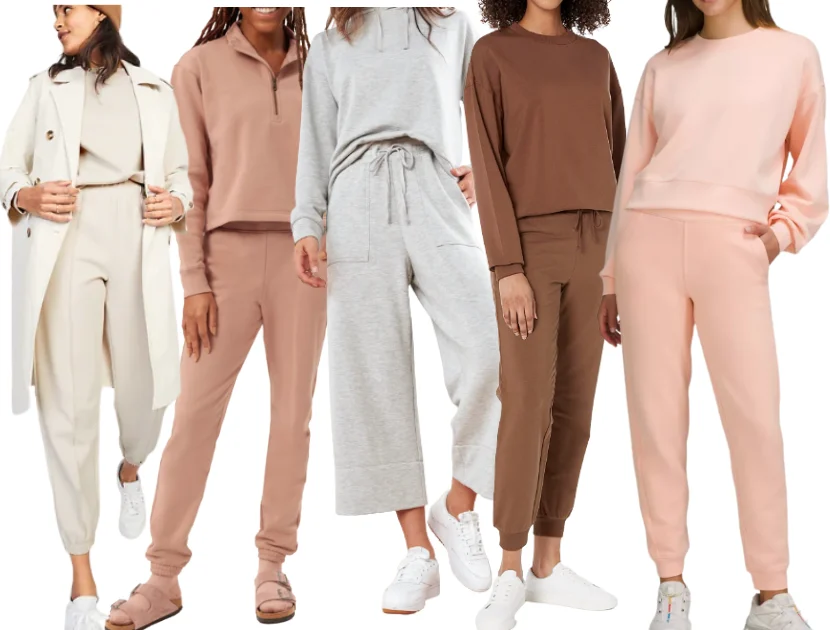 We're starting left to right with our featured sweatsuit from last week, from Old Navy.
Available in a range of colors, above we're using "wishbone" an light neutral the pairs well with any other neutral, including black, camel or navy, in sizes regular, petite, and tall in sizes XS – 4X.
Crewneck sweatshirt, here, for $30.
Pintucked sweatpant, here, for $45.
I like how they styled the product image with clean white sneakers, a trench and a casual beanie.
Next, from Girlfriend Collective, this updated set featuring a half-zip sweatshirt and slim-legged joggers.
Made from a blend of recycled and organic cotton, available in five colors (above is "birch), in sizes XXS – 6X.
Half-zip sweatshirt, here, for $88.
Girlfriend Collective is an echo friendly sustainable brand offering size inclusive sporty/atheleisure styles.
In the middle, we have a cropped, fleeced lined set from Quince, available in XS – XL, in heather grey (above), black and navy.
Fleece Pull Over Hoodie, here, for $35.
Wide-leg Fleece Pants, here, for $40.
From our favorite Amazon Brand, the Drop makes an awesome, basic sweatsuit.
Available in a range of both neutral and bright colors, in sizes XXS – 5X.
I have this in a few colors, they wash well and aren't too heavy.
Crewneck Drop Dhoulder Sweatshirt, here, for $40.
Soft Stretch Ribbed Jogger, here, for $40.
Finally, I was a reluctant recruit for Lululemon. But with two teenage girls in the house, who very much would like to be clothed from head-to-toe in it, I have to admit, the quality is outstanding.
So while I'll always like a dupe, I'm also happy to buy it.
No, not happy. Willing, I'm willing to buy it.
Their scuba line is one of my favorites, and this set, which comes in a ton of colors is soft, slim and tailored. Be sure to look up your size, I take an 8.
High-rise Full Length Jogger, here, on sale, prices varies based on color.
Oversized, Cropped Crew, here, $118.
Note, Lululemon is great with mix and match, so you can really make your own set and try different bottoms with different tops of the same color.