Basics are the foundation of our wardrobes.
If you struggle with pulling looks together, you may want to see if you have all the basics you need because having the right ones will make getting dressed a breeze. Like today's feature, the long sleeve white tee, they are not always exciting, but they are essential.
After searching high and low for something to casually wear with jeans or serve as a layer under vests and sporty jackets, I realized that the options presented to women are ridiculous.
Most of them are see-through, which makes the top pretty much pointless. It doesn't matter the price point; in fact, I've noticed the more you spend, the more transparent the material.
And speaking of price points, who in their right mind would hand over $100, $200, or close to $300 for a cotton top? If you think I'm kidding, this simple white boatneck is $278 and almost sold out.
The Well Dressed Life has never been about pushing the most expensive or inexpensive items. It's not a bargain blog or one that focuses exclusively on high-end brands. Instead, my mission is to provide the best possible recommendations, using the current, seasonal retail mix in stores. In my experience, this is how most women shop, with limited time and budgets.
So guidance around where to spend and where to save can be helpful, especially when price points across all categories seem out of control.
While I try not to speak in absolutes, I will here; there is absolutely no reason to spend on cotton layering pieces.
Instead, stock up on a handful of simple basics, like this long sleeve thermal knit top from Old Navy available in regular, petite, and tall from a size XS – XXL for an astonishing $8.
EIGHT DOLLARS.
$8 Basic Building White Tee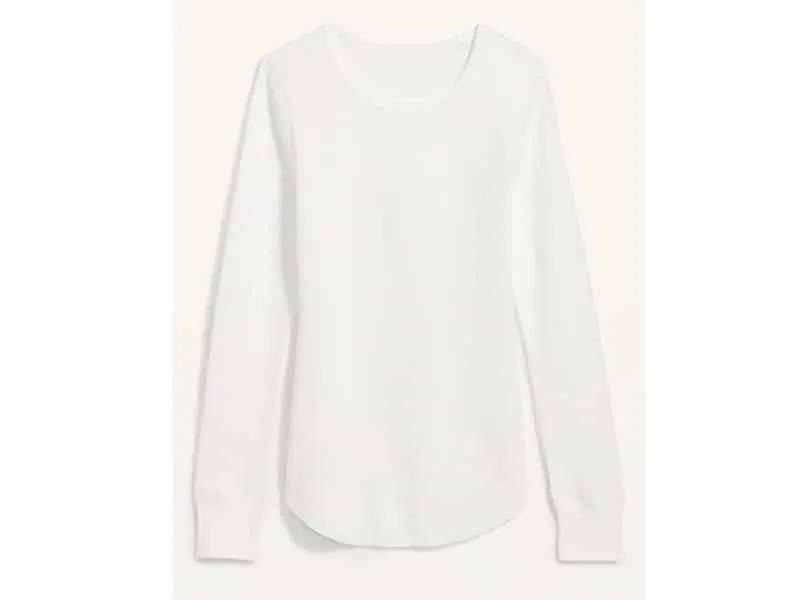 Long Sleeve Tee, $8.00
These are extra nice this time of year, especially in our current casual climate. Pair with cotton joggers, leggings, or your favorite comfy jeans.
To dress it up, add a denim jacket (with your joggers) or a vest and scarf (with your jeans.)
For $8, I was so impressed with the quality and details. These are thermals, so they have a classic waffle texture. It's not too heavy, though, so you won't feel like you are wearing thermal, cold weather underwear. Instead, it's soft, comfortable, and not see-through.
Another lovely detail is the curved hem, which finishes it nicely, especially if you wear it tucked out with a layer on top.
If this is a hole in your wardrobe, pick up a few of these. Rotate wearing them to keep them white and crisp longer.
Runs true to size but go up if in between sizes.
---
Our Style Content is Inspired by Our Readers
Our readership inspires all of our posts and is not sponsored or paid for by brands or retailers.
Recommendations are based on my experience as a personal stylist and wardrobe consultant for over a decade. I worked with busy, down-to-earth women who wanted to look chic and feel confident but were often confused by so much of retail.
Some links are affiliate links, which means if you purchase via our site, we receive a small commission.
If you enjoy our content and would like to help us grow, please consider following on Instagram and join our Private Facebook Group to access more advice and exclusive in-depth conversations with other like-minded women.