This content has been archived. It may no longer be relevant
One of the challenges I'm having, as I create content this summer, is finding recommendations that meet my standards. In all my years in and around retail, I've never seen such low inventory levels.
With the lack of inventory comes a void of size options.
For example, I'll find a great pair of shorts, but there will be almost no sizes available, or they don't offer an inclusive size range. Which means I can't feature them.
As much as I want to do one comprehensive round-up of shorts that is size-inclusive and offers a variety of lengths, there aren't enough options to do a full post.
Instead, I'm going to dedicate a few posts to specific options within our Back to Basics series. Doing so will allow me to post quickly, and you can act fast. I am starting with these mid-rise chambray shorts, at an astonishingly low price from Old Navy.
Old Navy Classic Mid-Rise Chambray Shorts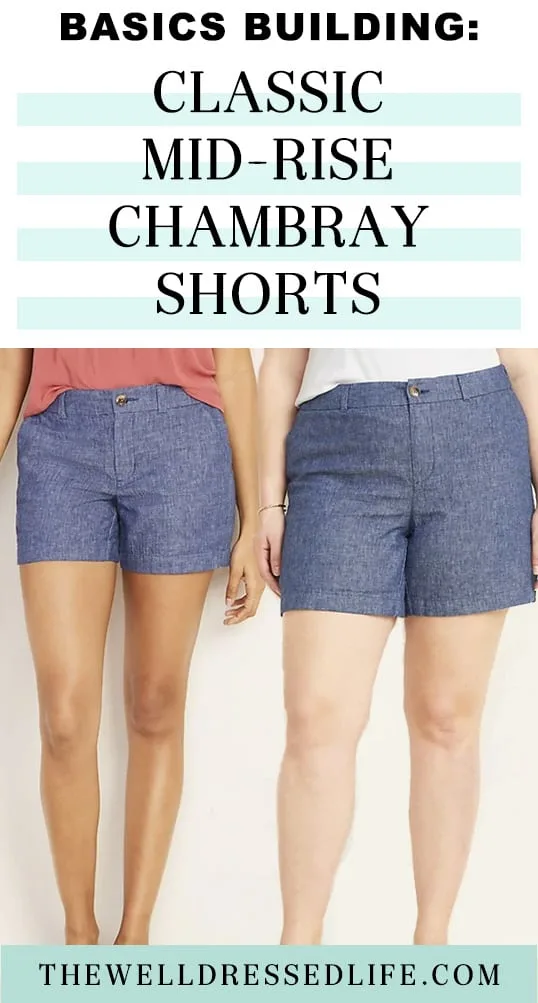 Sizes: 0 – 20 $13.50 and Sizes 16 – 30, $16.00
These have an almost 5-star review from customers. The fabric is soft and light – not a ton of stretch, with a 5″ inseam or a 7″ inseam here.
Thank you, Old Navy, for offering one of the most inclusive size ranges in retail. I know they are not the highest quality, but for shorts that you are going to wear a handful of months, you don't need to pay exorbitant prices.
I like chambray as a more polished alternative to denim. You can wear them the same way; the fabric is just a little more elevated.
They are an easy short to pair with tops you already own. This poplin top from Banana Republic (featured here) would be super cute, so would this sweet and simple white top from Boden (featured here), or this popular eyelet top from LOFT – on sale for $22 (featured here.)
Of course, my favorite way to wear these is paired with my Breton Stripped Top from Boden.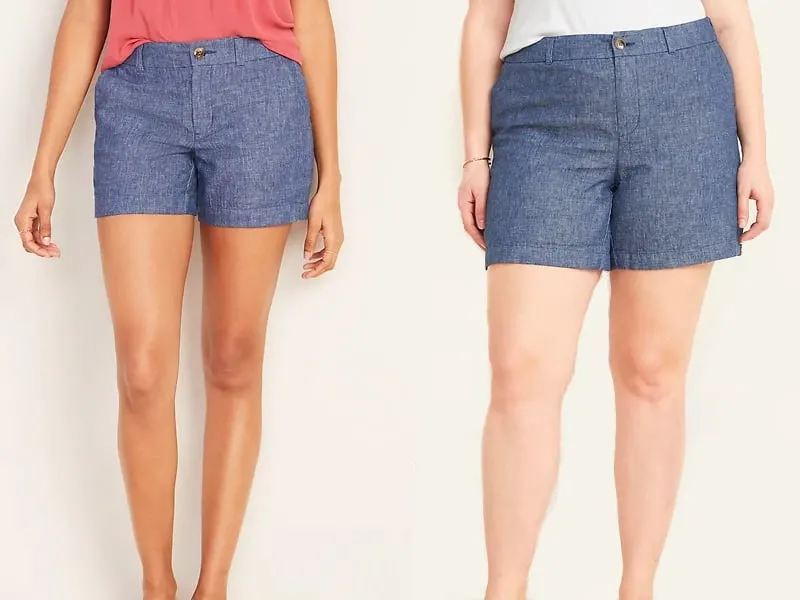 Sizes: 0 – 20 $13.50 and Sizes 16 – 30, $16.00
---
Our Content is Inspired by Our Readers
Our readership inspires all of our posts and is not sponsored or paid for by brands or retailers.
Recommendations are based on my experience as a personal stylist and wardrobe consultant for over a decade. I worked with busy, down-to-earth women who wanted to look chic and feel confident but were often confused by so much of retail.
Some links are affiliate links, which means if you purchase via our site, we receive a small commission.
If you enjoy our content and would like to help us grow, please consider following on Instagram and join our Private Facebook Group to access more advice and exclusive in-depth conversations with other like-minded women.
---